News
The X-Files Could Be Returning, Fox Confirms
Fox is in talks to reboot The X-Files, its biggest hit of the 1990s... and that may include David Duchovny and Gillian Anderson.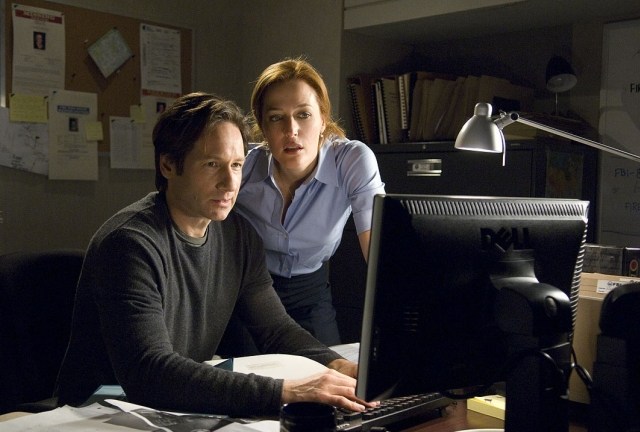 Like the prevailing whispers of extraterrestrial life and visions of unidentified flying objects, rumors of creator Chris Carter and stars David Duchovny and Gillian Anderson returning to The X-Files have always been out there. 
Now, finally, the truth is out there. Talks for a television reboot of The X-Files are heating up and Deadline is reporting that the trinity of Carter, Duchovny and Anderson are actively in discussions about making their schedules work to shoot the next chapter of the science-fiction classic.  
Fox TV Group chairman Gary Newman confirmed the network's interest in a new installment of The X-Files. This comes after Fox revived 24, another popular series, to strong ratings during the summer.
The X-Files debuted in 1993 for Fox, then an upstart network in its infancy. The show quickly became a critical and ratings success, running for nine season and spawning two feature films. The most recent film, The X-Files: I Want to Believe, hit theaters in 2008, six years after the series wrapped. It underwhelmed at the box office and largely disappointed the series' passionate fanbase.
Still, rumors and fan campaigns to bring the series back, whether it was in the form of another feature film or rebooted for television, persisted. Fans now may see Mulder and Scully on-screen again, though it is unclear what creative direction the show would take.
[Related Article: I Still Want to Believe – 20 Years of The X-Files]
Duchovny and Anderson have carved out busy careers since closing the X-Files. In 2007, Duchovny landed the lead role on Showtime's Californication, a post he helmed until the series concluded last year. He immediately signed on for Aquarius, an NBC limited series, which debuts this summer. Anderson has starred on stage and screen, taking films roles and recently finding steady TV work on NBC's Hannibal and starring in the BBC Two hit, The Fall.
Carter has stayed relatively quiet since the X-Files days. His Amazon pilot, The After, was green-lit by the streaming service in 2014, only to be subsequently cancelled before another episode was shot. His next project currently in development is an Area 51 thriller for AMC.
In interviews, Carter has long hinted at his interest to do a third film while dancing around the idea of bringing it back to television in a limited capacity or prequel. "I'm of course hesitant to monkey with the show," Carter told Vulture in 2013. "It was nine years of good storytelling, and even though a lot of people would like to see a third movie, I don't think there's a whole lot we need to elaborate on."
FBI-centered reboots could be a new trend. Showtime revived the cult-classic Twin Peaks, set to air in 2016. The X-Files, its spiritual successor, is coming up on 22 years since the the airing of the pilot and is now picking up steam. Fox is banking on Carter, Duchovny and Anderson wanting to believe, again.
More on The X-Files as we hear it… 
Our Suggested X-Files Reading: 
For more X-Files news, you can find our TV editor Chris Longo on Twitter and help locate the whereabouts of Fox "Spooky" Mulder.