News
The Women of The 100 Share What Makes Their Show Work
Much of the female cast of the CW show joined executive producer, Jason Rothenburg, in a panel at the TCA Winter Press Tour.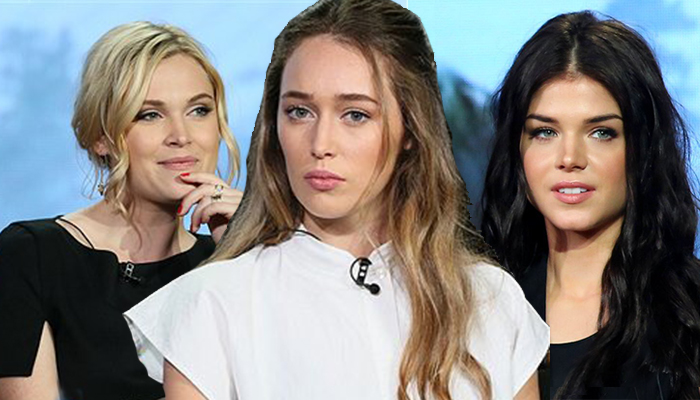 As an exclusive new trailer for The CW's third season of The 100 unfolded in front of the journalists assembled for the Television Critics Association's winter press event, the character of Lexa spoke to Clarke, saying, "I never meant to turn you into this." In perfect dramatic fashion, Clarke answered, "You have no honor, and I have no choice."
Such is the conflict of the relationship between these leaders of the Grounders and the Sky People. Fortunately, no such conflict of emotion exists between Alycia Debnam Carey (Lexa) and Eliza Taylor (Clarke) or among any of the female cast members present at the panel for the show. In attendance with Carey and Taylor at the TCA event were Paige Turco (Abigail), Marie Avgeropoulos (Octavia), Lindsey Morgan (Raven), and Adina Porter (Indra). Executive Producer Jason Rothenburg rounded out the panel.
The all-female representation was not lost on those in attendance, and the women of the cast found that their strong presence is a hallmark of the show. "This show represents so many ideas and themes in society," said Debnam Carey. "Even now, to see that this panel is all women… It's the fact that it's not addressed [in the show] that makes it so powerful."
Taylor agreed. "It's a very exciting time for women in television actually getting to play very strong roles," she said, adding, "This is the first opportunity I've had to play a character with true integrity and strength."
Rothenburg acknowledged that the show doesn't directly address the female leadership on the show. "We don't write women characters. We just write strong characters who happen to be women… The 100 is a world beyond race, gender, sexuality, able-ness. It's about whether you're strong or weak in character. It's not about who you love, what color you are, if you're disabled – it's are you strong or weak? Are you going to help me survive?"
Avgeropoulos, for one, is happy with this description of her character, Octavia, as well as the roles of all her counterparts on the panel. "They aren't damsels in distress," she agreed. "They don't need a man to go and take care of it. They do it."
Turco, who as Clarke's mother represents and older generation both in the story and on the cast, is on board with the strong female idea as well. "I'm so grateful," she admitted. "It's new. It's so rare to have so many women on one show with strength."
You can see all the women along with the ensemble male cast of The 100 when the show returns on January 21 at 9pm ET on the CW.