News
The Walking Dead Shows Head to Theaters for Major Crossover Event
You can catch The Walking Dead Season 8 finale and Fear the Walking Dead's Season 4 crossover event at select theaters.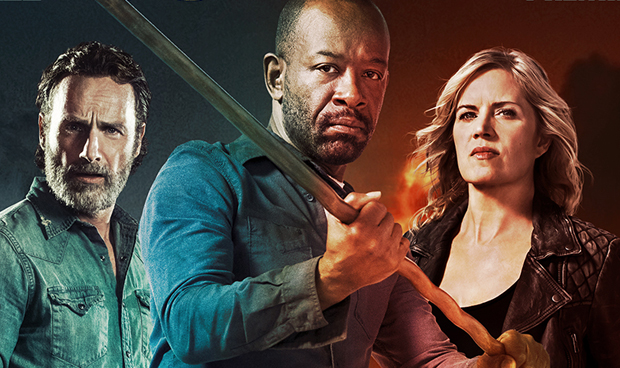 The Walking Dead is on the verge of wrapping up its depicted "All Out War" between undead apocalypse communities, moving on to a surreal crossover with its (prequel-set) spinoff series, Fear the Walking Dead, with a team trade of sorts that will send Lennie James's Morgan from the mothership to the spinoff. While you could catch that occurrence on television, a big-screen alternative has arrived.
Survival Sunday, a theatrical event from AMC and Fathom Events, is something with which fans of The Walking Dead shows should get acquainted. That's because the two-episode crossover event, consisting of The Walking Dead Season 8 finale and the Fear the Walking Dead Season 4 premiere, can be caught (commercial-free,) at one of 750 select theaters nationwide on Tax Day, April 15; the same day on which the episodes will premiere on AMC.
Since Survival Sunday is an extremely limited one-day event, you'll need to book your tickets in advance on the Fathom Events website, with reservations for the screenings set to open on March 16. The projectors will roll on April 15 at 8:30 p.m. ET / 7:30 p.m. CT / 6:30 p.m. MT / 5:30 p.m. PT (and tape-delayed to 7:30 p.m. AK and 6:30 p.m. HI) through Fathom's Digital Broadcast Network (DBN). – The list of theater locations will be made available on the Fathom website, though it also emphasizes that theaters and participants are subject to change.
Additionally, while cosplaying is encouraged at these screenings, expect security to be tight, since, as the website explains, "We want you to have fun at these cinema events – but safety is paramount. Please note that attending in costume is fine, however masks, face-concealing make-up, fake weapons as well as any costumes that conceal what you are carrying, your natural body shape or face are strictly prohibited."
While AMC's (slightly-ratings-diminished) television juggernaut, The Walking Dead, has accrued its share of naysayers, especially after the Season 6 cliffhanger introduction of Jeffrey Dean Morgan's brain-basher-of-beloved-characters, Negan, and the ensuing, seemingly interminable, conflagration that pits the benevolent communities allied with Alexandria against apocalypse extortionists the Saviors, the crossover event of Survival Sunday will show a monumental sea change, especially for spinoff Fear the Walking Dead. Indeed, the arrival of Lennie James's Morgan will seemingly synchronize the setting of the shows, since Fear, up until now, had been set in the West Coast during the beginning of the apocalypse; a time when main series hero Rick Grimes was still comatose in a hospital bed on the other side of the country.
Of course, you'll be able to catch Survival Sunday on the more traditional platform of television, since The Walking Dead Season 8 finale and Fear the Walking Dead Season 4 premiere will air back-to-back on April 15 AMC.