News
The Walking Dead Season 7's Violence Was Cut Back Too Late for One Character
The Walking Dead will reportedly scale back the killings in the second half of season 7. Was the midseason finale the last straw?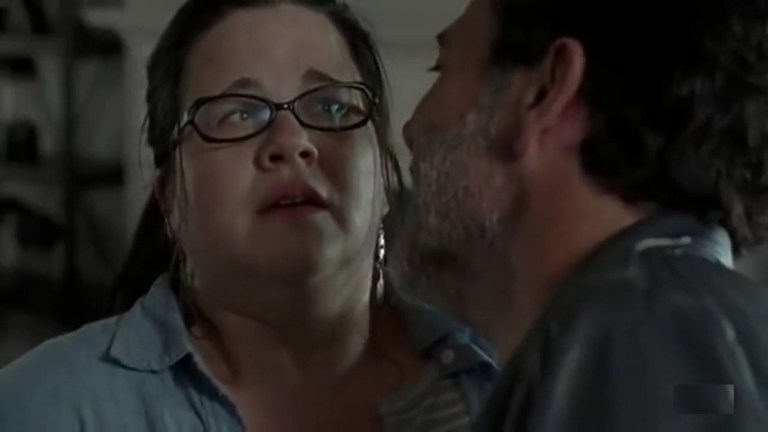 This Walking Dead article contains spoilers.
The Walking Dead season 7 came under fire for crossing the line on violence. It was widely reported that The Walking Dead executive producer Gale Anne Hurd hinted at the Jan. 18 National Association of Television Executives conference that producers took the fan reaction to heart and will "tone it down for episodes we were still filming for later on in the season." Of course, showrunner Scott M. Gimple and exec producer Greg Nicotero later denied that they had toned down the show at all. Regardless of whether they did or didn't, it's far too late for Olivia, who was shot, basically, for leaving the refrigerator door open.
Ann Mahoney, who ran the pantry as Olivia on The Walking Dead, opened up to Entertainment 2morrow about her last days standing while talking about her new role as Elvis Presley's mom on CMT's upcoming rock and roll series Sun Records.
"I don't have any regrets about it," Mahoney said after being asked whether she wished AMC had thought of pulling back the violence before they shot her in the face. "I think it's appropriate. It was time to say goodbye to her."
"Of course I'm bummed because I loved working on the show. I loved the cast. I loved the crew and the directors that I got to work with," but "I'm a real believer that things happen in exactly the order that they need to to push you forward in your life and make sure you're free for whatever comes next."
While Mahoney fully appreciates that her role on the popular zombie apocalypse series "opened a lot of doors wide open for me," she was only slightly less happy about media reaction.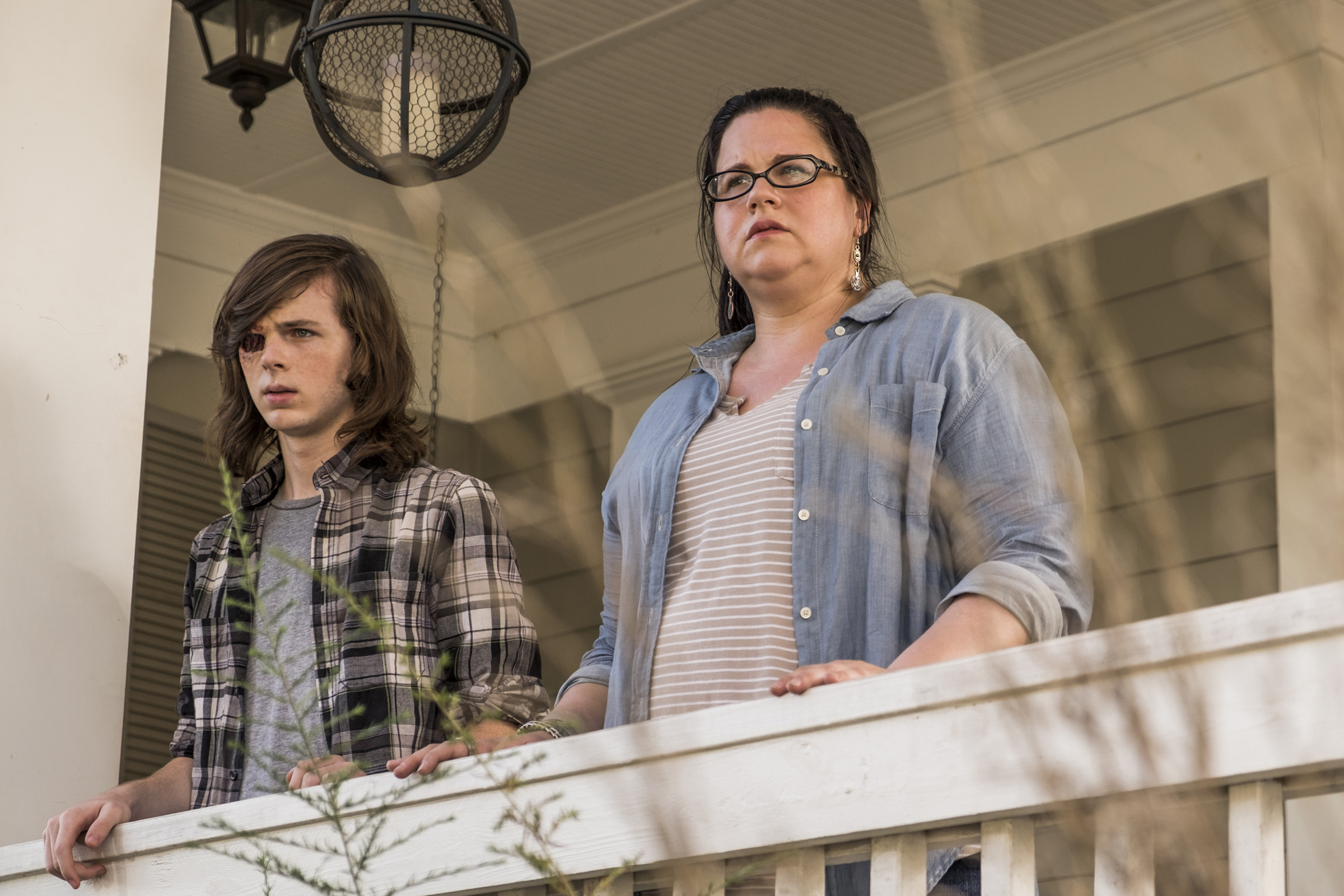 "Ron on Den of Geek UK wrote 'they killed somebody nobody cares about,'" Mahoney laughed. "I read that stuff. I was like 'Thanks Ron.'"
Mahoney believes Ron Hogan was off base. The man who named his bat Lucille, Negan (Jeffrey Dean Morgan), made an example of her because people cared too much.
"One of the reasons they offed me earlier than I would have been in the comic books is because Scott [Gimple] was like 'we want somebody people will be really pissed about and you became way more popular quicker than we ever imagined,'" Mahoney said.
The actress believes it is because Olivia was very relatable.
"I think it's because a lot of women say, 'Hey, there's a woman my size on the show,'" Mahoney theorized. "It's that and she's a genuinely good person. Like a lot of them on the show. There was a purity about her."
John Saavedra, of Den of Geek US, was a little kinder than his cross-pond colleague.
"The only thing I can say I enjoyed about this episode was the strength of characters like Maggie, Sasha, Rosita, Michonne, and Olivia, who died unexpectedly tonight," Saavedra wrote in his review of the mid-season finale. "Although we never spent too much time with Olivia, who was played by Ann Mahoney, it was great to watch her stand by Carl and Judith, even after Tara offered to relieve her. She showed courage when faced with Negan."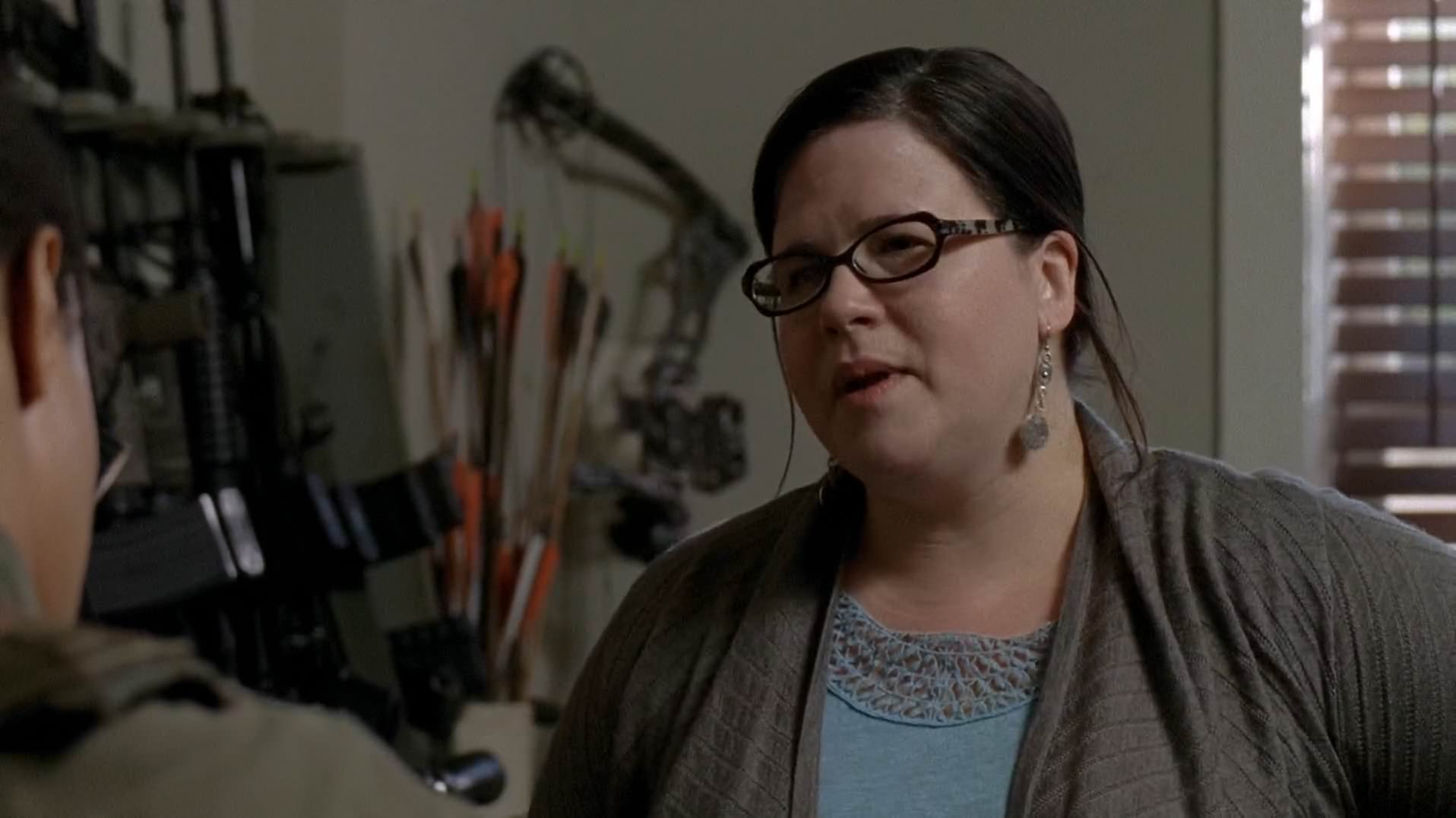 Even former sheriff's deputy Rick Grimes (Andrew Lincoln) thought Negan was a little too quick on the draw.
"Rick was like, that's it? You killed her? She's done nothing but try to help. She had really good intentions from the get go," Mahoney explained.
The shocking finality of her last act was precisely the point the show was making.
"What Scott Gimple said was: it's so senseless it really shows them what they're dealing with," Mahoney said. "It confronts them with what they're dealing with because it's senseless, absolutely senseless, to kill Olivia."
The death may not have made a lot of sense, but that didn't mean it wasn't funny.
"Josh McDermott who plays Eugene said, 'Ann, I gasped and then I laughed. It's just a bit funny because I was so shocked and it was so sudden and it was so out of nowhere,'" Mahoney remembered. "So it was a universal reaction."
Olivia may be down, but Mahoney is no undead walker. Her character did get to slap Negan in the face. Of course, it only made him "50 percent more into her," but it also could not go unpunished.
"I'm bummed but I was also like 'Well, it must be time and time to move on,' and it was," Mahoney said. "I'm working on Gladys Presley now and I can really give my full attention to her."
Sun Records will debut Thursday, Feb. 23, 2017 at 9 p.m.