News
The Walking Dead Season 7: Producers Deny Violence Was Toned Down After Season Premiere
Scott Gimple and Greg Nicotero deny that the violence was toned down on The Walking Dead after the season 7 premiere.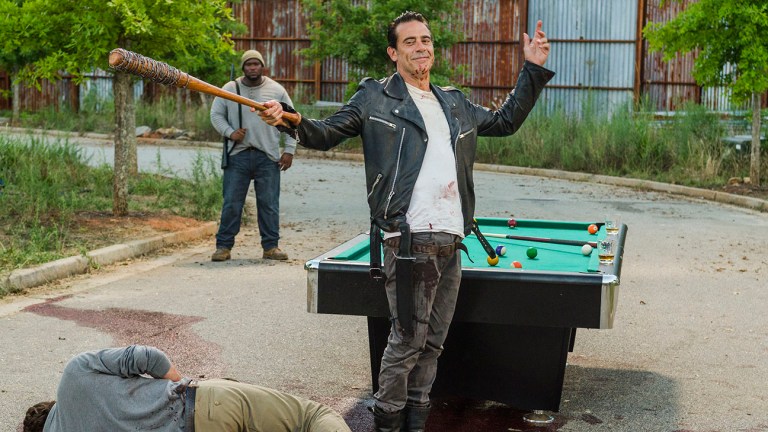 This Walking Dead article contains spoilers.
It sounds like The Walking Dead producers are in disagreement over how the fan reaction towards the controversial season 7 premiere affected the show going forward. Exec producer Gale Anne Hurd confirmed at a conference in Miami (via Variety), TWD exec producer Gale Anne Hurd revealed that fan backlash after the premiere caused the creators to "tone down" the violence in the later episodes of the season. 
"We were able to look at the feedback on the level of violence," Hurd said. "We did tone it down for episodes we were still filming for later on in the season."
Only a few days after her comments, showrunner and exec producer Scott M. Gimple and exec producer Greg Nicotero have both denied to EW that they toned down the violence on the show after the fan backlash. 
Gimple explained that the extremely graphic violence of the premiere – which many viewers called torture porn – was important for the story of season 7, in which Negan took over Alexandria and forced Rick and his people to submit to Savior rule. 
"The violence in the premiere was pronounced for a reason," said Gimple. "The awfulness of what happened to the characters was very specific to that episode and the beginning of this whole new story. I don't think like that's the base level of violence that necessarily should be on the show. It should be specific to a story and a purpose, and there was a purpose of traumatizing these characters to a point where maybe they would have been docile for the rest of their lives, which was Negan's point. But I will say again, the violence in the premiere was for a specific narrative purpose and I would never say that that's the baseline amount of violence that we would show on the show. If we're ever going to see something that pronounced, there needs to be a specific narrative purpose for it."
Nicotero agreed with Gimple, saying that they would "never edit themselves" based on a strong reaction to a story or episode:
"As brutal as that episode 1 was, it's still part of our storytelling bible, which is what the world is about. I don't think we would ever edit ourselves, and I think — even after looking at that episode 1 again — as tough as it was for people to watch, I don't think we would have done it any differently. I don't think we'll ever pull ourselves back. There is definitely a difference between violence against walkers and human on human violence, but truthfully, we're serving our story."
A comment made by Joshua Hoover, who played Fat Joey in the first half of the season, to Comicbook.com would suggest that at least some violence was toned down in the midseason finale, including the scene in which Daryl murdered Fat Joey in order to escape the Sanctuary.
— Joshua Hoover (@Flavahoove)
December 13, 2016
"Yeah I took a hit. I took a hit on the head from Mr. Norman Reedus, and it was a good hit. Norman Reedus has swung a metal pipe before in his life I think," Hoover said. "Yeah I got hit right square in the head. There was the special effects that they do with the blood packet. They had a blood packet on the pipe and it just went everywhere. Everybody said it looked so awesome, but also pretty graphic. So I'm assuming that's why they didn't show that angle, they probably had a little too much already with Spencer's guts. But, yeah, there was definitely another shot, and I'd like to see that footage."
Hoover's comment doesn't necessarily confirm that the violence was toned down for that particular scene. It might have just been cut for time in order to move on to something else. After all, Fat Joey was a very minor character on the show and his death didn't carry all that much emotional weight.
Of course, there were other notably violent moments throughout the first half of the season beyond the infamous Negan scene, such as the ironing scene at the Sanctuary and Spencer's death in the midseason finale. But even the ironing scene has been called into question for cutting away several times during the scene, and Gimple's addressed that too:
"Specific to that scene, I guess specific to everything, no," said Gimple. "Greg Nicotero is the greatest makeup special effects guy in the world, but… what you don't see sometimes can be so much more horrible than what you see, what you imagine. And with the iron, that's a really good example. That's something that I think the audience should do a little bit more of the work on. Also because as far as that kind of moment, the reality of what that would look like is strange looking. We've been in fist fights when we were kids on the playground and there's amalgams to that violence, but that kind of strange burn, the audience doing that in their head, even hearing it, it's just a different moment."
Either way, no matter what's been toned down or cut from the show in the aftermath of the fan backlash, Hurd wants to let fans who were appalled by the premiere – which saw Glenn and Abraham bludgeoned to death while all of their friends watched in horror – that "This is not a show that is torture porn." Hurd said that in the future the producers will make sure "we don't cross that line."