News
The Walking Dead Season 4 Casting Update
The Wire alumnus, Larry Gilliard Jr, has been cast as a regular in The Walking Dead's fourth season...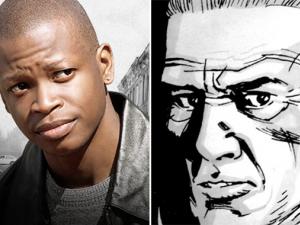 Spoiler warning: contains the names of season three characters who survive to season four.
It's no spoiler to say that The Walking Dead, a show with a reputation for swinging the hatchet with some abandon around its cast, is in need of some fresh blood for season four. Eight pints or so of said blood is arriving in the form of new series regular, Larry Gilliard Jr, still best recognised for his role as D'Angelo Barksdale in 2002's The Wire.
Gilliard Jr is set to play Bob Stookey in The Walking Dead's fourth season, a former army medic, Woodbury resident, and character from Robert Kirkman's comic book series. The actor joins pal The Wire alumnus Chad Coleman, who was recently promoted to season regular along with his on-screen sister Sasha (Sonequa Martin-Green), Emily Kinney's Beth and Melissa Ponzio's Karen.