News
The Walking Dead: Robert Kirkman Thinks Season 5 Is the Best Season Yet
Robert Kirkman promises The Walking Dead season 5 will be the show's best.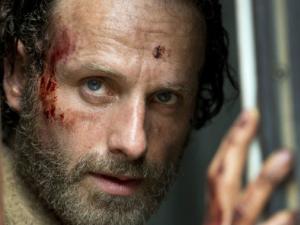 Robert Kirkman, creator of The Walking Dead, is set to return to SDCC next week with the rest of the show's cast. Surely, we'll get a lot of new Walking Dead news in preparation for the season 5 premiere this Fall on AMC.
Until then, Kirkman has some teasers for you about the new season. He talked to EW about the series, and promised that season 5 would best of the show so far.
Kirkman teased the season 5 premiere:
In our first episode, it's very much going to focus on the story of Terminus. There's a lot of big revelations that haven't really come out that I think people are gonna be pretty startled by. There's a couple other revelations that I think people might've gotten a little bit of a lead on. We'll definitely be defining those in some cool ways and confirming some theories and shooting down others, which is very exciting.

But I think the coolest thing about coming back to season 5 is that we really hit the ground running.

What I mean by that is that we very quickly deal with the situation that we left them in — this trapped, victim situation where they're kind of at the mercy of the people of Terminus. We really kind of expand the story from there very rapidly, so I think this is going to be a pretty fast-paced season with quite a bit going on. News is already out that Seth Gilliam has been added, and we're bringing in new characters like we always do, and I think season 5 is going to be our best season yet. I think when people finally see the premiere, they'll see what I'm talking about.
About the Seth Gilliam (The Wire) casting rumors, Kirkman kept it pretty close to the vest: "He's playing a character that's very integral to the future of The Walking Dead. Who he is is possibly a very large hint to where the story is gonna go, if you've read the comic book series." Rumor has it that Gilliam will play Father Gabriel.
Kirkman also had some things to say about Rick in season 5:
All I'll say about that is that the Rick that's faced the Governor is very different from the Rick that is now gonna be facing the people of Terminus. As we saw in the final moments of season 4. I think that he's definitely a more capable Rick and a more prepared Rick, and while the situation might actually be far more dire and deadly and dangerous, he's possibly going to handle it much better. I think we'll see a very different way of handling conflict this season.
For more The Walking Dead, check out our coverage hub!
Like us on Facebook and follow us on Twitter for all news updates related to the world of geek. And Google+, if that's your thing!