News
The Walking Dead: Morgan Could Return to the Show
Only a few months after debuting on Fear the Walking Dead, Morgan might already be considering his return to The Walking Dead's Alexandria.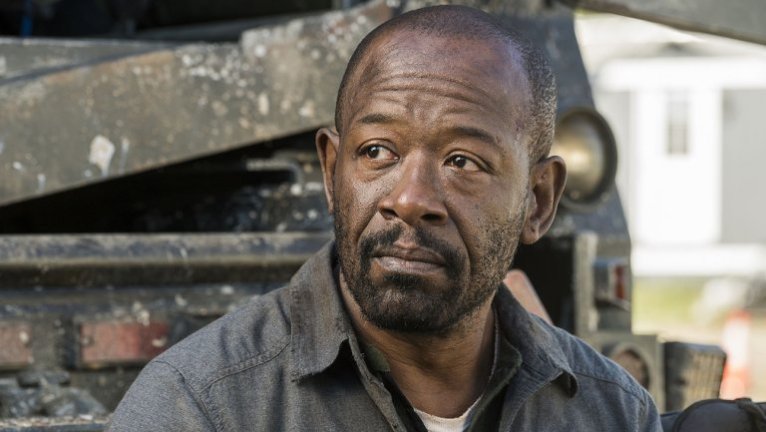 Morgan's arrival on Fear the Walking Dead was a big moment for the TWD franchise, a crossover that had been anticipated by fans ever since the spinoff debuted four years ago. That it finally happened, Morgan marching west to Texas on a fateful journey to get away from people only to find another group to care for, felt surreal, to say the least. FTWD went through a bit of a time jump and shake-up of the cast to make this crossover happen, so it was a bit shocking to hear Morgan proclaim that he planned to go back to Alexandria in last night's midseason premiere. 
"I never should have left," Morgan told gunslinger John Dorie in the episode. "My friend, I think he was right. It's where I belong. It's where I should be." That friend is Rick Grimes, of course, who's also leaving The Walking Dead this year. 
Showrunners Ian Goldberg caught up with EW to discuss this turn of events and how exactly this will play out on both shows. The TL;DR is that Morgan's return to The Walking Dead isn't going to happen for a long, but his journey back to Alexandria is a big part of his arc on the spinoff. 
"[Morgan] started out as someone who ran away from Alexandria, from everyone he was close to because he believed that the best way for him to live in this world was to be on his own. He didn't want to be around people," explained Goldberg. "That changed over the first half of the season, and by the end of the half of our season 4, He's sitting around a campfire with people — some of whom were friends, some were foes that became friends. It was an unexpected turn of events for Morgan."
Morgan was at first hesitant to become friends with the Fear the Walking Dead crew, but he slowly warmed up to them, even trying to help them fight their own demons. No matter how hard he tries, Morgan can't help but get close to people. Even though he left Rick and friends behind earlier this season, that doesn't mean Morgan isn't still bound to them.
"But there is still a big part of Morgan that is connected to the people he left behind," said Goldberg. "We're going to see that he's also wrestling with some other emotional demons that we're going to unpack as the back half of this season goes on. And he may say that he's going back to Alexandria, but the journey to get there is going to be filled with a lot of unexpected turns. We look forward to hearing how people react to that journey."
So, will Morgan return to The Walking Dead? Maybe one day, but not until his work on Fear the Walking Dead is done. There's still plenty for him to do for Alicia, Strand, June, John, and Al.
Read the latest Den of Geek Special Edition Magazine here!