News
The Walking Dead Is Planning For More Spinoffs
Newly-appointed Walking Dead Chief Content Officer Scott Gimple has revealed that the franchise is set to expand again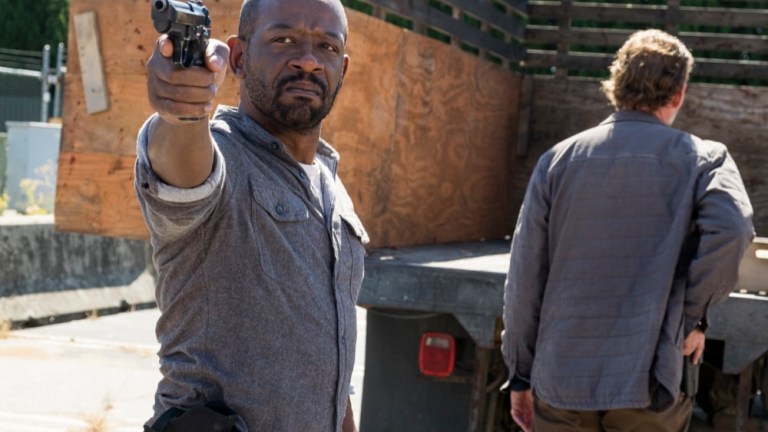 The world of The Walking Dead looks like it's on the verge of expanding…again.
The Walking Dead TV franchise currently includes flagship The Walking Dead, the more experimental Fear the Walking Dead, and the Chris Hardwick-hosted The Talking Dead. Unsurprisingly it sounds like AMC wants more.
AMC announced this summer that Walking Dead showrunner Scott Gimple would be leaving the show to take over as Chief Content Officer of the entire Walking Dead extended universe. Now Gimple has spoken with The Hollywood Reporter about what he plans to do with his czar-like powers.
"We're going to be doing traditional stuff, non-traditional stuff, stuff people don't expect," Gimple said. "But yes, definitely scripted. The odds of unscripted are very remote. But I'm not going to say no. We're going to have cool new Walking Dead stuff."
By "unscripted" Gimple probably just means another Talking Dead-like show but it's fun to imagine he will bring a zombie-fan dating show to AMC. 
With Walking Dead writer Robert Kirkman jumping ship to Amazon for a lucrative overall production deal, Gimple is now in complete control of the AMC Walking Dead franchise and all that comes along with it. He mentions new non-traditional formats like online only options for new content but it's clear that he remains focused on filling out the TV show universe. 
"We're experimenting with new ways to do it. We're seeing different lengths of seasons and different formats — though I'm not talking about a 37-minute series. I'm talking about different ways to tell stories, possibly with characters we know and possibly with characters we don't (know)," he says. "We're figuring it all out right now but there's a ton of stuff that I want to dive into. It's us organizing it and deciding how to do it, how it all works together. We really have a plan that goes into the future. It's pretty exciting right now."
The Walking Dead is growing and growing with no end in sight, even as ratings for the original franchise begin to flag. If it's inevitable that more spinoffs are on the horizion, Fear the Walking Dead's fourth season this fall will present a fascinating test case. The show is rebooting around a mostly new cast, including The Walking Dead's Morgan (Lennie James). 
If Fear the Walking Dead Season 4 can find success then maybe future spinoffs aren't such a bad idea after all. If it can't….well, there's always that zombie dating game show to try out.