News
The Walking Dead: Andrew Lincoln Exit Confirmed
It's confirmed: The Walking Dead season 9 will be the last time we see Rick Grimes on the small screen.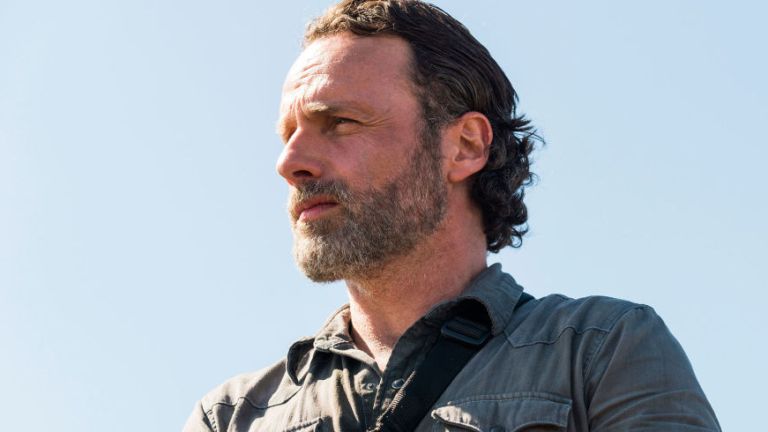 The Walking Dead is getting a bit too long in the tooth for some of its main cast members. Series star Andrew Lincoln (Rick Grimes) will exit the show in season nine, as confirmed by creator Robert Kirkman. Season nine is set to premiere later this fall.
The news was revealed by Kirkman in a special SDCC interview with filmmaker Kevin Smith for IMDB, which you can watch below:
Lincoln will only appear in "half-a-dozen" episodes next season, according to Collider, which could mean that Rick Grimes will be gone by the season nine midseason finale. Of course, Rick hasn't appeared in every episode of past seasons. The six episodes could be stretched out through all of season nine.
This news comes as a big surprise considering Rick is still alive in the Robert Kirkman comics. In fact, he lives well beyond the events the show will likely adapt next season. Of course, that's no guarantee. Rick's son, Carl Grimes, was killed off last season in a shocking twist that surprised even actor Chandler Riggs. At this point, it's unclear whether Lincoln chose to leave or if his time has simply come. 
"It does make the differences between the comic and the show more pronounced," Kirkman explained. "But at the end of the day, it's all about Andrew Lincoln. This is a human being. This is someone I have known for almost a decade, somebody that I love. He's been sweating in Georgia, away from his family, for so long."
As far as how Lincoln will make his exit, Kirkman is not ready to say. He does think fans will find it a very special way to say goodbye to the beloved character.
"He cares about the fans," Kirkman said about Lincoln. "He cares about the show deeply. He wants to do something special on the way out. We have something amazing planned. I wouldn't want to spoil anything, but anybody who has been a fan of his journey, who loves Rick Grimes, who loves the world of The Walking Dead, you're going to want to see what we do."
Incoming showrunner Angela Kang was less willing to go into detail about Rick's exit from the story. 
"Rick opens up the season in a place where things are relatively good and peaceful for him," Kang told THR. "He made that unexpected decision to let Negan live at the end of season eight, and we'll deal with some of the aftereffects of that because it was such a momentous thing. And the trauma of losing his son Carl, even with the passage of time, is something that is still painful for him. We're going to see him try to turn that pain into something positive for everybody. Rick will face some real challenges along the way. The thing that I hope the audience will respond to is seeing how Rick's underlying goodness and leadership will shine in moments of great adversity."
Lincoln, Norman Reedus, and Lauren Cohan — three of the show's biggest stars — were all at the AMC negotiating table earlier this year. All three actors signed on for more episodes, although, at one point, there was speculation about whether Cohan would return at all. Lincoln's continued role on the show had never been in question until now. 
AMC has reportedly tapped Reedus, who has been offered a $20 million deal, to succeed Lincoln as the series lead. His character, the fan-favorite Daryl Dixon, is one of only two original cast members left on the show. The other is Melissa McBride, who plays Carol. (Lennie James, who plays Morgan, recently moved to TWD companion series Fear the Walking Dead.) Daryl becoming the main character seems to be the silver lining here, especially since it's felt like he's been pushed to the side in the last few seasons.
Lincoln's exit might all be part of a bigger shake-up on the show, which has seen its ratings dwindle in the last two years. Former showrunner Scott Gimple recently stepped down at the end of season eight and will be succeeded by veteran TWD writer Angela Kang. It remains to be seen if Lincoln's exit will win back viewers who left during the Rick vs. Negan storyline or if this will only make fans angrier.
All that said, AMC can probably expect a big boost in the ratings on the night Lincoln makes his exit. Whether it'll be a violent exit or a peaceful one remains to be seen. We'll keep you updated!
Read the Den of Geek SDCC 2018 Special Edition Magazine Here!