News
The Umbrella Academy Was Reportedly a Big Hit for Netflix
If this new report is accurate, The Umbrella Academy was a bigger hit for Netflix than recent Marvel shows.
Maybe Netflix doesn't need Marvel after all? In the same month that the streaming service finally cancelled its remaining Marvel series, The Punisher and Jessica Jones, it's reportedly had a huge amount of success with its new superhero show The Umbrella Academy, an adaptation of Gerard Way and Gabriel Bá's comic book series of the same name.
Data firm Parrot Analytics (via Screen Rant) claims that The Umbrella Academy is currently the top digital original series in the US, with a "demand expression" of 30.77 million. The company uses a specialised audience demand measurement algorithm to weigh up a combination of engagement and viewership, an approach that is growing in popularity, as Netflix rarely provides official figures on its films and shows.
A chart accompanied the new report, showing that The Umbrella Academy was sitting in the top 0.03 percent of all TV shows and indicating "widespread global demand." You can see that chart below…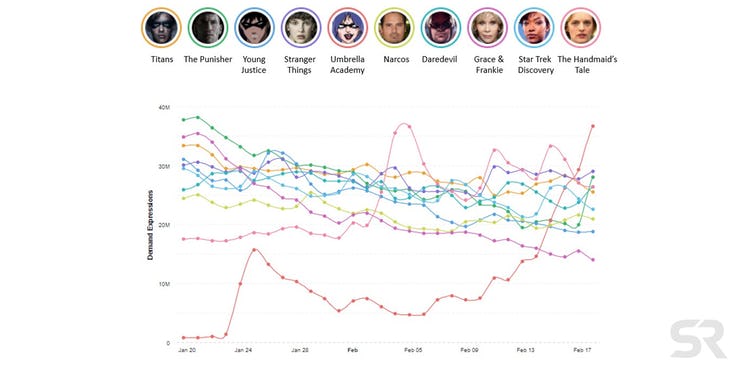 Season 1 of The Umbrella Academy was released on Feb. 15, and followed a group of gifted children who had grown up and disbanded after having a multitude of issues with their father, an eccentric billionaire who left them in the care of a monkey butler and an robot mother during the times when they really needed him. Assembling for the old man's funeral, one of the old Academy returns from the future to warn them that an apocalypse set to wipe out humanity will happen in 8 days, and it seems as though the planet's only hope is for them to start working together as a team again.