News
The Twilight Zone Play Is Moving To London's West End, Cast Announced
After a successful first run, The Twilight Zone play is set to return in 2019.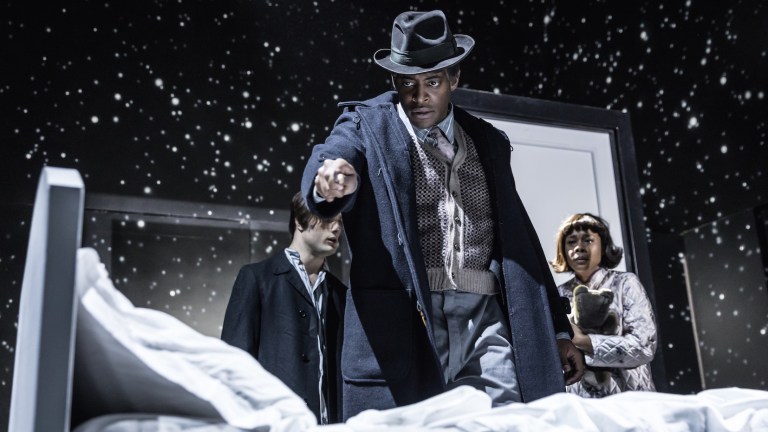 It's a good time to be in The Twilight Zone.
Jordan Peele's small screen revival is coming to CBS All Access with an all-star cast, and now after a successful first run, a stage adaptation of Rod Serling's iconic anthology series will transfer to London's prestigious West End in 2019. 
The Twilight Zone premiered in 2017 at London's Almeida Theatre. It'll move over to the West End's Ambassadors Theatre beginning on March 4, 2019. The stage production was adapted by Anne Washburn (Mr. Burns: A Post Electric Play), who took eight stories from Twilight Zone writers Rod Serling, Charles Beaumont, and Richard Matheson and weaved them into a two-act play. Richard Jones, who directed the first run, will return. 
The play featured takes on classic episodes like  "Will The Real Martian Please Stand Up?", "Nightmare as a Child," "Eye of the Beholder," and "The Shelter." While various episodes have been turned into theatre productions over the years, Washburn's play is the highest profile stage adapation to date. 
The Twilight Zone TV serieswas set in a dimension where time travel, extraterrestrial visitors, and possessed characters were possible. Through the fantastical, Serling cleverly devised thoughtful studies of the human condition that are still making an impact to this day. Quite often, the "monsters" we encountered in The Twilight Zone came from within us, and to pull that off on a medium still in its early days required some of the best actors television had to offer.
This character work was a pivotal part of the ever-growing legacy of The Twilight Zone's original run, and 60 years later, the new adaptations on screen and stage are honoring that tradition. The Twilight Zone stage adaptation recently announced its cast for its upcoming run on London's West End: Oliver Alvin-Wilson, Adrianna Bertola and Neil Haig are rejoining the cast from its initial run at the Almeida Theatre. They'll be joined by new additions to the cast: Alisha Bailey, Natasha J. Barnes, Nicholas Karimi, Dan Crossley, Dyfan Dwyfor, Lauren O'Neill, and Matthew Steer. 
The Twilight Zone is considered one of television's most influential science fiction and allegorical works. The anthology series originally ran from 1959 to 1964. A revival series ran from 1985 to 1989. A second revival series, hosted by Forest Whitaker, aired on UPN from 2002 to 2003. A third revival, from Get Out writer/director Jordan Peele, will stream on CBS All Access in 2019. Peele will step into Serling's shoes and narrate the series (you can read our story here on why Mr. Serling's words are more revelant now than ever).
Outside of television, the series was adapated for the big screen by Steven Spielberg and John Landis for the 1983 film Twilight Zone: The Movie, which remade three episodes and featured one original story. It was directed by Spielberg, Landis, Joe Dante, and George Miller. A new Twilight Zone movie is in the early stages of production at Warner Bros.
You can purchase tickets for The Twilight Zone play here.