News
The Top 5 Spaced Episodes – #5
When it comes to TV, there's one show that encapsulates everything we love about being geeks - Spaced. Rob McLaughlin counts down his favourite five episodes...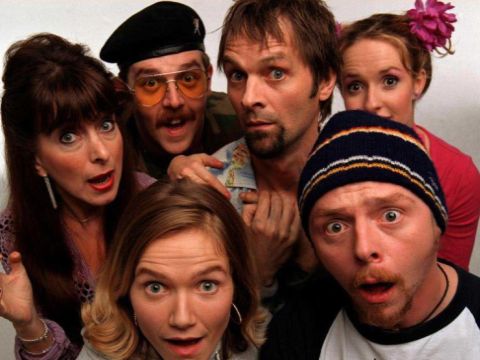 Can you believe that Spaced is nearly ten years old? Nope, neither can I. The series that launched the careers of Edgar Wright, Simon Pegg and Nick Frost still seems fresh, new and right bang up to date. The DVD of the show still has regular screenings on my widescreen telly and is still a favourite with myself and friends of mine and is still one of those shows that everyone can come to a mutual agreement about watching.
The show's themes of never really wanting to grow up and having fun with your mates, combined with the relaxed geek-speak that runs throughout the series is still the reason why the show is still loved. Every clique of friends who have ever sat there and watched the show is bound to at some point or other have had a pretend slow motion gun fight, read box upon box of 2000AD comics and had 'issues' with George Lucas.
So with a hint of nostalgia, and keeping in mind that Babylon 5 is indeed a bit pile of shit, prepare to get cocked, locked and ready to rock I'm proud to present the top 5 Spaced episodes ever!
#5 – Battles (season one – aired October 15th 1999)
… aka "the paintball one." One of the best setups and best payoff episodes in the series, Battles is the episode that not only introduces us to the final member of the Spaced team but also sees Tim get some sweet revenge on his arch-nemesis (and voice of Darth Maul) Duane Benzie.
The writing for the episode is spot on, with the homage-o-meter working at full stream throughout the episode. Throwaway lines like "there's a storm coming" may mean nothing to the average viewer but for anyone who has Terminator on at least three different formats, one liners like this, just mentioned in passing conversation, sums up the entire 'Spaced-speak' that fans of the show love.
The main focus of this episode is really the introduction of Colin the Dog and the break-up of Daisy and her boyfriend, and there are some great bits here, especially a great flashback to Daisy's former pet cardboard box, and Brian's tragic, yet artistically interesting, tale of his own dog's horrible death. All the Jessica Stephenson bits are all good and very watchable but dialogue and flashbacks do not make the perfect episode. To do this, there has to be something fantastic to make it stand out and this episode has it – oh yes indeed! It comes in the form of course of Tim and Mike's paintballing session and encounter with Tim's arch-nemesis, Duane Benzie, the man who stole Tim's girlfriend. With a 80s montage of the guys getting ready, to the cameo of Paul Putman (who to this day is still remembered as the Curious Orange) to Mike's final (sort of) sacrifice, this part of the episode is such a homage to 80s action films you will be tempted to root through the back of your video collection and dig out Cobra, Raw Deal, Commando and Tango and Cash to watch.
But it's the finale that's the most memorable part of the episode with the ultimate showdown between Tim and Duane ending in a fantastic 'YES' moment of revenge involving Duane's dangly man bits. Never has anyone been shot in the bollocks with such a great and tense setup, with audience opinion split down the middle: every scorned woman watching with a sadistic glint in their eye and every guy watching, hating the bloke but feeling just a little bit sorry for him – though ultimately just thankful that it's him and not them on the receiving end of those paint pellets.