News
The Top 5 Spaced Episodes – #4
Rob's back again with the next instalment of his countdown of the best episodes of the best geeky TV show ever made: Spaced.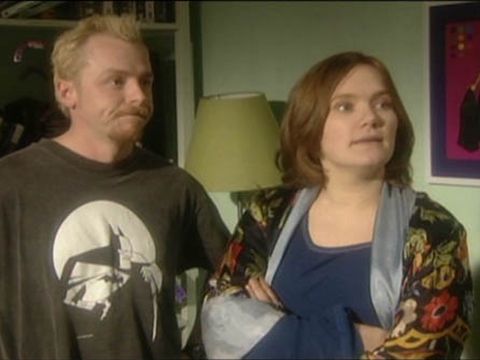 Let's just get straight down to it. 
#4 – Beginnings (season one – aired September 24th 1999)
Ahhh, the one that started everything off: the origin story and the one that made or broke the series for casual Channel 4 viewers who either 'got' the show or thought it geeky tripe. From the superb editing of the first scenes that had (supposedly) Daisy and Tim talking to each other when in fact they are in fact talking to their partners/flatmates/fellow nutters to the slow introduction to the rest of the cast, Edgar Wright really showed his ability to bring something fresh and new to our screens.
The introduction of Tim (Bisley – named of course after 2000AD artist Simon Bisley) a twenty something who doesn't want to grow up really struck a chord with a lot of viewers, and whether it was skateboarding, films or comics that had people like me sharing in Tim's predicament of clinging onto your childhood, this initial episode showed us fellow geeks a character who was really in our position and held out similar ideas: that sometimes, being an adult sucks big time.
The episode captures both the tone and feel for the entire series, and as much as it's a fantasy show, the slow friendship between Tim and Daisy in the café seems perfectly natural, and while their desperation to find a flat is over the top, their cunning plan and 'getting you know you' scene is genius.
When their plan sees fruition, we then get introduced to Marsha, Mike and of course Brian – whose great 'I rent downstairs' double entendre is just delivered with such deadpan humour by Mark Heap that a cult icon is born. Brian's introduction also gives Edgar Wright his first chance to dazzle us with his great eye for filming. He borrows shots and direction from the likes of, well, everyone, from Sam Raimi to Scooby Doo, creating the show's unique look. When you add in the painstaking editing, really, the show was like nothing seen before.
Added to this, the first episode also has a brief cameo by Bill Bailey as Bilbo, who surprisingly enough owns a comic shop. Which helps to keep the the geek references flowing. While he isn't a major player in the Spaced world, he'ss always there to give his opinion of the likes of Babylon 5 or Rogue Trooper.  
From the great set-up to the easy in which the sit-com elements all fall into place to the 101 references this first episode really set up both series and was a fantastic taster of what was to come.
Come back tomorrow to find out which episode takes the #3 slot…