News
The Top 5 Spaced episodes – #3
We're halfway through Rob's countdown of the best Spaced episodes now... and it's all getting a bit competitive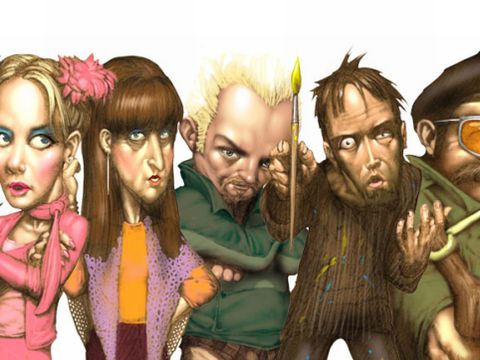 # 3 – Mettle – (season 2 – aired March 9 2001)
With the intro sequence kicking off with a spot on parody of Robocop you know this episode will be a good one. A mix of Robot Wars,  Fight Club and One Flew Over the Cuckoo's Nest, this show is a interesting one as, for a change, both Tim and Daisy's plots are as good as each other (rather than one being a 'filler' plotline to the other). It's also one of the best parody-centric episodes of both seasons.
The blokes' plot this week has Tim and Mike getting through to the quarter finals of Robot Wars (remember that? It was great once… a long long time ago) with their robot the 'Fxxkest Uppest'. The episode's strongest personal scene has Tim showing off his massive chopper to Daisy, who's pretending to be Robot Wars presenter Phillipa Forrester for the 'Don't cheapen this' moment. It's not only tender, but also packed full of innuendo and comedy timing –  especially the bit when Mike walks in on them and gets upset, because he is usually Phillipa.
This Robot Wars storyline would have made a great episode by itself; however, this great idea is also twinned with Daisy's 'I got the sack' job opportunity which leads to a fantastic setup that has her crushed by a fast food equivalent of Nurse Ratched. If you've ever seen One Flew over the Cuckoo's Nest, you'll see this is scene for scene parodied, with Daisy's kitchen nightmare mirroring McMurphy's experiences in the film perfectly.
So with two great stories what else could make it better? Well, the sabotage of Mike and Tim's robot by Dexter, a rival at Mike's local TA. Played to overly camp, moustache-twirling perfect villainy by the League of Gentlemen's Reece Sheersmith, this is just a great piece of comedy casting. Added to this we also get Mike's obvious anger and his 'Timmy, get me my tools' 80s montage that follows in the Robot rebuild revenge which is just fantastic and creates the perfect payoff off for the finale.
What about the other cast? Well, they are not forgotten as we also get a great side story of Brian trying to get his art installation sorted out. This could have been a one joke set-up but once again it is Mark Heap's perfect comedy timing that makes the pay-off for this so great.
So to the finale and the great set-up and pay-off for the classic Robot Club scenes. If you haven't seen this episode, think Fight Club only with the 'last gym picks' or… erm or the Den of Geek Staff lining up in vests rather than Brad Pitt and co. The fact that this is supposedly a no-holds barred underground club run by engineers is great, and added to the fun is the fact that the club is dotted with 'real' Roboteers from the actual show. We also have the great Robot Club Rules. The first rule is, nobody talks about Robot Club. The second rule is, nobody talks about Robot… oh no, sorry, the second rule is no smoking. It's made so much funnier by the fact that it is all delivered in a dead-pan way by an actor who looks like the school spanner.
A great episode, with the best 'explosive' ending and even though the episode ends on a bit of a downer for Daisy, it doesn't really matter as the fun of seeing military missiles strapped to the side of a Robot Wars style machine while Tim and Mike shout 'it's not fair' to the evil Dexter and his TA henchman team is just too great an ending to pass up.
Come back tomorrow for the penultimate part in this series…