News
The Top 5 Spaced episodes – #1
The countdown has come to an end! Click here to find out what Rob reckons is the best ever episode of Spaced...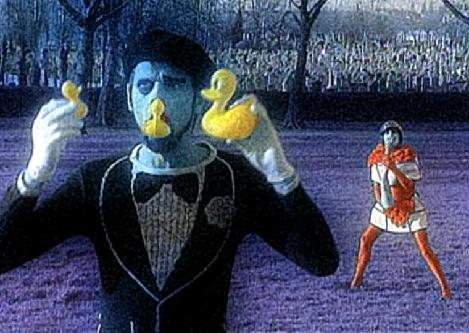 # 1 – Art (season 1 – aired October 8th 1999)
Skip to the end…
So this is it, the #1 on the list of the very best of Spaced. Really, it was a no-brainer; this is the episode that really launched the cinematic careers of the majority of the cast and gave them an opportunity to share their love of all things zombified.
Yup, Art is the episode that planted the seeds of Shaun of the Dead and showed fans there was a whole genre of zom-rom-comedy to explore. Filled with Romero references, this is the episode that upped the geek ante and had undead fans everywhere thanking Pegg, Frost and Wright for bringing the genre back to life (or is that unlife?)
The whole episode works so well; it's not just the zombies. This is a great ensemble episode: we have Daisy going for a job at a up-market female magazine and doing a cringe-worthy interview with a completely inappropriate 'girl power' moment; Mike somehow getting to Sheffield on the Tube; and finally Brian, whose comedy timing is shown off to perfection as his practiced air of indifference as 'a painter… that… paints'  to his former partner Vulva (a 'non-gender-specific heterosexual lover' who bears an uncanny resemblance to the Blue Meanie and Leigh Bowery played like a trippy Joker by David Walliams) fails miserably.
And talking of trippy fun, that brings us back nicely once again to zombies, who to be fair are why this episode is remembered with such fondness. The episode kicks off with Tim accepting some cheap naughty substances from some violently friendly Scottish blokes. Our reluctant hero then spends the evening engrossed in Resident Evil 2 till he begins to hallucinate. Not being able to tell the game from reality culminates in Tim giving Vulva a much-deserved punch in the face.
In addition, in this episode we also get Paul Kay's great 'art' performance, Brian's insane post-modern art flashbacks and Daisy's funny and knowing Bruce Naumans 'Torture Clown' parody (oh… art and culture references..yes, I do know a little bit more than just comics and telly you know!), and a final drug reference as the them tune of Magic Roundabout plays us out of the episode.
This really is my most watched episode of Spaced and while the series is a culmination of pop culture and geek references, some superb writing, direction and editing, Art just pips other episodes to the post by, well, having zombies in it. A classic episode and well deserved of its place at the top of the Spaced mountain.