News
The Tick Season 2 Release Date, Trailer, Cast, News
Spoooooon! The Tick Season 2 will go ahead at Amazon Prime!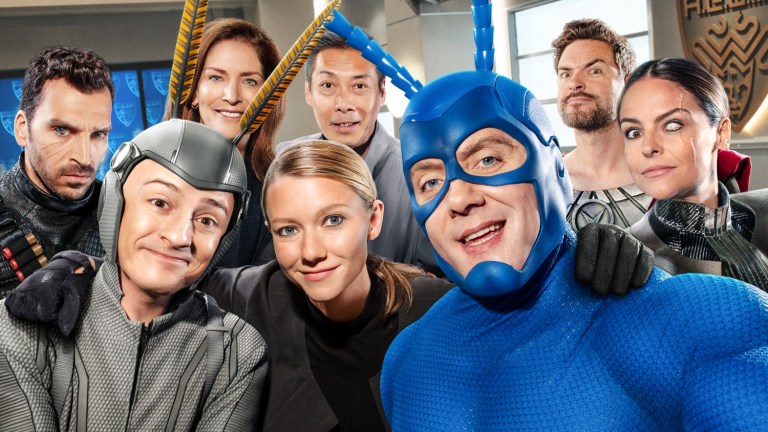 Amazon has done the right thing and renewed its one and only superhero show. The Tick Season 2 is now confirmed for a 10 episode season.
Tick creator Ben Edlund will return as executive producer alongside Barry Josephson, Barry Sonenfeld, and Kit Boss. Leads Peter Serafinowicz and Griffin Newman will also be back, of course. We're bound to get lots of casting announcements for bizarre and offbeat superheroes and supervillains as we get closer to The Tick Season 2 release date.
Watch The Tick on Amazon Prime
The Tick is more than a reboot of the beloved animated series or short-lived live action series. Instead, it's an almost complete re-evaluation of the concept. It's also the sharpest superhero sendup since the 1966 Batman TV series, with Peter Serafinowicz doing a pretty dead on Adam West in his role as the title character.
"I am so excited that Amazon wants to continue this wildly fruitful collaboration and that this amazing cast gets to stay together, and that we get to build this mythos further, wider, deeper, and taller," Ben Edlund said in a statement (via Deadline). "We got a good ball of mud spinning with the right tilt of axis, I'm very happy we have this opportunity to keep peopling it."
The Tick Season 2 Release Date
The Tick Season 2 will premiere on Friday, April 5 on Amazon Prime. All 10 episodes of the season will be made available at once. Here's the poster for good measure. 
The Tick Season 2 Trailer
The Tick Season 2 trailer is here and it's a righteous superhero bonanza!
This world is about to get a lot bigger and weirder.
The Tick Season 2 Story
Per Amazon Prime's official synopsis:
In its second season, Tick and Arthur have freed the City from The Terror — now they must defend it from new villains and old enemies. That is if they can convince AEGIS, the government agency in charge of superhero regulation, that they deserve the job. But now that the City is 'safe enough to protect' Tick and Arthur begin to see they've got competition…
The Tick Season 2 Costume
The Tick received a new costume after the Amazon pilot. Now, per an IGN report, it looks like he'll be getting at least one more costume. IGN nabbed a first look at The Tick's updated suit and now he's the blue version of Erik Killmonger.