News
The Strain Season 3: Producers Talk New Season & Changes from Books
We sit down with Carlton Cuse and Chuck Hogan at San Diego Comic-Con to discuss new romances and new changes in The Strain Season 3.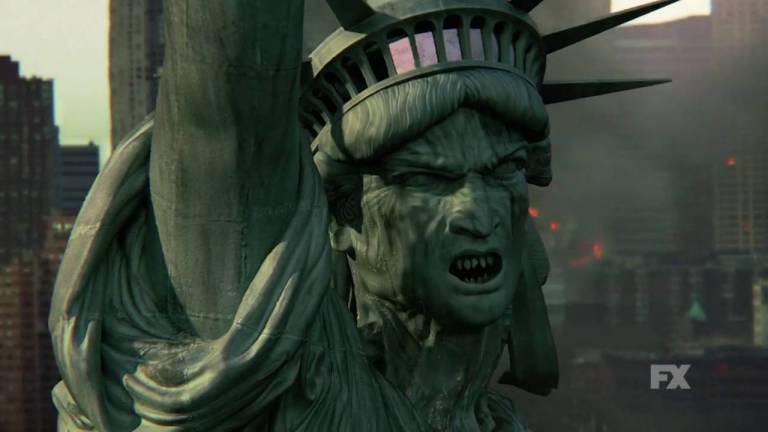 At this point, The Strain seems to be hitting its full stride as it heads into season 3. Previous years have been about the dawning realization that New York City is at the epicenter of a viral vampire apocalypse, but with the third season, which is set to debut on FX on Aug. 28, executive producers Carlton Cuse (Lost) and Chuck Hogan (13 Hours) are taking the Big Apple to its breaking point as the complete collapse of society appears imminent.
They're also doing so while embracing changes from The Strain trilogy of novels, written by Hogan and film director Guillermo del Toro (who still also acts as an executive producer on The Strain), that builds off the shocking season 2 finale where Mia Maestro's Dr. Nora Martinez met an electrifying end (her character survives the whole of the novels).
Discussing that shift in approach, as well as new surprises fans can expect in season 3, was at the top of our chats with both producers during separate roundtable interviews at San Diego Comic-Con.
"The story is going to go where the story is going to go, and we were never beholden to the book ever," Hogan tells me while reflecting on how a three-novel series has become a show that Cuse has previously said could be a five-season series. "For me, it's more fun to go far afield… There's never been any set number of seasons and nor are we like one book equals one season. So, we always thought there was some overlap and some expansion. So no, I wouldn't look for the books to line up with seasons at all. There's a story plan, but there's no scheduling seasons."
Cuse, who is proud to say that he thinks that The Strain season 3 is the show's best year yet, shared similar thoughts with me while discussing how the books and shows are increasingly taking their own separate journeys.
"My style as a showrunner is a very organic one," Cuse says. "I love the collaborative nature of television, [such as] in concert with writers in the writers' room, and you start working on stories and other ideas come up, and you don't want to be eliminating good ideas, just because they're not in the books."
He continues, "Both Chuck and Guillermo have been very open about moving away from the books. The books exist. The story exists in one form, and I don't think anyone will be able to take that away and change that. I think that just doing a straight-up adaptation of a television show that didn't change things up would not be very interesting, and I don't think it'd be that fun to watch. It would be very expected. I feel like the virtue of all of us rethinking the material as a TV series has been to add this whole other layer of creative energy to the process."
Also, while this is the first year Guillermo del Toro has not attended San Diego Comic-Con on behalf of The Strain, his literary collaborator in Hogan says the filmmaker remains part of the pillar from which the series is built.
"He's still very much involved, he's just got so many other projects," Hogan says. "And the show is definitely up on its feet and we're running. And it's not that he's not needed, he's completely welcome and he has a lot of input, but you know, there's a foundation that's established there that we're building on."
As for The Strain season 3, a season that Cuse frames with "as New York goes, so goes the world," the hints offered primarily focus on how tightening the narrative to 10 episodes has accelerated the action per episode, giving the series "narrative velocity." Indeed, to paraphrase the showrunner, the vampires are now a globally accepted concern. "It's sort of like smoking now. Everybody realizes smoking's bad."
When reflecting on new aspects that might surprise fans, even if they've read the books, Cuse focused on the characters of Dutch (Ruta Gedmintas) and Justine Feraldo (Samantha Mathis), both of whom are original characters created for the series in past seasons. He also hinted at some new romantic subplots to be unraveled in the third year.
 "The whole idea of Justine as a character, who is trying to hold New York together as the Strigoi are gaining more and more power," Cuse says about continuing exciting new storytelling avenues. "Her position as a demagogue leader in a collapsing society doesn't exist in the books, and I think is a really great storyline. There's also some new romance in the show in season 3 that's really cool, and we're excited about. I think even if things are dark in the show, there's lots of heart and humanity, and humor, and that's something we try to make sure—I just think if the show was straight and bleak, it would be not good."
The New York survivors of the bloody apocalypse will search for that humanity, as well as hope, when the season 3 premieres on Aug. 28.