News
The Strain: Carlton Cuse & Natalie Brown Talk Season Premiere Cliffhanger
We chat with Carlton Cuse and Natalie Brown about that creepy cliffhanger to The Strain Season 2 premiere.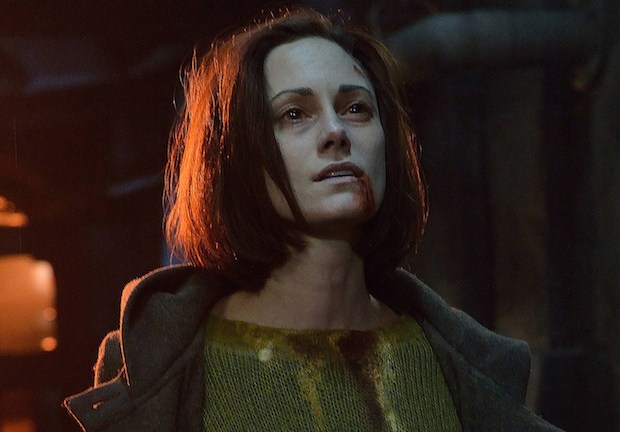 Warning! Spoilers for The Strain season 2 premiere await!
If you watched The Strain season 2 premiere last night, then chances are you were as disturbed as we were by the sight of blind kids rising from the dead as a fresh new breed of vampire hell. Children of the Night, indeed.
The sequence came about in a very foreboding, hour-long through-line that carried from the Medieval transformation of a kind-hearted nobleman into the Master all the way to present day where he summoned a classroom full of the blind Manhattanite young ones to their brutal graves. Even Richard Sammel's Undead S.S. Officer Thomas Eichorst was on hand to usher the kids off the proverbial trains and into oblivion.
Yet, perhaps the biggest kicker is that both Eichorst and the Master have resurrected the consciousness of Kelly Goodwather, the ex-wife of Corey Stoll's Eph. When actress Natalie Brown channels the slow recesses of Kelly's returning consciousness it is an unsettling moment of foreboding doom for Eph and his son Zack, particularly as Eichorst giftwraps the now resurrected blind children, or "Feelers," into Kelly's care.
But what exactly are Feelers, and what do they mean for Kelly and Eph's broken nuclear family? Well, we asked exactly those questions to Ms. Brown and The Strain executive producers Carlton Cuse and Chuck Hogan during a series of roundtable interviews at San Diego Comic-Con yesterday.
"It's the custody battle that never ends; it's still a fight for Zack!" Brown joked when asked about that cliffhanger ending. "In the beginning, Kelly's very singular in her focus. The Master has let her out on a fairly long leash to do her bidding and in turn his own. But she's a more freethinking, higher functioning…mature vampire, if you will. As the season progresses, her emotional palate does expand, and she have access to her memories. The Master can do as he sees fit, but by allowing this, [it] allows her more access to act out his wishes."
But will those wishes always overlap? The most curious thing about the ending is just what exactly the Feelers are and how they are now at the thrall of Kelly.
"She feels a connection to them; they were given to her and they're special to her," Brown said. "It's a new family for Kelly and it's a surrogate family…It's a bit more of a National Geographic take on Mama Bear and her cubs."
Carlton Cuse, who produced the episode, also described the kind of nightmarish abilities these little demons will have.
Says Cuse, "The Feelers are basically blind children who turn into these super-speedy, really horrific vampire creatures. And they're awesome, and they're a creation of Guillermo [del Toro] and Chuck [Hogan] from the books, and we sort of decided this was a great way to ramp up the force of opposition in season two. One of the things I love about the books that drew me to the project is there's these sort of multiple layers of antagonism. You know in The Walking Dead you have one kind of zombie. In our show, we have all sorts of different vampires with different agendas, different powers."
But not all threats in season two will be of the infected variety. Indeed, Chuck Hogan, a fellow executive producer, as well as co-author of The Strain's source material, revealed during our chat that there is a whole new character played by Samantha Mathis that brings a ruthless, authoritarian danger to the greater New York area in season two.
"[She's] this city council woman in Staten Island," Hogan told me. "Staten Island because of its geography, they're able to clear out the vampires from there. And she kind of rises to prominence in New York City due to defeating vampires. It's a character that wasn't in the book at all; it really grew out of us thinking big picture what we need for season two, and how to sort of personify New Yorkers response to this plague."
Cuse similarly suggests that she might be effective at killing vampires, but she represents a threat to civil liberties and the American ideals that New York is supposed to be protected under. Then again, if the fate of those blind children in the season two premiere is any indication, there is not much protection at all in The Strain these days. I imagine that's why viewers cannot wait to see what the Feelers do next.