News
The Stand: James Marsden Lands Lead in New Limited Series
Former X-Men and Westworld star James Marsden will lead the forces of light in The Stand.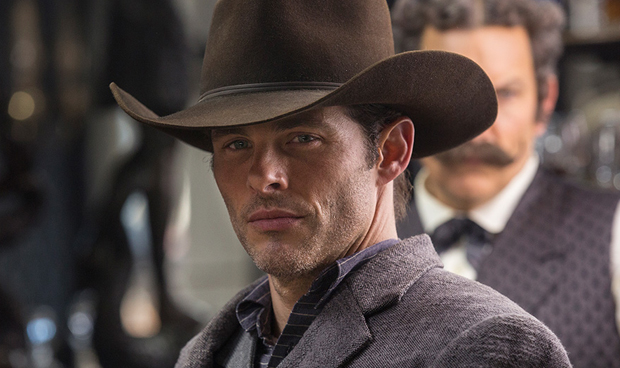 James Marsden has been tapped by director/writer Josh Boone (New Mutants) to play the lead role of Stu Redman in the upcoming CBS All Access limited series based on Stephen King's The Stand, according to Deadline.
Redman is literally the first major character we meet in the original version of King's novel, where we find him hanging around a gas station with a handful of local cronies in a one-stoplight Texas town. When a car crashes into the station, former military man Redman and his friends try to help its driver — who is patient zero of the deadly virus that soon wipes out most of humankind.
Read More: Every Stephen King Movie and TV Series in Development
However, Redman is strangely immune to the Captain Trips superflu, and ends up not just a survivor but one of the leaders of the ragtag community of decent people who must do battle with the forces of darkness, led by the demonic Randall Flagg.
Redman was previously played (to perfection) by Gary Sinise in the 1994 ABC miniseries based on King's post-apocalyptic epic. Marsden is best known to genre fans as Cyclops in the first three X-Men movies (as well as X-Men: Days of Future Past) and has more recently had a starring role on Westworld.
Other actors said to be approached about roles in the series include Amber Heard for the part of Nadine Cross, Whoopi Goldberg for Mother Abigail, Henry Zaga for Nick Andros, Odessa Young as Frannie Goldsmith and Greg Kinnear as Glen Bateman. 
Boone is directing all 10 episodes of The Stand from a script he has co-written with Ben Cavell. The series is expected to arrive on CBS All Access sometime next year. Boone's New Mutants, meanwhile, remains in limbo following the Disney/Fox merger and may undergo more reshoots before its planned release next April.
Don Kaye is a Los Angeles-based entertainment journalist and associate editor of Den of Geek. Other current and past outlets include Syfy, United Stations Radio Networks, Fandango, MSN, RollingStone.com and many more. Read more of his work here. Follow him on Twitter @donkaye