News
The SpongeBob Halloween Stop-Motion Special Gets a Trailer
Bikini Bottom is about to look a whole lot different this Halloween!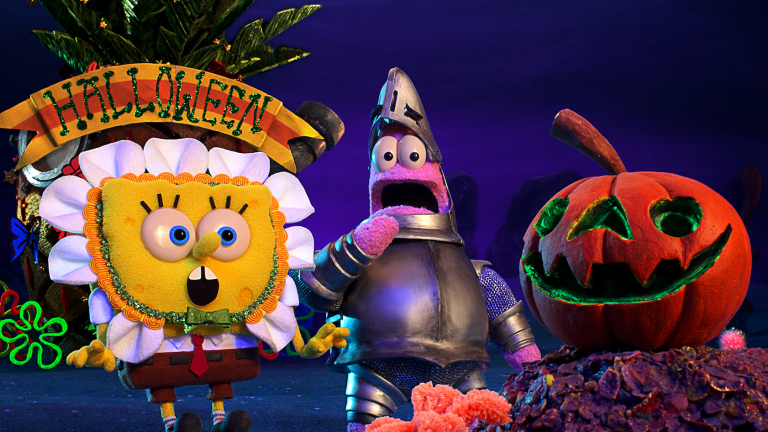 SpongeBob SquarePants is getting his second stop-motion special this fall on Nickelodeon—Halloween down under the sea will have a new look to it in SpongeBob SquarePants: The Legend of Boo-Kini Bottom!
The special will feature the ghostly recurring character The Flying Dutchman (voiced by Brian Doyle Murray), who's returning to scare everyone in Bikini Bottom and deliver an original song, "The Scare Song" (written by Mr. Lawrence, music by Eban Schletter), which will be performed by the Flying Dutchman's crew of pirate ghosts.
Bikini Bottom will be completely transformed for Halloween. Sandy's treedome will double as a mad scientist's lab with a remotely operated Frankenstein-like Acorn Monster; Mr. Krabs' restaurant as "The Horrors of the Chum Bucket" will display scenes of Plankton torturing food; and Plankton's restaurant as "The Horrors of the Krusty Krab" will tell the story of Mr. Krabs turning customers into Krabby Patties and more.
SpongeBob SquarePants' first stop-motion episode, SpongeBob SquarePants: It's a SpongeBob Christmas!, aired in December 2012. Screen Novelties, a stop-motion animation production company, produced both SpongeBob stop-motion specials. They used miniature puppets on 27 sets across five stages to complete the Halloween special. 
SpongeBob SquarePants: The Legend of Boo-Kini Bottom is set to premiere Friday, Oct. 13, at 7 PM ET. Don't miss it!