News
The Son: Release Date and Trailers for New AMC Western
Pierce Brosnan goes west in AMC's drama The Son. Here's what we know about the new series...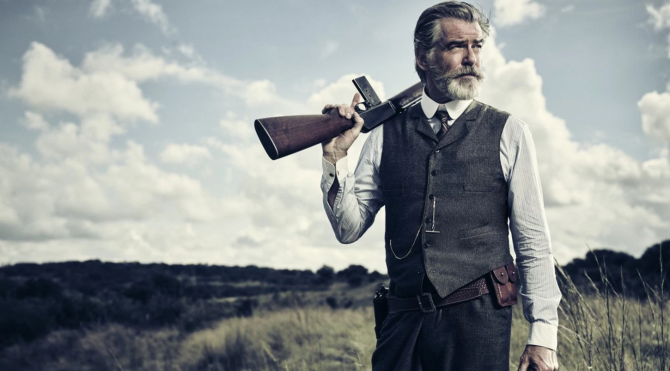 AMC's new drama series The Son is set to fill the void Hell of Wheels left for fans of the TV western. A slew of teaser trailers are already out (see below), and now we have brand new details on the series.
The Son Premiere Date
The Son was ordered straight-to-series. AMC and Sundance will air 10 hour-long episodes beginning on Saturday, April 8th at 9 pm.
The Son Trailer
The new teasers show Brosnan readying to tame the wild frontier. The series looks like it will channel classic westerns, including the tradition of beautifully shot exteriors of rugged American landscape.
The Son Cast and Plot
Brosnan will play "The First Son of Texas," Eli McCullough. The Native Americans taught Eli everything to know about the wild west because he was kidnapped by the Comanches when he was a child and was raised by the tribe. Eli's father figure is war chief Toshaway (Zahn McClaron).
Henry Garrett will play Eli's son Pete, who wants to do good by his old man. Sydney Lucal will play Eli's tomboy granddaughter Jeannie.
Here's the official synopsis from AMC:
The ten-episode, one-hour drama is a sweeping family saga spanning 150 years and three generations of the McCullough family. The series traces the transformation of Eli McCullough (Pierce Brosnan), the charismatic family patriarch, from good-natured innocent to calculating killer. He loses everything on the wild frontier, setting him on the path to building a ranching-and-oil dynasty of unsurpassed wealth and privilege.  Eli's eldest son Pete (Henry Garrett), has grown up in his father's shadow and struggles to make him proud while forging his own identity. Pete's strong-willed daughter, Jeannie (Sydney Lucas) idolizes her grandfather and despite being raised in a male-dominated world, rejects her fate of existing solely to marry and bear children. Eli's ruthlessness pits him against his wealthy Spanish neighbor, Pedro Garcia (Carlos

Bardem) and his quest for power triggers consequences that span generations. Shared through a series of flashbacks, "The Son" pulls viewers into the world of young Eli McCullough (Jacob Lofland) and his father figure, Comanche war chief, Toshaway (Zahn McClarnon) and deftly explores the McCullough's rise to become one the most powerful family dynasties in Texas. 
The Son will be Brosnan's first TV starring role in nearly 20 years. His last starring TV role was his breakout performance in the NBC detective series Remington Steele, which ran from 1982 to 1987, opposite Stephanie Zimbalist. Though he did charm Marge Simpson on The Simpsons in 2001 and did a voice on Thomas & Friends in 2008. He also starred in the miniseries version of Around the World  in 80 Days in 1989.