News
The Shape of Water, HBO Win Big At Critics' Choice Awards
The Critics' Choice Awards solidified The Shape of Water as an Oscar contender and Elisabeth Moss as all-around ruler of the universe.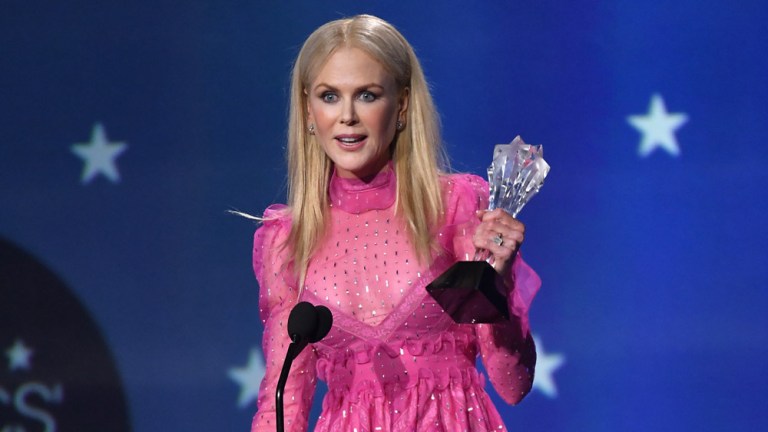 The Critics' Choice Awards claims to be the most historically accurate predictor of Academy Award nominations. If that's the case, then this thing just got weird. 
Tonight in Los Angeles, The Broadcast Film Critics Association (BFCA) and Broadcast Television Journalists Association (BTJA) revealed their choices for the year's best in television and film, with some help from host Olivia Munn. 
There were some surprises to be had.
On the film side of things, Guillermo Del Toro's fish-monster-loving movie The Shape of Water took home the Best Picture top prize, with Del Toro also winning for Director. With Del Toro having won the Golden Globe too, The Shape of Water has suddenly become an unexpectedly viable Oscar contender. 
Gary Oldman (Darkest Hour), Frances McDormand (Three Billboards Outside Ebbing, Missouri), Sam Rockwell (also Three Billboards), and Allions Janney (I, Tonya) won the big film acting honors. The Shape of Water and Three Billboards Outside Ebbing, Missouri were the big winners overall with four and three awards, respectively.
James Franco won Best Actor in a Comedy for The Disaster Artist but did not attend the show, likely due to scrutiny surrounding recent claims of sexual harrassment made against him.
For the TV portion of the awards, HBO dominated as HBO tends to do. Big Little Lies won four awards including Best Limited Series and acting awards for Nicole Kidman, Alexander Skarsgård, and Laura Dern. Walton Goggins got an award for HBO as well with Vice Principals because it's probably a law that when TV critics gather in any setting, Walton Goggins gets an award.
The Handmaid's Tale won for Best Drama Series and The Marvelous Mrs. Maisel won for Best Comedy Series, suggesting there may be a bit of overlap with the Broadcast Critics and the Hollywood Foreign Press.
Really though, the joy of any Critics' Choice Award presentation – movie, television, or otherwise, is the awarding of more niche fair like Get Out getting to be a modest powerhouse with awards for screenplay and best sci-fi/horror and Rick and Morty winning Best Animated Show or David Harbour picking up a statue for Stranger Things. 
Here are the full winners: 
FILM
BEST PICTURE – "The Shape of Water"
BEST ACTOR – Gary Oldman, "Darkest Hour"
BEST ACTRESS – Frances McDormand, "Three Billboards Outside Ebbing, Missouri"
BEST SUPPORTING ACTOR – Sam Rockwell, "Three Billboards Outside Ebbing, Missouri"
BEST SUPPORTING ACTRESS – Allison Janney, "I, Tonya"
BEST YOUNG ACTOR/ACTRESS – Brooklynn Prince, "The Florida Project"
BEST ACTING ENSEMBLE – "Three Billboards Outside Ebbing, Missouri"
BEST DIRECTOR – Guillermo del Toro, "The Shape of Water"
BEST ORIGINAL SCREENPLAY – Jordan Peele, "Get Out"
BEST ADAPTED SCREENPLAY – James Ivory, "Call Me By Your Name"
BEST CINEMATOGRAPHY – Roger Deakins, "Blade Runner 2049"
BEST PRODUCTION DESIGN – Paul Denham Austerberry, Shane Vieau, Jeff Melvin, "The Shape of Water"
BEST EDITING (TIE) – Paul Machliss, Jonathan Amos, "Baby Driver"
BEST EDITING (TIE) – Lee Smith, "Dunkirk"
BEST COSTUME DESIGN – Mark Bridges, "Phantom Thread"
BEST HAIR AND MAKEUP – "Darkest Hour"
BEST VISUAL EFFECTS – "War for the Planet of the Apes"
BEST ANIMATED FEATURE – "Coco"
BEST ACTION MOVIE – "Wonder Woman"
BEST COMEDY – "The Big Sick"
BEST ACTOR IN A COMEDY – James Franco, "The Disaster Artist"
BEST ACTRESS IN A COMEDY – Margot Robbie, "I, Tonya"
BEST SCI-FI OR HORROR MOVIE – "Get Out"
BEST FOREIGN LANGUAGE FILM – "In The Fade"
BEST SONG – "Remember Me" from "Coco"
BEST SCORE – Alexandre Desplat, "The Shape of Water"
TELEVISION
BEST COMEDY SERIES – The Marvelous Mrs. Maisel,Amazon
BEST ACTOR IN A COMEDY SERIES – Ted Danson,The Good Place, NBC
BEST ACTRESS IN A COMEDY SERIES – Rachel Brosnahan, The Marvelous Mrs. Maisel, Amazon
BEST SUPPORTING ACTOR IN A COMEDY SERIES– Walton Goggins, Vice Principals, HBO
BEST SUPPORTING ACTRESS IN A COMEDY SERIES – Mayim Bialik, The Big Bang Theory, CBS
BEST DRAMA SERIES – The Handmaid's Tale, Hulu
BEST ACTOR IN A DRAMA SERIES – Sterling K. Brown, This Is Us, NBC
BEST ACTRESS IN A DRAMA SERIES – Elisabeth Moss, The Handmaid's Tale, Hulu
BEST SUPPORTING ACTOR IN A DRAMA SERIES – David Harbour, Stranger Things, Netflix
BEST SUPPORTING ACTRESS IN A DRAMA SERIES– Ann Dowd, The Handmaid's Tale, Hulu
BEST LIMITED SERIES – Big Little Lies, HBO
BEST MOVIE MADE FOR TV – The Wizard of Lies, HBO
BEST ACTOR IN A MOVIE MADE FOR TV OR LIMITED SERIES – Ewan McGregor, Fargo, FX
BEST ACTRESS IN A MOVIE MADE FOR TV OR LIMITED SERIES – Nicole Kidman, Big Little Lies, HBO
BEST SUPPORTING ACTOR IN A MOVIE MADE FOR TV OR LIMITED SERIES – Alexander Skarsgård, Big Little Lies, HBO
BEST SUPPORTING ACTRESS IN A MOVIE MADE FOR TV OR LIMITED SERIES – Laura Dern, Big Little Lies, HBO
BEST TALK SHOW – Jimmy Kimmel Live!, ABC
BEST ANIMATED SERIES – Rick and Morty, Adult Swim
BEST UNSTRUCTURED REALITY SERIES – Born This Way, A&E
BEST STRUCTURED REALITY SERIES – Shark Tank, ABC
BEST REALITY COMPETITION SERIES – The Voice, NBC
BEST REALITY SHOW HOST – RuPaul, RuPaul's Drag Race, VH1