News
The Sandlot TV Reboot In the Works
The Sandlot writer-director David Mickey Evans has revealed that he's sold a Sandlot TV show to an unnamed streaming service.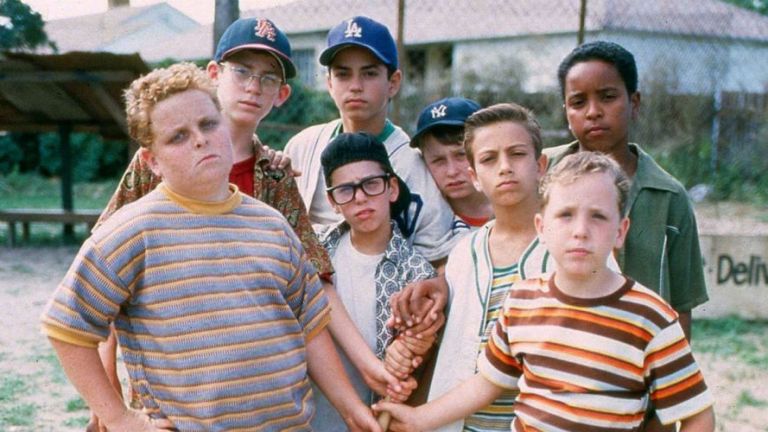 You're killing me…TV reboots of beloved '90s films!
An unnamed streaming service has ordered two seasons of a TV reboot for The Sandlot, starring the original cast. The source of this news is pretty rock solid considering that it comes directly from original Sandlot writer-director, David Mickey Evans. 
Evans made the announcement on baseball podcast The Rain Delay on Thursday. 
"I just sold a Sandlot television show," Evans told podcast host "Cooperstown" Kurt Lawson. "We're about to get an order for the first two seasons. I know who's going to stream it. It doesn't take a genius to figure that out right now."
Doesn't take a genius to figure that out? So…Netflix? There are really only three major options at the moment (before Apple, Warner Media, and Disney get to disruptin'): Netflix, Amazon Prime Video, and Hulu. So any guess is going to have a 33% success rate. 
Evans added that The Sandlot TV reboot will reunite all the original members of the cast. The series will take place in 1984 when all members of the original Sandlot crew are 33 years old and have children of their own. The Sandlot superfans among you will have to figure out what that means canonically for Small's broadcasting career and Benny's MLB career. Also, while it makes sense to set a baseball series in the 1980s, it's a little disappointing that any Sandlot reboot wouldn't want to try to see how a modern day Sandlot scenario would work. Brockmire is currently the only TV series depicting modern day baseball and the world could use some more present-day baseball love. 
The original Sandlot film debuted in 1993 and told the story of a group of baseball playing youths in the San Fernando Valley in 1962. Initially, not that critically well received, the movie has become a sports cult classic with plenty of moments and quotes entering the pop cultural lexicon. A direct-to-video sequel was released in 2005, in which the only returning cast member was James Earl Jones. 
The Sandlot TV reboot is a separate project from the film remake underway at Fox. 
Alec Bojalad is TV Editor at Den of Geek and TCA member. Read more of his stuff here. Follow him at his creatively-named Twitter handle @alecbojalad