News
The Royal Rumble Results Didn't Answer All Of WrestleMania's Questions
In a move no one expected, Randy Orton won the Royal Rumble and will main event WrestleMania.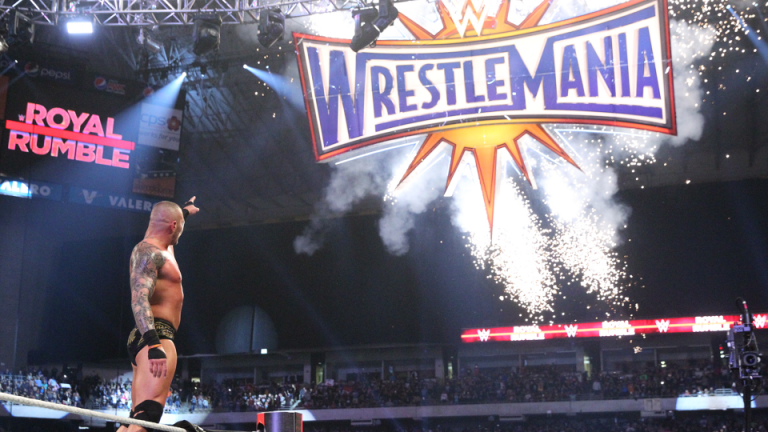 Say what you want about last night's Royal Rumble match, but the 30-man battle royal did a lot to set up this year's WrestleMania card.
First, let's rundown the obvious. Once again, Goldberg got the better of Brock Lesnar. After Goldberg basically squashed Lesnar Survivor Series this past November, Goldberg came back and brawled with Lesnar for a short period in the match until he ultimately eliminated Lesnar, leaving the former UFC heavyweight champion looking stunned in the middle of the ramp.
It's almost a lock that the Goldberg-Lesnar rematch will culminate at WrestleMania.
Later in the match, Roman Reigns eliminated the Undertaker, and there was a lot of foreshadowing here. Reigns looked like a heel as he scowled and stared down Undertaker. Michael Cole said that Reigns was telling Undertaker it was "his yard now."
I'm all for Reigns-Undertaker if you use Reigns as the heel, and while I don't want to get too excited, it feels like that's the direction they're going. Reigns look after eliminating Undertaker was that of a heel. He also eliminated Undertaker in an underhanded way. He had his back turned. Undertaker wasn't facing him head on.
The biggest criticism for the match, though, came for the finish. Orton beating Reigns really popped the crowd, but Orton is supposed to be the babyface. Was this more of an indication that they're going in the heel direction with Reigns? WWE had to know that Orton winning would get a babyface reaction if he eliminated Reigns.
But what are the plans for Orton? If it's an Orton-Cena match for the WWE Title, the crowd will probably gag on it. Sure, it's been a while since they locked up, but that's a match everyone has seen before. Time and time again, actually.
Orton-Owens? Maybe. Or they could move the titles at Fastlane in two weeks and book an Orton-Wyatt title match.
That would leave several top stars without a match, however. Taking the belt off of John Cena gives him no natural opponent, especially if Undertaker is with Reigns. Right now, it would appear the top matches are Triple H vs. Seth Rollins, Undertaker vs. Roman Reigns and Goldberg vs. Brock Lesnar. Where does that leave Dean Ambrose, John Cena, Kevin Owens and Chris Jericho? What about Braun Strowman, who Vince is obviously high on.
As many answers as last night's match provided, there are still plenty of questions.
1. Charlotte beat Bayley to retain the Raw Women's Title
This was a good opener, but I get the feeling that both Charlotte and Bayley want something more out of this. The match was fine, but it was clumsy at times as well. Even on the finish, it looked like Bayley hit her head hard on the mat. I expected a little more out of Bayley and Charlotte, and I'm sure they expected a little more out of themselves. The good news is that this was just the first in what will likely be a long run of matches, so there is plenty of time to work out the kinks. If this is a WrestleMania match, as has been suggested, I'd expect them to have the wrinkles ironed out by then.
2. Kevin Owens beat Roman Reigns to retain the Universal Title
Another good match. While not great, the brawling was fun and definitely different than the opener. Braun Strowman interfered in the finish of the match, chokeslamming Reigns through a table. That could be setting up a WrestleMania match, but it's more likely something to get Reigns through the next month or so, until Undertaker shows up around late-February or March to begin the build for what I think is a Reigns-Undertaker match at WrestleMania. I'd expect WWE to put Reigns over on Strowman, setting him up for Undertaker. It doesn't make much sense for WWE to book Reigns to lose a filler feud with Strowman, but they could go in that direction if the bigger play is to put Strowman over Reigns, and then Reigns over Undertaker, which then means you could circle back to Reigns-Strowman in the early part of the summer when Undertaker goes back into hiding.
3. Neville beat Rich Swann to win the Cruiserweight Title
This was a very good match and Neville was the right man to win. The crowd seemed down here, but it can be hard to judge crowd reaction with a large dome show. Neville has really blossomed since returning as a heel just before Christmas. He could be the guy who helps get that Cruiserweight division to the next level.
4. John Cena beat AJ Styles to win the WWE Championship
Match of the night. Heck, early contender for match of the year. Seriously, if you didn't see this match last night, go out of your way to watch it on WWE Network. The near falls were perfectly timed.
A lot of people are going to hate this match, because it's John Cena winning, but how many matches does Cena need to have that are really, really good before people start to just admit he's good at what he does? Cena-Punk, Cena-Edge, Cena-Bryan, Cena-Lesnar, and now Cena-Styles. A lot of what he touches turns to gold for a reason. He's terrific. And I'm also willing to see where WWE is going to go with Cena's latest title win. It could set up something between Cena and Samoa Joe. That would be great. If they go with the recycled Cena-Orton match, though, I don't see that as being very wise.
5. Randy Orton won the Royal Rumble
No one expected Randy Orton to win this match. I don't think I thought of an Orton scenario once leading up to the show. This Rumble match did accomplish a lot, though. And it went a long way to set up the matches for WrestleMania in just about two months.