News
The Romanoffs: Inside Episodes 1 and 2
The cast of The Romanoffs talks the first two installments in the anthology series.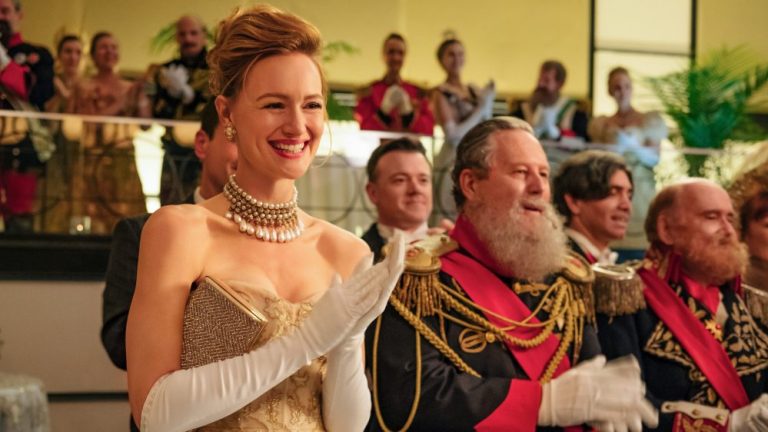 Matthew Weiner's long-awaited follow-up to Mad Men, The Romanoffs, is finally streaming on Amazon. The pricey project–estimated to cost upwards of $50 million for eight episodes–is an ambitious, globe-spanning anthology series that follows descendents of the Russian royal family, The Romanovs. The spelling of the titled is intentional, meant to reflect the pronunciation and how it was spelled up until recently. 
Amazon released episode one and two on Oct. 12 (you can read our review here), with subsequent episodes releasing every Friday thereafter. Each episode is a self-contained story with the look and feel of an indie film. As he did with Mad Men, Weiner included a long list of spoilers that critics are not allowed to share. So to preview episodes one and two, we spoke to the cast to understand some of the themes you can expect from each episode. 
In episode one, "The Violet Hour," Aaron Eckhart plays an American who is living in France with his girlfriend (Louise Bourgoin) while taking care of his aging and fickle aunt (Marthe Keller). The couple is enamored with inheriting the aunt's ancestral home in the heart of Paris, which leads to tension and heartbreak.
"In terms of bloodlines, history, and genealogy, I think [the episode] is timeless," Eckhart tells Den of Geek. "Materialism and one living one's own life and not living for something or someone else is a timeless theme." 
You can watch our full interview with the episodes stars, Eckhart, Keller, and Inès Melab below:
Leading up to the release of the series, it was discussed how The Romanoffs would change tones between episodes. There's a big shift from episode one to episode two, "The Royal We," which is more of a soapy thriller. Corey Stoll and Kerry Bishe star as a couple in a slumping marriage who seek outside excitement in their lives.
"We're going through a rough patch in our marriage and we're going on a vacation to address that," Stoll says. "[My character] gets jury duty and I'm the first person in history to actually want to go to jury duty."
So how does the history of the Romanov family play into the story? 
"[My character] was raised to have a certain sense of himself and a sense of privilege. He's living a life he feels doesn't live up to those expectations."
Watch the full interview below:
Read and download the Den of Geek NYCC 2018 Special Edition Magazine right here!