News
The Rise of Daniel Bryan: From American Dragon to People's Champion
Is Daniel Bryan's three-year journey to become the top face in the WWE a fluke, or is it a result of careful planning? Either way, the fans finally get what they want!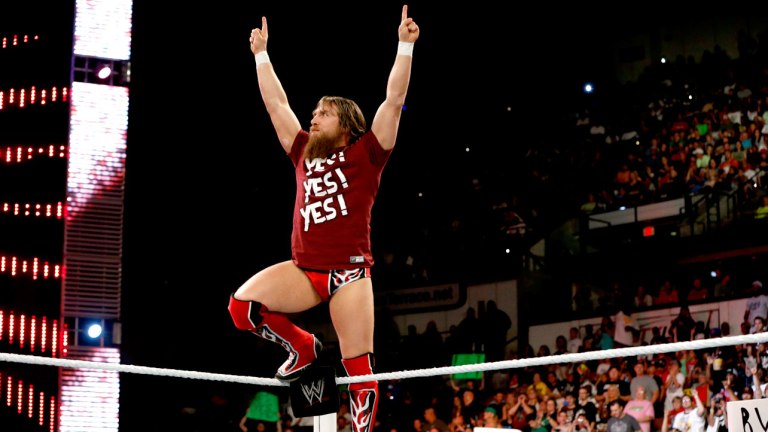 On August 11th  2007, my friends and I sat in the PA National Guard Armory in Northern Philadelphia. Ring of Honor hadn't sold out their aisle side seats and by virtue of being there early, management offered to upgrade our seats for free as the show was to be taped. Two of us took the offer, and though we were separated by the entrance way, we both had a great view of the action. I was especially excited this particular evening as my favorite wrestler, Bryan Danielson, would be competing against "Lightning" Mike Quackenbush. I've been to countless RAWs, pay-per-views, and even a Wrestlemania, but that night still sticks out in my mind.
You see, Danielson was sort of an enigma at the time. Trained (at least in part) by Shawn Michaels and formerly contracted by the WWE, "The American Dragon" had returned to the independents and Japan where he thrived as a top star. At the time, he referred to himself as "The Best in the World," and I (amongst others) agreed. Danielson was the was the poster boy for how "out of touch" the WWE was. I remember hearing that even his friendship with John Cena couldn't get him a spot in the company. Though he had toyed with many personae, at the time his only gimmick was how good he was technically and his somewhat goofy demeanor. Danielson was the wrestler that didn't bother with being a Legend Killer or King of Kings. He was what his audience wanted, and this would be the impression held for about the next two years.
In late 2009, Danielson was signed to a new WWE contract. Legend has it that the WWE was willing to debut him on television almost immediately, but Danielson insisted on returning to developmental for a period to better familiarize himself with WWE's working style and camera placement. Regardless, in February 2010 he made his debut on the nascent NXT. This was where his rise to fame began.
During his run on NXT, the rechristened Daniel Bryan was all but buried. The announcers made constant reference to his career in the independents and upon his dismissal, which itself implied a firing, Bryan even made a reference to his real name. It was frustrating to see him not allowed to shine with the rest of the new talent. All this was a simple reseeding. The WWE wanted you to remember that he could never make it there, though that was clearly not the case. On June 7th,  2010, Bryan appeared on RAW as part of the heel Nexus faction. His tenure in the group would last one night.
For those who don't remember, The Nexus debuted with a shocking, violent attack on WWE wrestlers and staff. During this attack, Daniel Bryan (we'll stick with his most well-known name from this point on) attacked WWE announcer Justin Roberts by choking him with his own tie. Kind of a perfect attack on a voice man I guess. Almost immediately, Bryan was "released" for his non WWE-PG behavior…or at least that's what we were told.
The following week on RAW, Bryan's departure was addressed by Nexus leader, Wade Barrett. The on-air explanation given was that Bryan had felt remorse for his actions. So, for those who bought the release as legit, the WWE had thrown away the clear top dog on NXT. For those who were just enjoying the show, Daniel Bryan was now a FACE.
Now, to give credit where credit is due, the month or so between Bryan being released and returning to the WWE was about as convincing as possible. My first reaction was that the release was a work, but even so I wavered on this opinion as time went on. Bryan worked indie shows through the period, even making some dates after his return. If not for the mention on RAW and the lack of a standard no-compete period, nothing seemed to point to it being an angle. Bryan returned at SummerSlam in August 2010 as John Cena's choice to help defeat The Nexus.
By October 2010, Bryan had taken the United States title from The Miz, his former NXT Mentor (another device used solely to irritate internet fans) and gained the reputation as a clean cut do-gooder who was more focused on competition than the over-the-top personalities that he fought against. He even made sure the word "wrestler" was thrown around. The internet crowd still doubted that Bryan would be made into anything, but were at least appeased that he was on the card. Bryan would lose the title to a then heel Sheamus, another perceived shot as his status. He would not regain the title from the dominant Irishman. Within the same angle, the pair would be pushed off Wrestlemania 27, one of the many mistakes of perhaps the worst 'Mania to date. Ok, Miz's "Hate Me Now" package was pretty awesome. Anyway, Bryan's status seemed to be in limbo after Wrestlemania. This would soon change.
In the summer of 2011, the WWE was looking to regain its audience's faith after the dismal end of Wrestlemania. Yes, the show affirmed the ultimately successful Cena/Rock feud, but otherwise cast most of the company's fan favorites in irrelevant positions. The 2nd annual Money in the Bank pay per view would serve as the starting point for this. While it is Punk defeating Cena and leaving with the WWE title that will always be most referenced event of the night, this was not the only important moment of the show. Alberto Del Rio shoved Rey Mysterio off a ladder and took his WWE Title shot. Randy Orton proved his dominance while still having a title to chase. And in one match, Daniel Bryan gained a shot at the World Heavyweight Title and his ascension to the top continued.
Though Bryan started with a promise that he would wait to cash in his contract at the upcoming Wrestlemania 28, something else happened. Bryan would turn heel and cash in on his former friend, The Big Show. After winning the title, Bryan's demeanor changed. He was dismissive of his girlfriend AJ. He weaseled his way out of losses. He started pointing to the belt and chanting "YES! YES! YES!" as he came to the ring. Suddenly, the once dignified, demure wrestler was something he had truly never been: a superstar.
At first I thought it was a mistake, but maybe I was wrong. At Wrestlemania 28, where CM Punk defeated Chris Jericho to retain the WWE title and The Rock put a dent in Cena's 'Mania record, Daniel Bryan lost the World Heavyweight Title to Sheamus (now face) in 18 seconds. It seemed like an insult after all the ground that had been gained since Money in the Bank. The crowd was worlds away from Wrestlemania 27 and this match seemed like a throwback to darker times. It felt like a sign that management would return to pushing the same few wrestlers they had in years prior. They didn't.
Though the announcers continued to harp on Sheamus' domination, the crowd throughout the show continued to chant for Bryan. Regardless of how pitiful he was made to look, the audience knew better. When the audience feels like they know something that the company doesn't, it has a greater effect than nearly anything else. It's where it is easiest for the wrestlers to blur the lines between the show and reality.
Due to his continuing popularity, Bryan would face CM Punk in a few losing efforts in 2012 and also helped launch AJ as the top female competitor in the WWE. After their break was affirmed, Bryan found unlikely success paired with Kane. The now bitter Bryan first feuded, then "accidentally" tagged with Kane. They would go on to gain the titles and while Bryan remained a heel, he would now comically chant "NO!" towards the audience and take solitary credit for their victories. As time wore on, the comedic pair naturally transitioned into faces and eventually lost their titles to The Shield. Bryan, by far the most popular face in the company, could finally break free.
That brings us to today. At SummerSlam this past August, Daniel Bryan defeated John Cena for the WWE Championship. Suddenly, Triple H, the on screen and off COO of the WWE, Pedigreed Bryan allowing Randy Orton to cash in his Money in the Bank briefcase to become the WWE Champion mere moments later. But this is a good thing. With Cena now on the shelf for 4 to 6 months due to injury, Bryan can flourish as the top hero in professional wrestling against the "corrupt" system that has reared its ugly head over his career.
Of course not everything that has happened has been intentional. Professional wrestling is a fluid art where countless factors impact decisions on a weekly basis. But believing that the company has put their faith in Daniel Bryan so many times is a fluke is simply madness. At this point, only CM Punk and Dolph Ziggler (who likely will be in a similar position soon) come close to rivaling Bryan amongst the company's faces.
What is clear now is that Daniel Bryan was chosen to become a top competitor early on. There was too much manipulation of the audience's opinion for this not to be the case. A three year journey, first developed in NXT and affirmed at Money in the Bank. The real question is, barring injury or unforeseen circumstances, will Wrestlemania 30 belong to Daniel Bryan? Since he is still my favorite wrestler, I say: "YES! YES! YES!"
Like us on Facebook and follow us on Twitter for all news updates related to the world of geek. And Google+, if that's your thing!