News
The Righteous Gemstones: Adam Devine and Edi Patterson on Earnest Comedy
Two of the stars of HBO's new evangelical comedy The Righteous Gemstones dish on their co-stars and their excitement about the series' tone.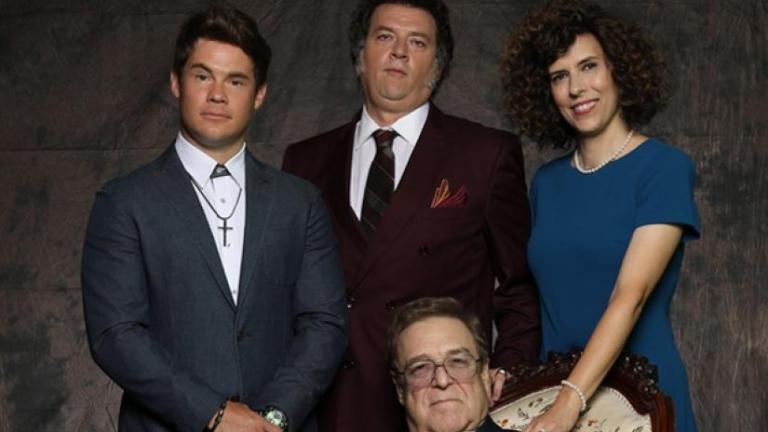 HBO's The Righteous Gemstones, centered on a family of wealthy evangelicals, may have series creator Danny McBride and the legendary John Goodman as a part of its familial ranks, but the rest of the clan are no lightweights either. Rounding out the Gemstone family is Workaholics-alum Adam Devine and Edi Patterson, the breakout star of McBride's last HBO series, Vice Principals.
Both actors have nothing but esteem for their on-screen family members. Patterson's stellar work on Vice Principals made it an easy choice for McBride to ask Patterson to play his sister on the series, and deciding to come on board the project was even easier for Patterson. "The second he asked me, I was into it," Patterson says.
Likewise, it was an easy decision for Devine as well, who also didn't have to audition for the role. "Danny just kind of knew what I do, and offered me the role. Which is one of the coolest things that's happened in my career," Devine says. "I'm a big fan of his." Devine may have been hesitant to return to a regular TV role so soon, but couldn't resist the chance to work with McBride. "I did [Workaholics] for seven years and I'm done with TV. And then two years later, Danny asked me to do this and I was 'absolutely, I'll do 200 episodes.'"
Both actors are even bigger fans of Goodman, and expressed the surreal nature of working with such a towering Hollywood figure.
"It's crazy. He's so embedded in my kid brain as someone who I thought was awesome and has been in awesome things since I was little," Patterson says. "So there were times that I look over at him and I'm like, 'Holy shit! John Goodman's our dad on this.' Yeah, it's amazing. You look at his career and he has one of the coolest and best careers of anyone in history." 
read more: Eastbound & Down – Kenny Powers and the Lessons of Life After Baseball
Devine concurs. "He's the best," he says. "I think he has the perfect career."
As exciting as it was for the two to make the series, they're even more excited for people to see it. 
"I just think the overall tone of the show is not like anything that's on right now. And that I really think there are gut-punch funny moments in every episode. And I think there are truly emotional moments in almost every episode. And I think it does this interesting balancing act," Patterson says.
Following-up, Devine says, "Yeah, I agree. I think people know that anything Danny and Jody (Hill) and David (Gordon Green) do will be very funny and very cool. But having this level of earnestness to it and a heart I feel people are going to be taken aback."
The Righteous Gemstones premieres on HBO Aunday, August 18 at 10 PM ET. 
Read and download the Den of Geek SDCC 2019 Special Edition Magazine right here!
Nick Harley is a tortured Cleveland sports fan, thinks Douglas Sirk would have made a killer Batman movie, Spider-Man should be a big-budget HBO series, and Wes Anderson and Paul Thomas Anderson should direct a script written by one another. For more thoughts like these, read Nick's work here at Den of Geek or follow him on Twitter.