News
The Purge TV Series: What The Setting Says About Its Universe
The new TV series wants you to know that The Purge can happen anywhere.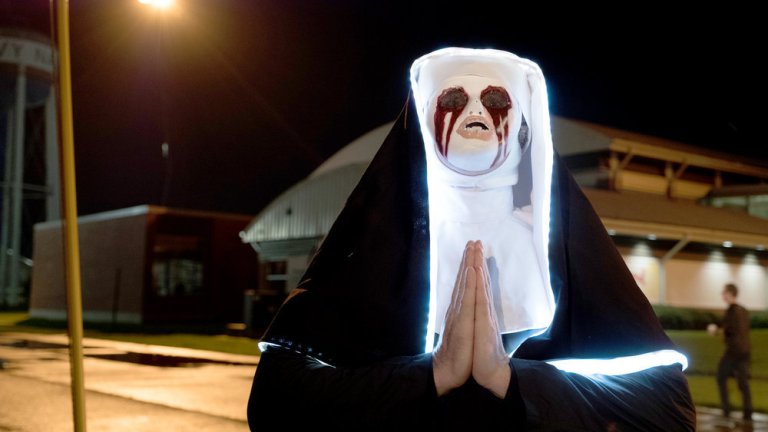 With each installment of The Purge film franchise, there's been an increasing focus on the socio-political implications of 12 hours of government-sanctioned lawlessness. Now with The Purge coming to television, its 10 episodes will dive deeper into how the Purge became deeply rooted in this society, and the decisions that ordinary people have to make to survive and fight a government that preserves its ruling class with a bloody holiday.  
The television adaptation, which premieres September 4th on USA, is a thematic cousin of the previous blockbuster installments. But showrunner Thomas Kelly says having 10 hours to play with will refocus the franchise on character-driven stories and help ground the series in reality.
"Can you imagine we actually go out on Purge Night? For us, in terms of the violence, it's really how it lands on the characters," Kelly says. "How it informs them, and how we see how they react to it and what decisions they make when faced with the horrors of the Purge Night"
The franchise is often described as dystopian. Actress Amanda Warren, who plays Jane, a businesswoman who hires a Purge assassin for some sweet revenge, pushed back on the idea of The Purge being dystopian, but rather timely and a cautionary tale.
"I don't think that it's that dystopian, I think it's closer to the realm of possibility, which gets me a little shook," Warren says. "It won't be too far of a reach to provoke people into thinking about the world in which they live in, whatever sub culture or community that might be, within our country and within the world."
Though The Purge TV series shoots in New Orleans, the series is not set in the Big Easy. The location is never disclosed to make it feel like this could happen anywhere.
"We don't specify the city because we want everybody to relate to it," Kelly says. "We don't want it to be a show about New Orleans, or about Los Angeles or New York or Topeka or anything else. We want it to be a show about America."
They avoided major landmarks like the French Quarter and Superdome and used the textured, diverse city for a variety of unique shooting locations. The elaborate sets built in the studio, which we're not at liberty to talk about until the episodes air, will easily be some of the most memorable in the franchise.
The New Orleans flavor does come through in the production and costume design. One designer mentioned that just hanging around the distinct bars of the Big Easy, steeped in tradition and folklore, was a big influence.
"It is such a vibrant city, but it's also spooky," says Colin Woodell, who plays Rick, a middle class man who wants to use the pro-Purge elite to kickstart a charitable cause.
"There are qualities to this city that are unlike anywhere else," he continues. "The history is so palpable and just in-your-face and I think incorporating this old historic element into this New World America we're living in would have been really cool. But because we can't do that and because we're not doing that, I think having a crew full of people who are from here, like Lauren our costume designer and our set designers, they are able to transfuse it in subtle ways that makes it very cool."