News
The Purge TV Series: Meet The Characters of the 10th Purge
The Purge franchise gets another life on the small screen.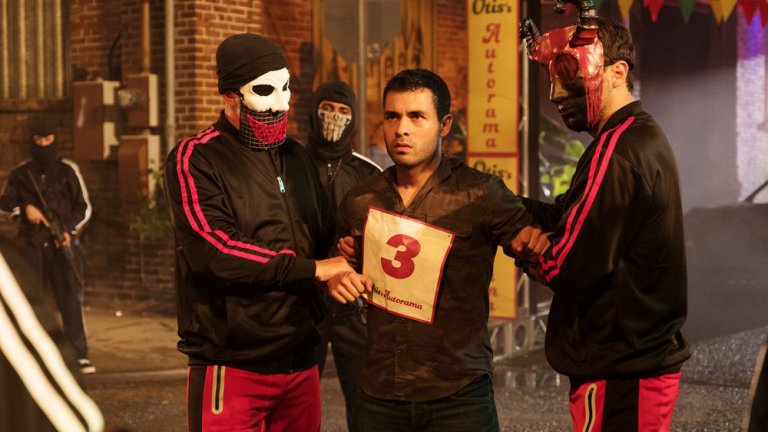 Outside on a New Orleans street, in the pitch black middle of the night, was when it became surreal for actor Gabriel Chavarria. A heavy police presence surrounded the set area to ensure no one mistakes fiction for a true emergency alert. Chills rushed through his body upon first hearing the shrieking siren announcing the commencement of the annual Purge.
"I'm running, I've got my weapon on me, we're in the neighborhoods, and it's just completely quiet," Chavarria says of the blurred lines between make believe and reality. "It definitely felt like the Purge."
Life has yet to catch up to art, but The Purge film series has in a fairly short stretch of time permeated our underlying fear of what a continued moral and political breakdown will do to society. An effective thriller keeps people on the edge of… wherever people watch content these days, because they feel like they can be transported to that place: defending against a home invasion, outrunning hired guns, or rebelling against an unjust regime. It also feels like the Purge to Chavarria, who stars in the upcoming television adaptation on USA Network, because real life domestic terror has worn the shine of allegory off the franchise. 
"It just kind of makes you realize this has happened before," Chavarria says of the unavoidable discussion of violence and politics in the franchise, in particular an episode where brutal murders are committed in homage to vicious homicides throughout real history. 
The television show has its share of shocking scenes that build on the world that writer/director James DeMonaco's created with the low budget 2013 thriller The Purge. To his credit, DeMonaco has always maintained that the franchise did not set out to glorify violence but to address the country's growing obsession with it. To do that in a nuanced way has its hurdles in a two-hour thriller, though DeMonaco was able to flesh out his message across in three sequels that tackled issues of class, race, and politics (read more on how made the jump to TV here). When The Purge TV series premieres on September 4th, it'll take 10 hours to slowly examine the issues in this world through a mix of Purge night stories and flashbacks.
"You can watch this as pure entertainment, a thrill ride," says showrunner Thomas Kelly. "But for an older, more discerning audience, there's a lot of great character stuff. Through the characters, we explore the issues of the day, whether it's race or class or what it's like to Purge. What is reality like for a really small percentage of people getting all the power? How does that affect our lives?"
The horrifying dystopian social experiment is rooted in more history than meets the eye, and despite being set in the near future, it has plenty to say about current times. So what can we expect from the new main characters and their storylines in The Purge?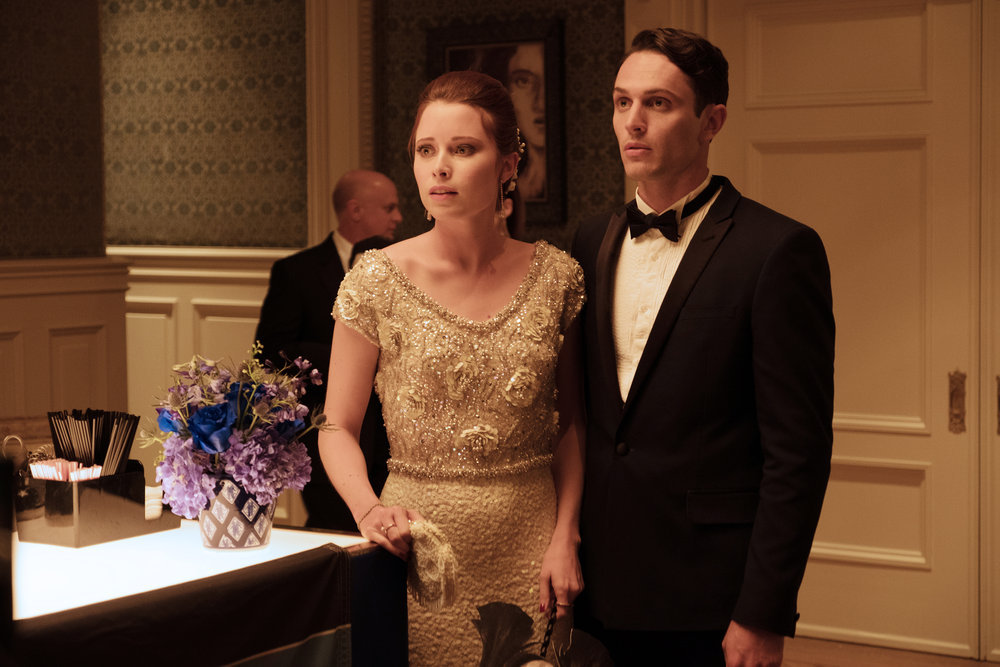 First Question: When in The Purge Timeline Does It Take Place? 
While the original film, The Purge, takes place on the fifth installment of the New Founding Fathers of America holiday, the TV series is set in 2027, which would be the 10th year of the Purge. 
"It feels very of-the-moment," Kelly says. "Despite the fact that in Purge mythology we are set in 2027, we make no conceptions to anything futuristic. We dont take people out and give them the comfort of, 'Oh, it's 10 years from now! This could never happen!'" 
The most recent films in The Purge franchise, Election Year and The First Purge, gave us more insight into the foundation of this universe. After the NFFA took office in 2014 following a financial collapse, the 28th amendment (your right to purge) was ratified in 2016, leading to the events of The First Purge, which were conducted as a social experiment on Staten Island in 2017. The NFFA hoped to maintain their rule by using the guise of a social experiment to have the lowest segments of the population commit acts of violence against one another, thus curbing overpopulation. It didn't work as people stayed inside and resisted their worst urges. The NFFA, anticipating this, sent in hired guns to make the Purge look like a smashing success. 
The following year, the Purge was rolled out nationwide. As we saw in The Purge: Anarchy, the hired government militia continued to target the lower class, which helped sell the public on the "success" of wholesale slaughter. The Purge: Election Year is a bookend of sorts, with anti-Purge sentiment rising and the NFFA crumbling. That film is set in 2040.
So the television series is set at a time when the Purge is at the height of its popularity, or should we say, social acceptance.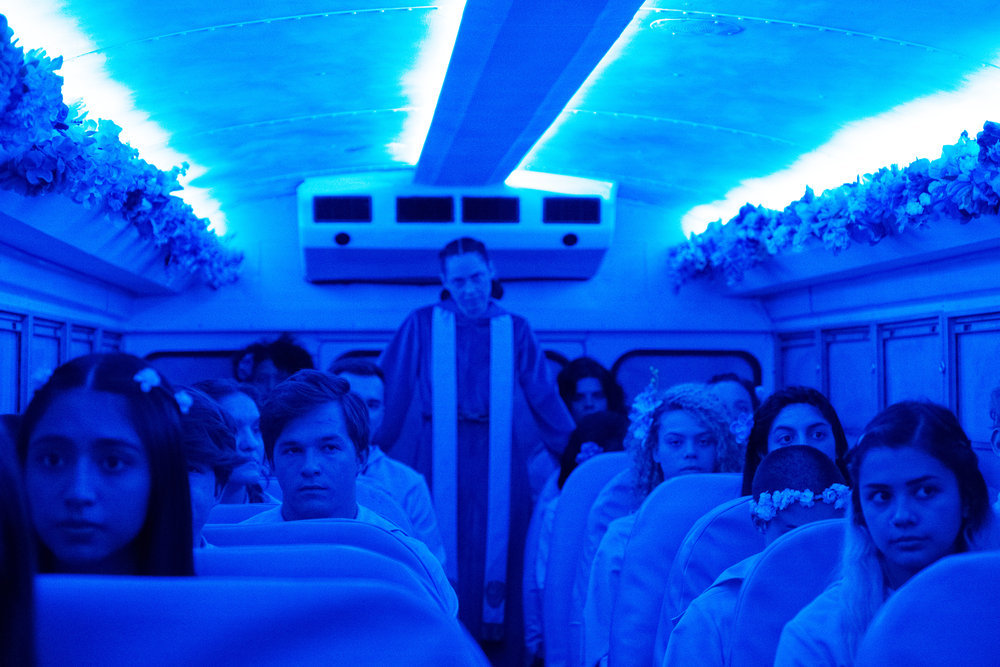 Look Who's Purging Now
Lucky for the reporters on set, the cast interviews took place in a Purge-free zone, a pub where Purgers can stop in and throw back a beer, albeit if they check their masks and weapons at the door first. It's another wrinkle we've yet to see in the feature films as the scope of the franchise widens for the TV series. These 10 hours of The Purge allow for a deeper look into a wider range of characters.
"We don't just see our characters on the night of, we get to learn about them and we see what in their life led them to make the decisions they're going to make on the night of," Kelly says. "It's been kind of great to really dig into the character where the movies aren't afforded the time to."
Like the films, class conflict is at the forefront of Purge night. Lili Simmons (Banshee) plays Lila, the daughter of a wealthy pro-Purge family. Though she doesn't exactly support the Purge, Lila ends up at her family's NFFA party to take care of unfinished business. "She's a socialite but also hates that world," Simmons says. "She tried to do good for the world to counteract what her parents do."
Lila isn't the only character who will crash the wealthy pro-Purge party. Jenna (Hannah Anderson) and Rick (Colin Woodell) are a middle class couple looking to use the pro-Purge elite to kickstart their charitable efforts. Anderson described Jenna as "morally driven," someone who "really does want to aid in the betterment of society." 
Rick, however, sees dollar signs. While he's anti-Purge like Jenna, Woodell says the character is "money-driven" and is willing to receive funding from people who support the Purge. "He's willing to put on more of a game face than Jenna is," Woodell says, "but his morals are still in line with hers. He's just having an easier time playing the game. He is trying to have a life that he never had. And in his mind, that life is having money and also just being comfortable and safe. I think it's stability that he's really seeking." 
Questions of ethics aside, Jenna and Rick are forced to confront their marital troubles, which play a big part in their flashback scenes and Purge night. With more time to explore intrapersonal relationships, The Purge can broaden the types of stories it can tell. Jenna and Rick might be the closest thing to a modern love story we'll see in this universe. While they try to heal their broken relationship against the backdrop of a life-altering night, a character named Miguel will be on a rescue mission more in line with the thrill ride fans expect from the franchise.
Miguel, played by Gabriel Chavarria, is a former U.S. Marine who sets out to save his sister Penelope (Jessica Garza) from a Purge-worshipping cult. 
"He's the only character where the Purge doesn't mean anything to him," Kelly says. "He's our only character that commits violence before the whistle, because it doesn't matter. He doesn't give a shit about the Purge, he doesn't give a shit about the construct of it. He's saving his sister. That's his mission."
Miguel is well equipped to handle whatever Purge night throw at him. "Because he's a military guy, he handles himself well out there," Chavarria says. "But he has a lot of challenges that happen throughout the entire season. Not only just physically but also morally. I think everyone in this show goes through some sort of moral challenge." 
To save his sister, he'll have to find the Purge cult, which is led by Good Leader Travis (Fiona Dourif). In the cult, people sacrifice themselves in truly horrific ways to save innocent lives. Believe it or not, the scenes we witnessed on set certainly raise the scare factor beyond what we've seen in the films. 
In another storyline, the character of Jane (Amanda Warren) has reached her professional breaking point, which leads her to hire a Purge assassin. Standing in Jane's way is Don Ryker (Billy Baldwin), a powerful managing partner at the firm. Warren says her character is driven by opportunity.
"But to be a participant is say, if you're not in a safe haven, you are either the predator or you are the one being preyed upon," Warren says. "And so she is choosing to participate. As difficult as the choice may be, everyone makes a choice on this show. Every single character does, no matter how large or small."
Tying this all together is a mysterious character named Joe, played by Lee Tergesen, who is armed, masked, and disrupts Purge killings for reasons unknown. It's unclear how this vigilante is connected to the rest of the characters, but hey, every Purge needs a Frank Grillo, right? 
The Purge premieres Tuesday, Septmember 4th at 10 p.m. on USA Network.