News
The Purge TV Series: Fiona Dourif Finds Compassion in Suicide Cult
Fiona Dourif discusses her role as a benevolent cult leader guiding teens to sweetly give themselves over as "martyrs" on The Purge.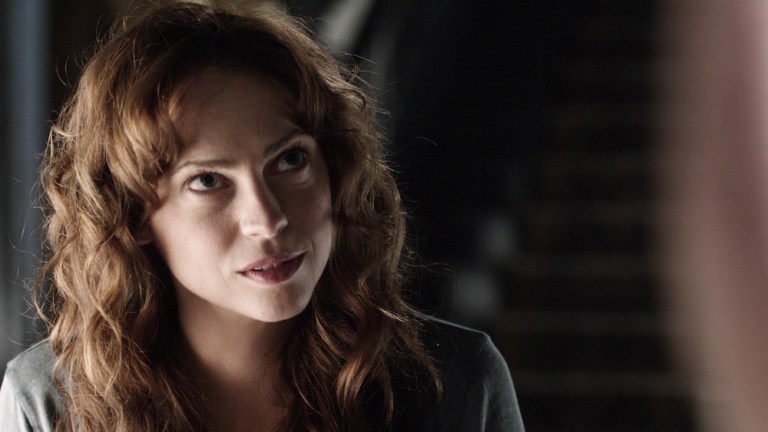 Fiona Dourif is no stranger to joining popular horror sagas. Something of a family business these days, Dourif previously jumped aboard the Child's Play films to portray fan favorite Nica in the two most recent Chucky films—installments that fans, including our editor-in-chief, consider to be the highlight of that series. Hence why she is more than okay with looking on the sunnier side of the New Founding Fathers' favorite holiday in USA network's upcoming The Purge TV series, where she plays a woman she describes as kind role model-type concerned about at-risk teens; she then makes sure to push them over the line and into the risk.
"I play Good Leader Tavis, a benevolent, passionate, loving leader who guides teenagers to their death," Dourif smiles with a deliberate affectation of innocence at San Diego Comic-Con. Preferring not to hear her character described as a cult leader, Dourif dryly insists, "Maybe what's on the other side is better than this life? You don't know!"
Dourif's humor belies the kind of dark comedy that has been a focal point of The Purge franchise, which is often as much about finding a discomfortingly satirical mirror for its viewers as it is pure chills. And yet, while Dourif is coy about the Christian fanaticism of Good Leader Tavis (she merely notes Tavis is a "true believer"), the underlying horror of fanatics using something like the Purge to inflict the most devastating aspects of their beliefs has an uncanny ring of truth. Especially when The Purge creator James DeMonaco gives a slightly less biased evaluation of Tavis' role on the new TV series, hinting at the insidious mingling of religion and capitalism.
"We get into a suicide cult where we find a young girl who lost her parents on the first Purge about 10 years before the show starts," DeMonaco tells me in a separate interview. "She's sort of gone off to drugs and now she's into this suicide cult, who offer themselves up as martyrs to people who want to Purge." Sounding like it is more about a cottage industry in which more affluent Purgers buy their "martyrs," there is room for the Good Leader to have not wholly altruistic motives.
Says Dourif, "Other people define this as a cult, but I don't think Good Leader Tavis would define it as that. I think I'm gathering orphans and trying to help them, and then there's rituals that bind us together and help them to have the bravery to give their souls over to death." She adds with a laugh, "And they do. Of course they do."
While there is clearly a gallows humor subtext to her plotline on the series, Dourif more earnestly notes how much her character is borne from plenty of real world research, including from her own life.
"I watched like 900,000 hours of preaching, and inspirational videos, inspirational motivational videos," Dourif recalls. "Also my mother was a psychic when she was alive and she had people who worked for her, and they were preparing for the end of the world; they were very convicted, and I think there is a little bit of my mom in there. She is a very smart, driven woman."
Read the Den of Geek SDCC 2018 Special Edition Magazine Here!
That familial connection has occurred in some of Dourif's most genre-friendly work. After all, the last time she came to SDCC, it was to discuss Cult of Chucky, a horror film that marks the seventh time her father, Brad Dourif, has portrayed the voice of the titular evil doll. And Fiona, appearing on screen as more flesh-blood force of evil, has made the series her own too, which makes the fact that there are attempts afoot to remake Child's Play after the franchise's VOD revival all the more surprising. While she confirms again that neither she or anyone from her family will be associated with a reboot of the Chucky movies, she is very much open to appearing in Don Mancini's attempts to continue "classic Chucky" in a TV series.
"I'll be floating around," Dourif laughs. But for those who consider the most recent Chucky films the best? She has a more concrete promise for the future. "Tell them I love them. They are my heart and soul. I will gladly guide them to their death."
Fiona Dourif's character may do just that when The Purge TV series premieres on USA on Tuesday, Sept. 4.