News
The Punisher: Release Date Confirmed, New Trailer, More Details
Jon Bernthal will play The Punisher on the upcoming Marvel Netflix series. Here's everything we know right now.
It came as no surprise after Daredevil Season 2 that Jon Bernthal's scene-stealing role as tortured vigilante Frank Castle, better known as The Punisher, would get his own show. The urban executioner will take the spotlight in Netflix's The Punisher series later this year.
The Punisher is the first new series created since the initial collaboration between Marvel and Netflix was announced, as it initially only included plans for Daredevil, Jessica Jones, Luke Cage, Iron Fist, and The Defenders. Writer/producer Steve Lightfoot (Hannibal) has been tapped as showrunner of the new series. He will also write the first two episodes.
"For me, the complexity and unpredictability of Frank Castle make him an incredibly compelling character and I couldn't be more excited to dive into his world," said Lightfoot. "After watching Jon's performance in Marvel's Daredevil I could not be more excited to be working with him to further develop and progress the story of this anti-hero in a show of his own."
"We want to thank the fans who are clamoring for more of Jon's stunning and powerful performance as Frank Castle from Marvel's Daredevil," said Marvel TV head Jeph Loeb. "Now combined with Showrunner Steve Lightfoot's compelling writing, we're thrilled to bring Marvel's The Punisher to Netflix."
The Punisher Trailer
Check out the new trailer!
Here's the earlier trailer…
There's another teaser with a found footage vibe…
— The Punisher (@ThePunisher)
September 18, 2017
The Punisher Release Date
The Punisher finally has an official release date of November 17.
The Punisher Images
The Punisher has officially released a dozen new preview images (see the gallery at the top). While we're still in the dark regarding the show's specific release date (it's expected sometime in November), this unloading of images seems to signal that we'll know soon enough and that a full trailer is imminent.
Also check out this image of Jon Bernthal as Frank Castle in his pre-Punisher days, courtesy of Empire…
 "[Killing] is the only thing that silences the demons, temporarily," Bernthal told Empire. "There's going to be an attempt to move beyond the Punisher, but that's something he can't shake. There's part of me that's hungry to get back into the darkness, that's excited to see it fall apart."
The Punisher Episodes
The Punisher has released the episode titles for its baker's dozen bloodbath of a debut season and the order in which they will appear. In a military way that's apropos to Frank Castle himself, Netflix released this vital piece of intel via official tweets – Morse Code tweets, to be precise!
Episode 1 – 3 A.M. (…– / .- –)
Episode 2 – Two Dead Men (- .– — / -.. . .- -.. / — .)
Episode 3 – Kandahar (-.- .- -. -.. .- …. .- .-.)
Episode 4 – Resupply (.-. . … ..- .–. .–. .-.. -.–)
Episode 5 – Gunner (–. ..- -. -. . .-.)
Episode 6 – The Judas Goat (- …. . / .— ..- -.. .- … / –. — .- -)
Episode 7 – Crosshairs (-.-. .-. — … … …. .- .. .-. …)
Episode 8 – Cold Steel (-.-. — .-.. -.. / … – . . .-..)
Episode 9 – Front Toward Enemy (..-. .-. — -. – / – — .– .- .-. -.. / . -. . — -.–)
Episode 10 – Virtue of the Vicious (…- .. .-. – ..- . / — ..-. / – …. . / …- .. -.-. .. — ..- …)
Episode 11 – Danger Close (-.. .- -. –. . .-. / -.-. .-.. — … .)
Episode 12 – Home (…. — — .)
Episode 13 – Memento Mori (– . — . -. – — / — — .-. ..)
The Punisher Cast
You can also check out a boatload of set photos here.
Daredevil's Deborah Ann Woll will co-star with Jon Bernthal. Considering the bond that Frank Castle and Karen Page had on Daredevil season 2, this should make for some fun storytelling.
"We couldn't have asked for a more talented group of actors to round out the cast of Marvel's The Punisher," said Executive Producer and showrunner Steve Lightfoot in a statement. "It's a thrill to watch them each bring their characters to life with such layered, nuanced performances."
"Marvel TV is very proud of the cast of The Punisher," said Executive Producer Jeph Loeb, "Each actors brings a special promise who surround Jon Bernthal's exceptional performance."
Ben Barnes as "Billy Russo": While his involvement in The Punisher was previously reported along with rumors that he might play Bobby Saint, Marvel now confirms that Barnes will portray the comic-book-crucial role of Billy Russo. The description of Barnes's version of Russo states that he will be "Frank's Castle's best friend from his days in the Special Forces." Adding that, "He runs a successful private military corporation called "Anvil."'
However (and that's a big "however,") Marvel Comics fans know that a very ugly destiny is attached to the name Billy Russo. By way of an eventual light shined on his more sinister side (connected to Frank Castle's tragedy,) and a fateful incident involving a glass pane, Russo ends up with a scarred visage, turning him into the iconic Punisher villain Jigsaw! The character was played by Dominic West in the notorious 2008 film Punisher: War Zone.
Ebon Moss-Bachrach as "Micro": The actor with notable television runs on Girls, The Last Ship and Damages will make his way to the show as a character named Micro, described as "a former NSA analyst whose secrets may be of great value to Frank Castle and everyone around them."
"Micro" seems to be the MCU television realization of Marvel Comics character David Linus "Microchip" Lieberman. Microchip has been a perennial clandestine helper to Frank Castle's brutal crimefighting efforts, providing computer hacking skills and regularly supplying high-tech home-brewed weaponry. – In essence, look for Micro to become The Punisher's Q.
Amber Rose Revah as "Dinah Madani": The exquisite London-born actress seen in the miniseries Indian Summers and as Mary Magdalene in 2014's Son of God, will portray a character named Dinah Madani. The character is described as "a highly-trained sophisticated Homeland Security agent who is vexed by the Punisher." While Dinah Madani does not appear to be the character product of any comic book influence, it does seem like she's being fit to play the part of a federal pursuer of the media-maligned vigilante Frank Castle, with whom reluctant respect might bloom.
Daniel Webber (11.22.63) is Lewis Walcott, "a young veteran who has had a difficult time re-assimilating into Civilian Society."
Jason R. Moore (A Lonely Place for Dying) is Curtis Hoyle, "a friend of Frank Castle's and one of the few people who knows he is alive."
Paul Schulze (Nurse Jackie) is Rawlins, "a high-ranking member of the CIA whose operations in Afghanistan intersect with Frank Castle."  
Jaime Ray Newman (Bates Motel) is Sarah Lieberman, Micro's wife, "whose marriage has made her life far more complicated."
Michael Nathanson (The Knick, Wolf of Wall Street) is Sam Stein, "a Homeland agent who is challenged by his partnership with Dinah."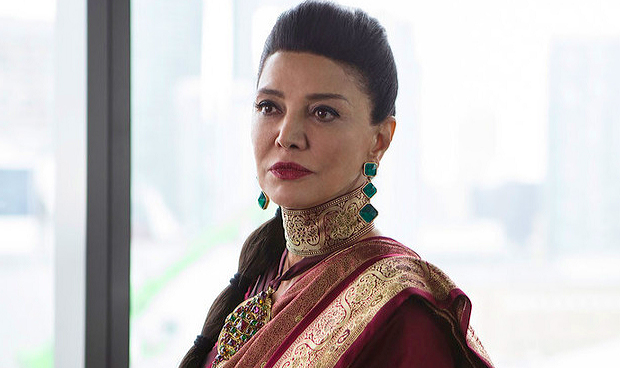 Shohreh Aghdashloo will join The Punisher cast for a recurring role, reports EW. She will play Farah Madani, the mother of Amber Rose Riva's Punisher-fixated Homeland Security agent character Dina Madani.
Aghdashloo, an Iran-born actress, came into prominence with an Oscar-nominated role – opposite Ben Kingsley and Jennifer Connelly – in the 2003 drama House of Sand and Fog. She's also quite visible in the genre scene, notably with her current regular role on Syfy series The Expanse and runs on Grimm, 24 and Flashforward. She also played Commodore Paris (the confirmed ancestor of Star Trek: Voyager's Tom Paris,) in 2016's Star Trek Beyond and appeared in 2006's X-Men: The Last Stand.
Her other notable appearances include the 2008 HBO miniseries House of Saddam and the 2016 historical drama film The Promise.
Rosario Dawson has confirmed in an interview with Collider that her character Claire Temple will NOT appear in The Punisher. While it's certainly difficult to imagine how Claire could find herself in the orbit of a darker, homicidal vigilante such as Frank Castle, the reason for the character's absence has nothing to do with plot. As she states:
"I really wanted to do a cameo on The Punisher, but it doesn't always work that way." Prefacing that by explaining, "For The Defenders, it was difficult to get everybody together. People are busy! There are so many times where I really want it to happen."
Claire has become the common, continuity-joining thread throughout Marvel's ever-expanding street level serial continuity on Netflix. The character started as a struggling nurse in the metaphorical and literal crosshairs of the city's sinister elements after tending to a wounded Matt Murdock in Daredevil Season 1 (returning for Season 2), eventually making the superhero rounds with Jessica Jones, Luke Cage (in which a romance bloomed), Iron Fist and will return in this summer's crossover event The Defenders. Indeed, the Netflix street level Marvel shows seem to be just as much a showcase of Claire's evolution as a character as they are about the powered/costumed heroes she befriends. For now, though, it appears that The Punisher has Claire sitting out a season for the very first time.
The Punisher Netflix Story
A rather basic synopsis briefly surfaced on the Netflix app:
After the murder of his family, Frank Castle is both haunted and hunted. In the criminal underworld, he'll become known as The Punisher.
It's not much.
Jon Bernthal was always down to explore the character more, though, telling Complex that "For me, it's not a question of what they want to do with a character, it's more, how are they going to do it, and who's going to be the ones to do it. This character is in my bones now, he's in my blood. If they want to go forward in any way, for me it's just really going to be about making sure we do it in a way that's raw and intense. I want to push the envelope. I wanna alienate more of the audience and try to bring them back."
Tyler Bates will provide the score for Netflix's The Punisher, according to Film Music Reporter. The work of Bates, a veteran composer, has been heard in films such as Guardians of the Galaxy Vol. 2 (having scored the first film), The Belko Experiment, John Wick, Watchmen, 300 and on television with the 2017 revival of animated hit Samurai Jack, Kingdom, Salem, Californication and Low Winter Sun.
We'll update this with more information as it becomes available.
Read and download the full Den of Geek Special Edition magazine here!