News
The Problem With WWE Finishing Moves
If finishers aren't going to finish a match, then we need to come up with a new name for these moves …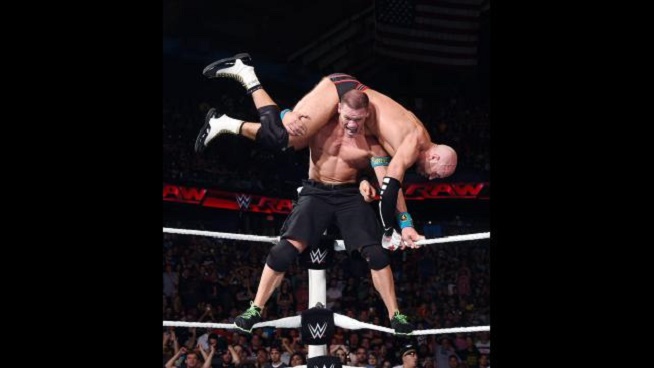 John Cena and Cesaro wrestled for more than 30 minutes last night in the main event segment on WWE Raw. Normally, that would be great news for an otherwise homogeneous show that's starting to become more stale week after week, and the ratings are reflective of that.
But in this case, with this match, it highlighted a good portion of what WWE is currently doing wrong.
First, some of the match looked clunky. Cena and Cesaro missed a lot of spots here, and botched quite a few moves. However, that's OK. That shouldn't be a complaint at all, actually. Pro athletes botch things all the time. I don't like when pro wrestling resembles a ballet. It's a fight, and the missed moves actually made it feel more like a fight to me, and that was enjoyable.
What's concerning, however, is the number of times in recent weeks WWE has run matches which have killed off the idea that there are finishing moves. Cesaro kicked out of the Attitude Adjustment, and Cena kicked out of the big spin. Counters are generally OK when it comes to finishers, but even then, they should be used in moderation.
20 years ago, there were squash matches that were in place to establish these big finishing moves, and then they were protected. No one kicked out, ever. And when someone finally did — every few years at a WrestleMania or some other big show — it actually meant something. Crowds are getting less excited for wrestlers kicking out of finishers because it's become so commonplace within the product.
In Kevin Owens' first match on the WWE main roster, Cena kicked out of his pop-up powerbomb. That move was established in NXT and put guys like Sami Zayn on the shelf. It killed the move just minutes into its run, practically.
WWE doesn't run squash matches on television anymore. With WCW no longer breathing down their neck they have the time to establish new guys. But they don't and I don't think will until Triple H has more influence. NXT, for instance, does run some squash matches to establish stars and their primary moveset.
But if WWE isn't going to run squash matches in order to adequately establish these moves, then the establishing needs to be done in 'superstar vs. superstar' matches. And if that's the case, these moves need to be protected.
About 10 years ago, Vince McMahon wanted his wrestlers to tone down the product and re-educate the fanbase. WWE was paying for a dozen neck surgeries per year and McMahon wanted his wrestlers to take less risks, because with WCW gone, they had more leeway. The same should be true here. WWE needs to re-educate its fans that finishing moves end matches, or else an Attitude Adjustments is going to start to feel no more impactful than a snap mare. Then where does WWE go?
Quick Strikes
1. Whoever wrote the main event segment made Kevin Owens look so bad, I have to believe it was done intentionally to dial down his push. First, they showed clips of Owens losing the NXT Title to Finn Balor in Japan. Then Owens challenged Cena, but Cesaro interrupted. Cesaro told him he was challenging, and to leave or else he'd have problems, and Owens just left … he climbed out of the ring and walked away.
It was bizarre.
Then after the match, Owens hit the ring to attack Cena, but Cena, who had been wrestling for more than 30 minutes, countered out of the move and Owens was sent scrambling. They did a lot of damage to Owens on Raw, and it's probably not an accident. WWE has a history of giving wrestlers big pushes, only to scale back to see how they react. I worry they're doing that with Owens.
2. Roman Reigns got beat up last week, then lost again this week and never spoke. I thought Wyatt needed to continue to get heat on Reigns throughout this angle heading into Battleground, but I don't know how you run the angle WWE did last week and not give Reigns a response. Seems like they're writing him into a corner.
3. Titus O'Neil was great on commentary during the New Day vs. Lucha Dragons match. I'm not sure he stopped talking for the entire segment, but he was incredibly entertaining. It's good to hear new voices on WWE microphones every once in a while.
Match Results
1. Ryback and Big Show fought to a no-contest
2. Brie Bella def. Paige
3. Sheamus def. Roman Reigns via count-out
4. Dean Ambrose def. Bo Dallas
5. King Barrett def. R-Truth
6. New Day def. Lucha Dragons
7. John Cena [c] def. Cesaro to retain the U.S. Title
The Finish
Most of the booking for this show was incredibly backwards. I was not at all a fan what WWE did to Kevin Owens on this show, and I thought they hurt Roman Reigns by not having him cut a promo after he took the beating last week. It's the dog days of summer, and it's starting to feel that way.