News
The Problem With the GFW Invasion of Impact Wrestling
Impact Wrestling was highlighted by the official start of the Global Force Wrestling "invasion" in the main event segment …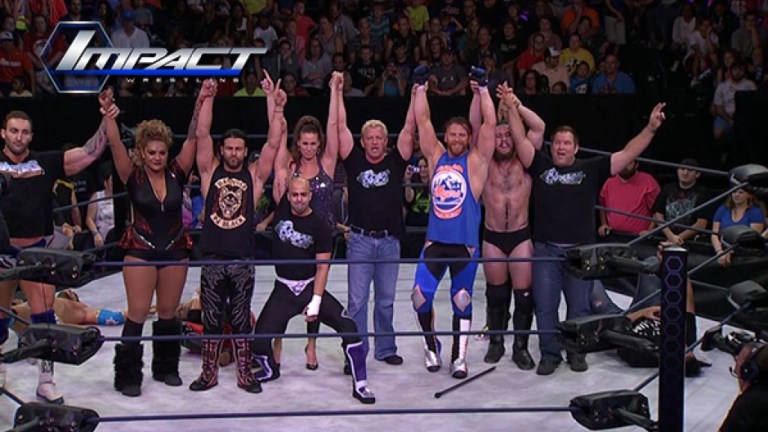 In the weeks leading up to last night's Impact Wrestling, Drew Galloway and Bully Ray were both attacked backstage by a mystery assailant. Last night, we found out that Karen Jarrett was responsible, after Galloway did some digging and revealed in a main-event promo that the car pulling away from both attacks were rentals registered to Jarrett.
From there, the Global Force Wrestling roster hit the ring to beat down Galloway and the rest of the TNA roster that tried to help him — The Wolves and Rockstar Spud — as the show went off the air with the official beginning of the GFW invasion of Impact.
It's almost hard to believe that Jarrett has been back on TNA television for two months. What has he done in that time? Won the KOTM Title? Perhaps it's because he came back in the middle of a long television taping, but it feels like they wasted several weeks where the iron could have been a little hotter with the GFW invasion.
They're going to have to do a good job building up the names involved with GFW, because no one has any investment in the brand itself. The angle could work, but it needs to be more than just a wrestling company without any television exposure – aside from Impact – invading Impact. This isn't mid-90s WCW invading WWF. GFW is a name that people who watch TNA now know, but outside of people who might read wrestling news sites, GFW isn't a household name.
They're not drawing more than a few hundred fans in ballparks across the country this summer, and much of that has to do with the fact that the company has zero television exposure, outside of TNA. They've held their first set of tapings, but there is no network, there is no exposure, there's nothing. TNA, at this point, is a company that produces a wrestling television show. They're touring later this year, but haven't toured in almost one year. GFW is a wrestling company that produces wrestling shows, without television. Together, they might be a fully-functional wrestling company.
Creative can't push the GFW name too much in this invasion. They need to focus on the talent. In all reality, it should be Jarrett vs. TNA more than it should be GFW vs. TNA. The GFW roster needs to be Jarrett's army, of sorts. They're his soldiers who will do his dirty work. Jarrett is a name that has value to the TNA viewer, GFW just doesn't.
Match Results
1. Eric Young beat Chris Melendez to win Melendez's prosthetic leg.
2. TNA X-Division champion Tigre Uno beat DJ Z and Sonjay Dutt to retain his title.
3. TNA Tag Team Champions The Wolves beat Abyss and Manik to retain their titles.
4. TNA Knockouts Champion Brooke and Velvet Sky fought to a no-contest.
5. Bobby Roode beat Mr. Anderson, Bobby Lashley and James Storm to become the No. 1 contender for the KOTM Title.
Quick Strikes
1. That Young-Melendez match was uncomfortable. The live crowd seemed to eat it up, though, and Young had really good heat. It didn't sound like it was manufactured in post-production, either. There were some visual shots of the crowd and they looked genuinely heated. … Wrestling can be goofy at times but it shouldn't cross over into an area where, as an adult fan, you'd be embarrassed to have the show on while your non-fan friends are in the room. That's what this segment was, though. Personally, if I had a non-wrestling-fan friend in the room and this came on, I'd turn it off to save the "you watch this stuff?" lecture.
2. The crowd was really quiet for the X-Division Title match, despite the good athleticism. Good match for what it was. They didn't have time to do much, but Sonjay Dutt continues to look good.
3. Matt Hardy will face ECIII next week on Impact for the World Title. If ECIII wins, Jeff must become his personal assistant. Silly stipulation, but one that has been used in pro wrestling for years. That doesn't make it OK. Strive to be different. The first ECIII-Hardy match was excellent, though.
4. Really good match in the four-way No. 1 contender match that had an electric pace to it at times. They told a good story here as well, with Roode angling for this opportunity over the last several weeks and finally earning it here. The live crowd also ate up the teased Beer Money reunion, with Storm and Roode working together in the beginning of the match.
The Finish
Much better show than last week's, which fell flat despite the Turning Point theme. They finally paid off the GFW-TNA rivalry with what looks like an actual invasion angle. The question is whether or not it's too late.