News
The Orville Experience Brings The Orville To SDCC 2019
Costumes, set props, and a model of the Orville are among a few of the cool items displayed at The Orville Experience at SDCC.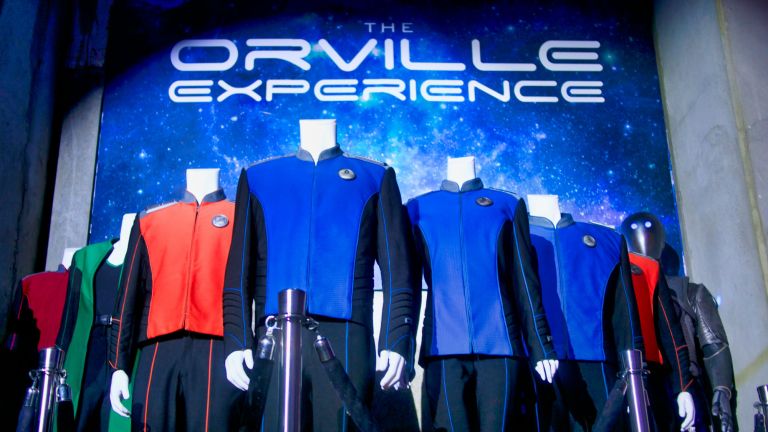 The Orville creator and lead actor Seth MacFarlane has brought The Orville to San Diego Comic-Con this year. The Orville Experience opened today, and Den of Geek was there for a pre-opening sneak peek. Costumes, props, and art were pulled directly from the set to San Diego for an immersive Comic-Con experience.
"After completing two seasons of The Orville and witnessing the wonderfully gratifying audience response, I decided I wanted to bring something directly to the fans this year — and there's no better place to do it than San Diego Comic-Con," says MacFarlane. "I'm so proud of the work of our creative team, who bring this show to life with all of their incredible costumes and props, make-up and practical FX that are so unique and specific to The Orville. We figured our fans would love to see all of it firsthand, so we pulled together an extensive collection directly from the set, and created The Orville Experience. We look forward to showcasing it this weekend for as many fans as possible."
The Orville Experience will feature giveaways throughout the weekend, and we have been given a tip to keep an eye out for cast and crew that may be stopping by. If we spot anyone, we'll let you know.
further reading – SDCC 2019: Dates, Schedule, Panels, Tickets, News, and More
Among the items on display at The Orville Experience, are a model of the Orville spaceship that is used for filming, tons of costumes including those used by guest stars such as Rob Lowe and Charlize Theron. A nostalgic moment for yours truly  was seeing The Orville character Bortus' mustache from season 2 episode 6. The mustache was short-lived, but I thought it looked awesome. I was sad to see it go but delightfully surprised to see it in person at The Orville Experience.
Another highlight is the chance to take a boomerang photo with one of The Orville aliens. He is a big dude, and scary looking, but on the show he was not so terrifying. He was an engineer, in fact.
If you are at San Diego Comic-Con, you will find The Orville Experience at The Carnation Building (1051 J Street). It is open 6-8 p.m. Thursday, and 10 a.m. to 8 p.m. Friday and Saturday. It is open to the general public; no badges are required. Follow @TheOrville and #TheOrvilleEpxerience on Twitter and Instagram to see all the action.
The Orville Season 3 has been confirmed and is awaiting a release date.
Read and download the Den of Geek SDCC 2019 Special Edition Magazine right here!
Check out highlights from Day 1 of San Diego Comic Con 2019 on The Den of Geek Podcast: