News
The Oath: Trailer, Cast and Details for Sean Bean Crackle Crime Series
Former Game of Thrones actor Sean Bean will star as a crooked cop building a criminal empire in the Crackle series The Oath.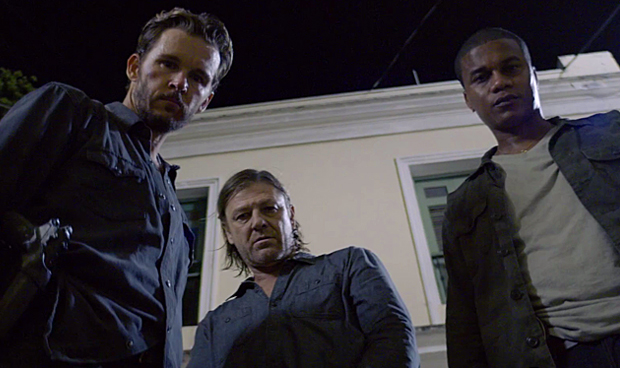 Sean Bean has portrayed a wide variety of characters in film and television, most of whom end up dead. However, his upcoming television project – a crime series for a burgeoning platform in Crackle – called The Oath, will see him as a criminal antihero who, like another famous (meth-cooking) antihero television protagonist, is looking to build an underground empire that will make everyone say his name.
The Oath Trailer
Here's the latest trailer for The Oath.
The Oath trailer showcases Crackle's peak television ambitions with an ensemble-driven high-impact montage of action, lasciviousness and terror, centered on the ordeal of clandestine crooked cops, consisting of True Blood's Ryan Kwanten, Game of Thrones' Sean Bean and All Eyez on Me's Cory Hardrict. They are waging a secret struggle for dominance amongst a dozen other police gangs; a struggle that's under the investigative scrutiny of an agent played by The Last Ship's Elisabeth Röhm. Also amongst the illicit minutiae is Arrow's Katrina Law as a compromised cop who seems to be juggling a steamy love affair and a gig as a masked gun-wielding stickup woman.
…And here's the previous trailer, which hit back in November.
The Oath Release Date
The Oath will make its debut on Crackle on March 8, 2018, streaming for free.
The Oath Cast
Sean Bean is arguably best known from HBO's Game of Thrones as the famously martyred Season 1 protagonist Ned Stark and as (the also famously martyred) Boromir in The Lord of the Rings films, also notably remembered as rogue MI6 agent Alec Trevelyan in the 1995 James Bond outing GoldenEye. He was recently seen in the 2015 Matt Damon-starring Red Planet cinematic smash The Martian and fielded television runs on BBC's Broken as an embattled Catholic priest, ITV's The Frankenstein Chronicles as a 19th century London police investigator and Channel 4 slacker comedy Wasted as himself. His noteworthy U.S.-cable TNT crime series Legends (2014-2015) ran for two seasons.
Ryan Kwanten will co-star as Steve Hammond, the son of Bean's Tom Hammond. The casting is a network reunion of sorts, since Ryan Kwanten is best known for his role as the capricious Jason Stackhouse in HBO's long-running vampire drama True Blood and Bean, of course, made a short-but-iconic impact as the too-honorable-for-his-own-good protagonist Ned Stark on HBO's Game of Thrones. Before his 2008-2014 True Blood run, Kwanten appeared on Summerland, Home and Away and Spellbinder: Land of the Dragon Lord. In a further bit of Game of Thrones/True Blood seven degrees trivia, Kwanten also appeared in the 2015 comedy film Knights of Badassdom opposite Thrones' Peter Dinklage.
J.J. Soria joins the cast to play Officer Pete Ramos, the second-in-command of the Ravens police gang, who also happens to be the police partner and friend of Ryan Kwanten's Steve Hammond. Soria's Ramos is described as "streetwise with a nervous energy," who is also a family man with a wife whose family comes from wealth and privilege; something that fuels his desire to improve his own station in life. Soria has fielded recurring roles on TNT's Animal Kingdom and Freeform's The Fosters, guest roles on Grimm, American Crime and Supernatural, as well as film appearances in 2015's The Purge: Election Year, 2015's Max and 2014's Camp X-Ray.
Cory Hardrict (American Sniper, Gran Torino), Katrina Law (Arrow, Training Day) and Arlen Escarpeta (The Magicians, American Dreams) will also appear.
Matt Gerald will play Kivlinksy, a character described as the leader of a rival cop gang. Gerald, who will reportedly reprise his role from 2009's Avatar in the 2020-scheduled Avatar 2. His other film credits include the 2015 Dwayne Johnson-starring earthquake spectacle San Andreas and will reunite with the star in 2018's Rampage. He's also appeared in xXx: State of the Union, S.W.A.T., Terminator 3: Rise of the Machines and Magnolia. His television CV includes several guest spots and notable runs on Netflix's Daredevil, in which he recurs as superhero suit maker Melvin Potter, and FX's The Shield.
The Oath Details
The Oath will arrive as a 10-episode action-drama exclusive to Crackle, focusing on the gritty, morally-ambiguous societal underbelly that pits police against criminals and the often-disturbing nuances of the proverbial Venn diagram that protrudes into the other's respective roles. The series will see Sean Bean play Tom Hammond, described as a "hard-charging cop" who once lead a secret, elite gang of rogue police officers called The Ravens. However, Hamond's clandestine activities wind up sending him to prison after making a deal with an undercover FBI agent. Upon his eventual release, Hammond makes it his mission to reclaim the prominence he once enjoyed; an endeavor that will be made difficult by his former underlings, who aren't exactly up for relinquishing their power.
The Oath is the creation of designated showrunner Joe Halpin (Hawaii Five-O, Secrets and Lies), who draws upon his 17-year-spanning experience working for the Los Angeles County Sheriff's Department, 12 of which were spent working undercover, experiencing the seedier side of the law enforcement dynamic up close and personal. Also providing some life experience is rapper/actor Curtis "50 Cent" Jackson, who serves as an executive producer through G-Unit Film & Television Inc., joined by Todd Hoffman and Dennis Kim of Storied Media Group. The premiere episode will be directed by Jeff Thomas (Blindspot, Wayward Pines).