News
The Oath Season 2 Trailer, Release Date, Cast and More
Crime drama The Oath unveils its second season, which streams for free on Sony's Crackle.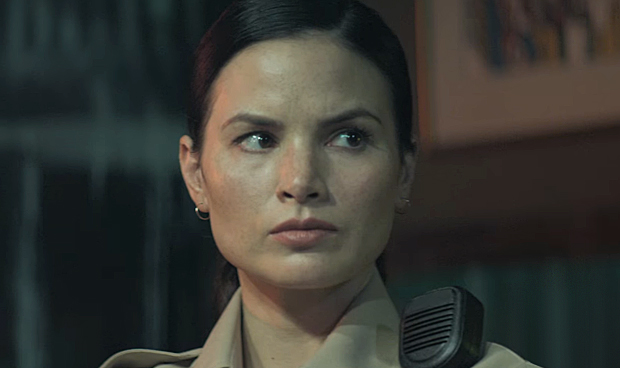 The Oath Season 2 will see the Sony Crackle crime series starring Sean Bean continue fulfilling its title.
News of The Oath Season 2 renewal arrived at the upfront presentation at Sony Headquarters in New York, just a little over a month after The Oath made its March 8 premiere on Crackle. The series is, as Sony Crackle claims, the most-watched new original series in the platform's history, with the highest episode-to-episode retention rate.
The Oath Season 2 Trailer
The trailer for the second season of The Oath has arrived, teasing a rapidly-evolving dynamic for the Ravens, resulting in the formation of shady secret alliances.
The Oath Season 2 Release Date
The Oath Season 2 is set to stream for free on Crackle starting on February 21.
The series, which shoots in Puerto Rico, saw its Summer 2017 production for Season 1 temporarily halted by Hurricane Maria that September. Production for Season 2 would successfully resume in San Juan, as evidenced by the fact that the sophomore season will match the February release window of 2018's debut season.
The Oath Season 2 Cast
A crop of new recurring players will debut in The Oath Season 2.
Christina Milian (Granfathered, Be Cool) is now a series regular, set to play Christine Parks, described as "a second-generation Raven (her father was one of the gang's original founders) and Kraley's partner. She grew up admiring her dad and wants to follow in his footsteps."
Leona Lewis (Pop singer of "Bleeding Love" fame) recurs as Amber Hall, described as the "daughter of Pastor Greg, who grew up surrounded by the violence in her neighborhood. Presently, she works as a doctor at the local hospital, doing what she can for those in the community that look up to both her and her father."
Zulay Henao (If Loving You is Wrong, Love Thy Neighbor) recurs as Carmen Velasquez, described as "the older sister of Ricardo and daughter of Ignacio who, after living most of her life surrounded by violence, is trying to move the family toward a legitimate business."
Kevin Connolly (Entourage, The Notebook) guest stars as James Hoke, described as "a former radio car partner to Karen Beach (Katrina Law), who now works in Internal Affairs, and brings some troubling news to her and the Ravens' attention." Connolly will also direct multiple episodes along with Jeff T. Thomas (Blindspot, Wayward Pines).
They will be joined by the following newcomers:
Dilshad Vadsaria (Revenge, Second Chance) will play Indo faction leader Anaya Gil, Sebastian Zurita (Todo Mal, Si Yo Fuera Tu) will play Ricardo Velasquez, Ignacio's only son, Erik King (Dexter, Oz) will play Pastor Greg, Amber's father, J. Anthony Pena (Unsolved: The Murders of Tupac and the Notorious B.I.G, Lucifer) will play Carl Ortiz, a cop gang member, Richard Burgi (Desperate Housewives, General Hospital) will play calculating DEA agent Nathan Andrews, Rich Paul (Cut Throat City, The Long Shadow) will play Eli Briggs, leader of ruthless cop gang the Horsemen and Carlos Sanz (Stronger) will play Ignacio Velasquez, leader of the Costa Oeste Cartel.
The Oath Season 2 Details
The Oath is an urban American crime drama that focuses on the Ravens – a secret organization within the ranks of the police – and the perpetual struggle for power amongst themselves. Yet, the dynamic is fact-based, since creator/showrunner Joe Halpin (Hawaii Five-0, Secrets and Lies), a former Los Angeles County Sheriff's Deputy, used real-life experience from his 12 years working undercover. Plus, the well-known life experience of its executive producer in rapper/actor, Curtis "50 Cent" Jackson helps provide depth.
As Eric Berger, chief digital officer of Sony Pictures Television Networks and general manager of Sony Crackle, explains of the renewal:
"Our audience has truly responded to this authentic, raw, and compelling series. Thanks to Joe, 50 Cent and our stellar ensemble and production team for bringing this powerful story to life. We look forward to taking the next step together."
Creator/showrunner Halpin adds:
"The Oath has been one of the highlights of my professional career as a writer, so having the opportunity to take our storytelling to that next level is incredibly exciting. Sony Crackle, 50 Cent and the entire cast have been amazing collaborators. We have so much more story to tell and I can't wait to get started."
The clandestine power struggles of The Oath proved to be a proverbial Game of Thrones, which made the show a perfect platform for Season 1 star Sean Bean, who (SPOILER ALERT!) didn't die on the series! – We kid you not! No beheadings, death by a thousand arrows or fatal, Wile E. Coyote-esque, plunges onto giant satellite dishes!
The Oath cast also consists of Ryan Kwanten (True Blood), Katrina Law (Arrow), J.J. Soria (Animal Kingdom), Cory Hardrict (American Sniper), Elisabeth Röhm (The Last Ship) and Arlen Escarpeta (The Magicians).
Joseph Baxter is a contributor for Den of Geek and Syfy Wire. You can find his work here. Follow him on Twitter @josbaxter.