News
The OA Canceled by Netflix, No Season 3
Netflix has canceled the mind-bending, dimension-crossing drama, The OA, after a two-season run.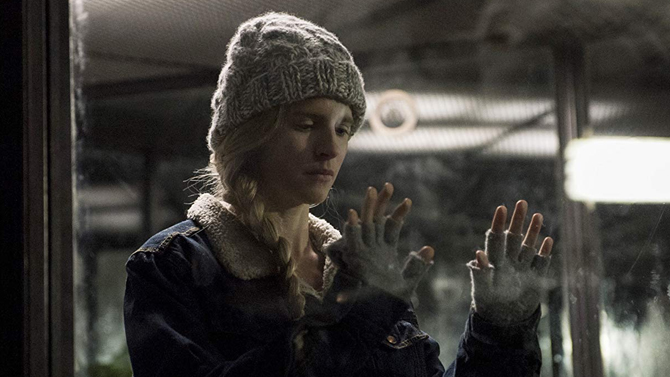 The OA's Season 3 prospects are DOA – at least they are on Netflix, which has just canceled the series after two seasons, leaving it with a 16-episode legacy.
Netflix's cancelation of The OA occurs nearly five months after the March 22, 2019 premiere of its second season; a long-awaited frame by fans, who had been waiting since the December 16, 2016 debut of the initial season. Indeed, while the series – the unique creation of its star, Brit Marling, and Zal Batmanglij – never quite enjoyed the Netflix pop culture pageantry of Stranger Things, it has built itself a cult following, based on its unconventional approach to seemingly conventional dramatic tropes, specifically when it comes to mysteries centered on amnesiac protagonists.
As Cindy Holland, Netflix VP of Original Content expresses in a statement:
"We are incredibly proud of the 16 mesmerizing chapters of The OA, and are grateful to Brit and Zal for sharing their audacious vision and for realizing it through their incredible artistry. We look forward to working with them again in the future, in this and perhaps many other dimensions."
The OA kicked off its story with the odd ordeal of Prairie Johnson (Marling), a blind girl who, having been missing since the age of 7, mysteriously resurfaces as a young adult, bearing bizarre scarring on her back, and, most shockingly, the ability to see. While Prairie, who now calls herself The OA ("Original Angel"), is unable to remember where she'd been all those years, she's guided by mysterious inclinations and the occasional deluge of memories. Eventually, it becomes clear that The OA's disappearance and resurfacing bears similarities to several other people, and an experiment designed to unlock dormant abilities. However, the series would dive further down the rabbit hole in Season 2, bouncing The OA between the dimension we know and another one in which she's a Russian heiress, further deepening the mystery.
The series will stand as a unique achievement for actor/writer Brit Marling, a heretofore virtual unknown, who managed to land some fateful meetings with the Netflix brass, and, with writing partner Zal Batmanglij, successfully pitched the off-the-wall project – fortuitously during a period in which Netflix was greenlighting projects at a rapidly undaunted pace. Indeed, with discussions about the evolving role of women in the industry just starting to make traction, The OA will also stand as something that's desirably prototypical.
Marling was joined in The OA cast by Emory Cohen, Jason Isaacs, Patrick Gibson, Ian Alexander, Phyllis Smith, Brendan Meyer, Alice Krieg, Brandon Perea, Will Brill, Sharon Van Etten, Paz Vega and the late Scott Wilson.
While, as per the norm at Netflix, viewership numbers for The OA are not known, it is, nevertheless, the latest in a growing list of recently canceled shows in a belt-tightening effort. Amongst others, those shows include the Uma Thurman-starring Chambers, rescued ABC show Designated Survivor, She's Gotta Have It and its headline-making teen drama, 13 Reasons Why, which will call it quits after its fourth season (presumably set for 2020).
Read and download the Den of Geek SDCC 2019 Special Edition Magazine right here!
Joseph Baxter is a contributor for Den of Geek and Syfy Wire. You can find his work here. Follow him on Twitter @josbaxter.