News
The Night Manager Season 2 Adds New Writers
Prospects for The Night Manager Season 2 becoming a reality are increasingly promising.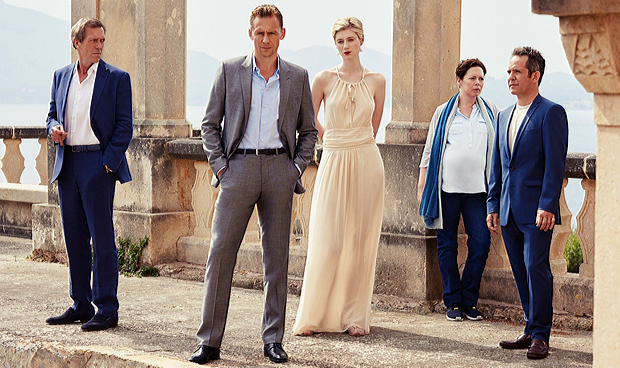 The Night Manager arrived back in 2016 as an impressively lavish television event. Adapting the 1993 novel of the same name by iconic English espionage author John le Carré, the miniseries, a joint intercontinental offering from the BBC and AMC, starred Tom Hiddleston as an ex-soldier-turned-hotelier who is thrust into the world of an amoral arms dealer played by Hugh Laurie. While, its six-episode run did come to a seemingly satisfying conclusion, fans will be delighted to hear that The Night Manager Season 2 seems to be on the horizon.
The Night Manager Season 2 Writers
While The Night Manager Season 2 doesn't have an official green light, the series appears to be moving forward behind the scenes, this time with a bit more estrogen with the addition of two new writers, according to Deadline.
Namsi Khan, a newcomer who's banked written work for the AMC/Channel 4 robot drama series, Humans, and the Idris Elba-starring TV miniseries, Five by Five, has reportedly joined The Night Manager Season 2 writer's room.
Francesca Gardiner, who's worked on Amazon's The Man in the High Castle, Netflix domestic release TV shows Medici: Masters of Florence and Crossing Lines and the TNT domestic release show, Transporter: The Series, is also onboard.
Charles Cumming, a British spy novel author, is also involved. His earlier works followed young, conspiracy-assailing anti-hero Alec Milius, with his most recent efforts focused on disgraced MI6 agent Thomas Kell.
Matthew Orton, an up-an-coming scribe, was tapped last year to join the writing team. His first credited screenplay, Operation Finale, will be released on September 14. Directed by Chris Weitz of The Twilight Saga: New Moon and The Golden Compass, the fact-based 1960s-set film depicts the secret agent operation to bring Argentina-hidden Nazi war criminal Adolf Eichmann to justice. That film's cast includes Oscar Isaac and Ben Kingsley. Orton also wrote the script for director Ridley Scott's upcoming historical war epic, Battle of Britain.
The Night Manager Season 2 Details
In a joint statement issued back in March 2017, producing studio The Ink Factory and broadcasters AMC and the BBC announced that The Night Manager Season 2 was in early stages of development. Said statement also quickly pointed out that no commitment had yet been made, with the triumvirate stating that "nothing is definite yet and we have nothing to announce." However, it does somewhat corroborate what Season 1 director Susanne Bier told Broadcast earlier that week that the Season 2 script was "slowly being developed." Yet, it does seem unusual and/or promising that a grain-of-salt type news tidbit was proliferated in an official statement.
The Night Manager utilized elegant aesthetics and suspenseful action, put through the lens of top-notch performances from a spectacular cast, with stars Hiddleston and Laurie supported by names like Olivia Colman, Elizabeth Debicki, Tom Hollander, Alistair Petrie, Adeel Akhtar and Tobias Menzies. It also reaped awards season riches, earning Primetime Emmys for director Susanne Bier and the musical score by Victor Reyes. The Golden Globes, however, yielded performance accolades, with wins for Tom Hiddleston (Best Actor), Hugh Laurie (Best Supporting Actor) and Oliva Colman (Best Supporting Actress).
While Season 1 of The Night Manager played out the events of the book, it did so with major changes to the ending, seemingly delivering apparent just deserts to Laurie's arms dealer, Richard Roper, as he's ominously whisked away by his cheated terrorist clientele; a stark contrast to the character's more auspicious fate in le Carré's novel. Yet, even with the miniseries succumbing to a happier ending, things were left open-ended enough to see the further travails of Hiddleston's Jonathan Pine for Season 2. However, since the follow-up story compounds the anachronisms to le Carré's source material, the risk runs higher of bastardizing the integrity of the story. Director Bier offered a cautious caveat to Broadcast (via Variety) explaining:
"We all very much want to do a season two but the thing we absolutely do not want is to do something that does not live up to the level of season one. That would be a really bad idea."
Of course, the aspect of "money talks" will also come into play for The Night Manager Season 2. The miniseries aired in over 180 countries, garnered accolades and seemed to evoke a generally positive response, barring the tangential outrage from le Carré purists over its array of alterations. With big-name stars now enjoying the loose schedule of recurring limited event television, exemplified by Tom Hardy's renewed FX series Taboo, it's quite feasible that The Night Manager could become an intriguingly sophisticated recurring small screen side hustle for Tom Hiddleston. Whether that ultimately happens remains to be seen.
This article will be updated with new information as it becomes available.