News
The new Flash Gordon: has it got better?
Bom-bom-bom-bom..Flash! Uh-uh. After the critically-lambasted pilot, did the new Flash Gordon get any better? Stateside Tamara Brooks has stuck with it so far. Diii-ive!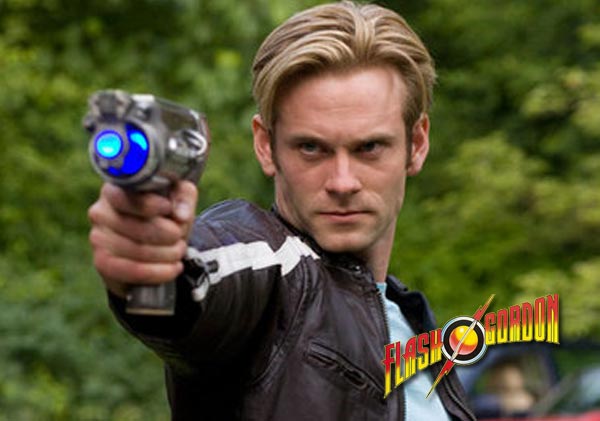 When I learned that The SciFi Channel was bringing back Flash Gordon, I had mixed reactions – hope that the show would be at least enjoyable if not good and fear that it would all go dreadfully, terribly, awfully wrong. And just to warn you up front, you may never hear Queen's brilliant theme song remade by Louis XIV in its entirety. The most we've gotten so far is about 30 seconds during the episode teasers they play with the credits. So sad. So very sad.
First, prepare yourself for a rough pilot (which we've already talked about at DoG here, and here). There are, however, moments of goodness amidst the mediocrity and the show steadily improves as the season marches on (thanks to the writers really locking in on the characters and what works for them).
The set-up has Flash looking for his scientist father, previously thought deceased. This gives him a great excuse to visit planet Mongo often. Each week, Flash ends up helping out one of the troubled/endangered clans, slowly building the alliances that will eventually rally together against the tyranny of Ming the Monotonous. Yes. I just called him Ming the Monotonous. I'll explain further in a moment.
What's Good?In terms of characters, the show's strength lies in the interactions of the good guys. The actors have an excellent sense of their characters (even when they lack strong direction or purpose in an episode – I'm looking at you, Dale) and have great comedic timing.
Eric Johnson is a fantastic Flash Gordon. He brings a likeability and confidence to the character that's extremely important since Flash could easily come off as a smarmy jackass. In this incarnation, he's a cross-country running phenom – a logical change since he travels everywhere on Mongo on foot. Also, Flash is shirtless in every other episode. A little something for the ladies…and some of the fellas.
Gina Holden (she also plays Corinne on Blood Ties) is also doing great as Dale Arden. She gets bogged down a little by her plotline sometimes, but she's still enjoyable.
Jody Racicot does a terrific job playing up the neuroses of Dr. Zarkov without making him unbearably crazy despite being one step away from a nervous breakdown 90% of the time.
The biggest and most pleasant surprise of all the cast is Baylin, a reformed bounty hunter played by Karen Cliché – an ironic name considering her resume is filled with syndicated Sci-Fi/Fantasy/Adventure shows like Mutant X and Adventure, Inc. Sure, we've seen the "alien out of water" bit many, many times but Cliché really makes the most of her part. Her deadpan delivery is spot on and she kicks major butt. If you don't like Baylin, you're dead inside.What's Improving?Princess Aura is played by Anna Van Hooft who's always in semi-revealing, quasi-futuristic clothing (a little something for the fellas and some of the ladies). While at times I wish she'd have a little more oomph, she plays the disaffected petulance of a bored, spoiled, underestimated emperor's daughter perfectly and when she does have to be emotional, she plays those scenes at just the right pitch.
Jonathan Walker plays Ming's right-hand science guy, Rankol. Walker doesn't go big on most (possibly any) of his scenes, which is odd at first but totally makes sense when you think about it. If I were a torture-happy mad scientist with a visible metal plate on half my head that glided across the floor silently on a machine designed to hide my shriveled, mutated legs while hatching a secret plot of unspecified gravity or purpose, I'd try to fly under the radar too. And, when necessary, he can give that creepy "stand behind you on the lift and smell your hair when you're not paying attention" vibe.
One of the other things that are 50/50 is the reinterpretation of the some of the tribes of Mongo. For example, the Hawkmen wear leather pants, no shirts (while sporting claw-like tribal tattoos somewhere on their chest or arms), and capes. Granted, I enjoy seeing a bunch of guys with six-packs walking around shirtless, but I'm just not digging the capes.
On the other hand, I like the representation of Prince Baron and the Verdan tribe as a once powerful sect who've been hit hard by both the ecological difficulties of the planet and Ming's attempts to crush their spirits.
What's Bad?Ming the Mercilessly Dull. Ming the Flavourless. Ming the Humdrum. Ming the Mild. Ming the Mundane. I could go on and on and on. Look, I totally know why they went away from the character archetype on this one, but why cast bland? While I'm sure John Ralston is a wonderful man and a fine actor, he's walking on the subtle side of the line and that just ain't working.
I read somewhere that they were approaching the character with the sensibility of a cold-hearted businessman. Martha Stewart is way more menacing. Ming should have flavour, he should have gravitas. The truly great villains come in two varieties – the ones so incredibly evil you love to hate them (Sylar on Heroes) and the ones so charismatic, so gloriously off their rockers that you can't wait until they make another appearance (pretty much any bad guy played by Christopher Walken or Dennis Hopper) – and Ralston's Ming the Mild isn't either.
I'm rooting for a disfiguring accident in the season finale so they can recast the part. I say they replace him with "80s Flash" Sam J. Jones who turned in an excellent guest appearance in episode #8. No offence, Ralston.
As an aside, Ming's guards are incompetent. Worst. Aim. Ever. Whenever a laser-gun fight breaks out, I feel like I'm watching G.I. Joe, The A-Team, or an Austin Powers movie. It's a wonder Ming the Mercilessly Lame hasn't been assassinated yet.
So, to sum it all up, Flash Gordon is a fun little show. It's not great yet, but if you want to be amused and maybe do a little mocking along the way, give it shot.