News
The Marvelous Mrs. Maisel Season 3 Release Date and Trailer
Amy Sherman-Palladino's standup alter ego will return, with The Marvelous Mrs. Maisel Season 3 set for December.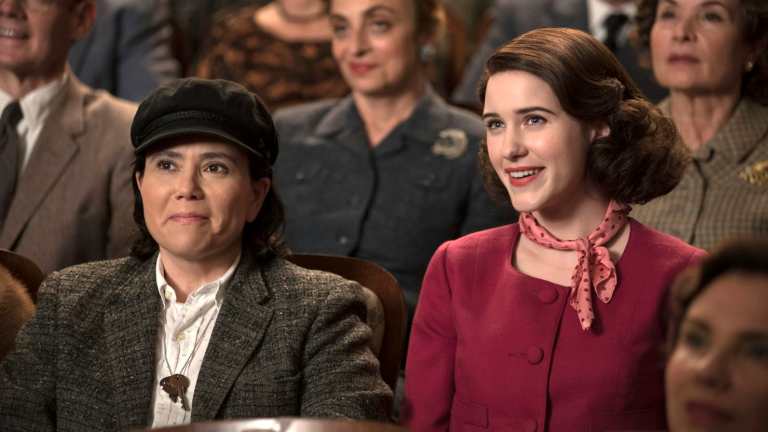 Miriam Maisel was the perfect wife for a budding standup comedian. Club owners called her Midge, and accepted baked goods for prime slots on open mic nights. When her life fell apart, she put it back together on the same stages as the great Lenny Bruce. Midge will be neither insignificant nor alone. Studio head Jennifer Salke says Amazon renewed The Marvelous Mrs. Maisel for season 3, according to Variety.
The Marvelous Mrs. Maisel, a manifestation of the rapid-fire wit of Gilmore Girls mastermind Amy Sherman-Palladino, has brought home two Golden Globes, one for best comedy series, the other for lead comedy actress, Rachel Brosnahan, who plays the title character.
The Marvelous Mrs. Maisel Season 3 Trailer
Check out the latest trailer for the third season of The Marvelous Mrs. Maisel!
You can also watch the previous trailer just below.
The Marvelous Mrs. Maisel Season 3 Release Date
The Marvelous Mrs. Maisel Season 3 hits Amazon Prime Video on Friday, December 6.
The Marvelous Mrs. Maisel Season 3 Cast
Sterling K. Brown recently revealed that he will field a three-episode arc in Season 3.
Brown, a St. Louis-born actor, is a regular on NBC's hit drama, This is Us, for which he earned a 2017 Primetime Emmy win and a 2018 Golden Globe win. He was recently seen in high-profile films such as Black Panther, The Predator, Hotel Artemis and Marshall. Additionally, he's been seen in TV runs on American Crime Story (which also earned him a Primetime Emmy win,) and Insecure, having fielded a longtime run before that on Army Wives, and recurring roles on Person of Interest and Supernatural, the latter of which saw him play Gordon Walker, a vampire hunter whose sadistic methods made him an antagonist to Sam and Dean.
The Marvelous Mrs. Maisel Season 3 Details
For season three, the show is returning to an eight-episode format. Season two consisted of 10 episodes. Amazon originally ordered The Marvelous Mrs. Maisel for two seasons. Season one premiered in November 2017.
Creator Amy Sherman-Palladino, who is also the executive producer of The Marvelous Mrs. Maisel, is what comedy clubs call a "bringer." She brought a fresh take on the single mother to Gilmore Girls by combining the high velocity dialog of His Girl Friday with the rejection of the entitled class, and ballet to the suburbs in Bunheads. The Marvelous Mrs. Maisel is the perfect showcase for her forward-looking mix wit and subtle empowerment. The show nabbed a Peabody Award, which she insinuated may have been behind the season 3 renewal.
"You're going to give it to us because we're bringing home the fancy thing, right?" Creator Amy Sherman-Palladino said upon hearing the news.
Read and download the Den of Geek SDCC 2019 Special Edition Magazine right here!
Culture Editor Tony Sokol cut his teeth on the wire services and also wrote and produced New York City's Vampyr Theatre and the rock opera AssassiNation: We Killed JFK. Read more of his work here or find him on Twitter @tsokol.
Joseph Baxter is a contributor for Den of Geek and Syfy Wire. You can find his work here. Follow him on Twitter @josbaxter.