News
The Man in the High Castle Season 2 Teases New Alliances
Amazon's explosive alternative history drama gets even more complicated in its upcoming second season.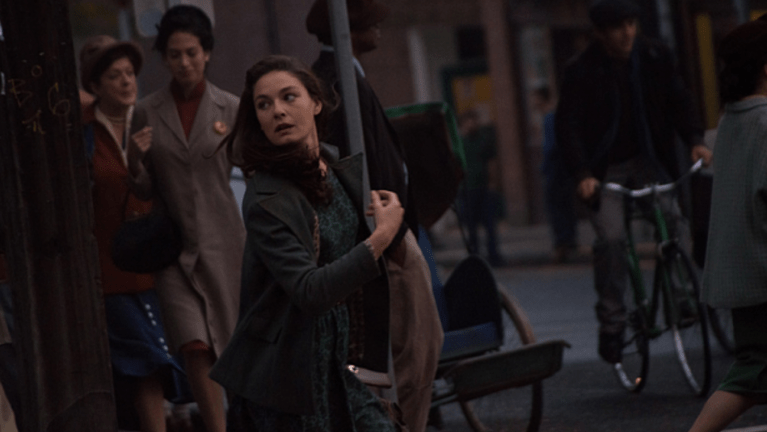 It's been nearly a year since the first season of Amazon's tense, unpredictable drama Man in the High Castle concluded. Ever since, fans have been trying to figure out what's going to happen next. During this weekend at New York Comic Con, executive producer David W. Zucker joined the show's cast to cryptically hint at what's going down in our favorite piece of flip flopped history and it sounds like relationships are only going to become even more incestuous this year.
The announcements for the show's second season were kicked off with a chilling video of Marilyn Monroe's iconic rendition of Happy Birthday for president Kennedy. However in this version of the performance she's crooning Adolf Hitler. The mysterious function and explanation for these "high castle" tapes that are slowly invading the universe of the series, not to mention the first season's bombshell cliffhanger, are going to play an increasingly crucial role this season, Zucker revealed. 
"We carry significantly through the entire course of the second season," he said. "The characters individually encounter the alternative lives that they could have lived." Don't expect the series to turn into FRINGE any time soon, but the show is deeply interested in digging into this duality in everyone.
Zucker expanded on this idea by saying that individualism and collectivism act as the themes of the year and how the decisions of one can drastically influence the whole. Naturally, this extends into the territory of alliances and friendships, which the entire cast were quite excited about regarding how everyone's relationship with one another are redefined this season. 
This is perhaps most significant for Alexa Davalos' character, Juliana Crane. "She's in the worst possible place for season two," Davalos says about Juliana's current situation. She explains that her character is forced to work with Nazis, join the Reich, and ultimately partner up with John Smith (Rufus Sewell) as a desperate means of survival. A trailer for the new season briefly showed off some of this material with Juliana seeking asylum and Tate Donovan playing the role of some sort of confidant of hers this year.
Zucker continued to get into how season two will see a lot more of characters that have never shared screen time before now suddenly working together. John Smith is drawn inexorably closer to Juliana, but Sewell also touched upon how a huge component of his character's arc this season will be exploring duty versus family in regard to his sick son. DJ Qualls also spoke about how his character, Ed McCarthy, begins the year in an incredibly bleak position. "He's broken and beaten by the Japanese, and when he's released his relationship with Frank is really strained," Qualls elaborates. "That's kind of the arc of the season." Somehow though this new situation for Ed will end up leading him to Robert Childan (Brennan Brown), who will also be caught up in a peculiar business arrangement with Frank Frink (Rupert Evans).
Man in the High Castle is a show that fascinates with so much of its alternate history fodder, but with the upcoming season blurring lines even further and keeping everything increasingly fluid, their new season could be their best yet. We'll all find out for sure in December, when the series' second season officially debuts on Amazon.