News
The Magicians Season 5 Episode 12 Trailer and Release Date
The Magicians season 5 is underway, and we've got the latest trailer, an episode guide, and links to our reviews each week.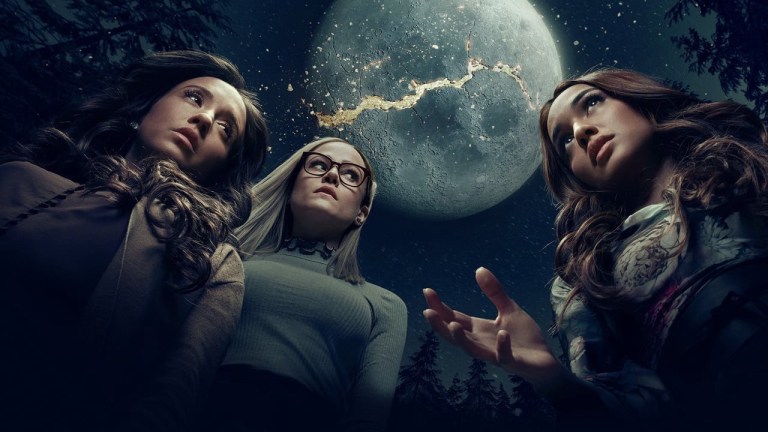 The Magicians has been a force of nature from the very start, growing a loyal audience and weaving a tale that bridged our world with the storybook land of Fillory and has become more and more complex ever since. Given its massive appeal, including our glowing reviews over the years, the anticipation was high for the return of season 5, which turned out to be the show's final season.
The logline for The Magicians season 5 spoke of plenty of magical mayhem that was in store:
Last season, magic was saved, but at a terrible cost: the life of Quentin Coldwater, who died heroically to save his friends— and the world. Julia, Alice, Eliot, Margo, Penny and their friends (and frenemies) must learn to navigate a world without him. Now, a new threat has arisen: in freeing magic, the balance tipped the other way and there's too damn much of it, and as the excess builds, an apocalypse looms. Can the magicians get their shit together to save the world without Q?
The Magicians Season 5 Episode 12 Trailer & Release Date
The Magicians season 5 made its return on January 15, 2020 in the Wednesday, 10/9c timeslot on Syfy. The next episode is called "The Balls," and it will air on March 25, 2020. Here's a look at the promo:
The Magicians Season 5 Reviews & Episode Guide
We've always been fans of The Magicians and have been reviewing the show since the very start. Readers can return here each week for links to the latest reviews and descriptions and air dates for upcoming episodes.
The Magicians Season 5 Episode 1: "Do Something Crazy"
Penny and Julia go stargazing. Eliot and Margo forget a sandwich. (air date: January 15, 2020)
Read our review of "Do Something Crazy" here.
The Magicians Season 5 Episode 2: "The Wrath of the Time Bees"
Alice didn't buy enough tacos. Fen's got 3 bars. (air date: January 22, 2020)
Read our review of "The Wrath of the Time Bees" here.
The Magicians Season 5 Episode 3: "The Mountain of Ghosts"
Eliot and Alice go for a hike. Fen gets a haircut. (air date: January 29, 2020)
Margo and Eliot have a bad day. Eliot has a bad day. (air date: February 12, 2020)
Penny only wears vintage. Alice rejects a sandwich. Julia does a thing. (air date: March 4, 2020)
Margo sees a purse she hates. Alice writes a letter. We couldn't get Prince. (air date: March 25, 2020)
The Magicians Season 5 Episode 13: "Fillory and Further"
Christmas comes early. (air date: April 1, 2020)
The Magicians Season 5 Cast
In season 4, the series starred Jason Ralph, Stella Maeve, Olivia Taylor Dudley, Hale Appleman, Arjun Gupta, Summer Bishil, Rick Worthy, Jade Tailor, Brittany Curran and Trevor Einhorn. Everyone of those cast members is expected to return, save for Ralph.
Further Reading: The Magicians Season 5: How the Loss of Quentin Impacts the Show
Following the events of the season 4 finale, which sees Ralph's character Quentin Coldwater die, the executive producers released this statement, strongly implying that Ralph would not be returning for Season 5.
"Before we began this season, we entered into a creative conversation that included the writers, executive producer and director Chris Fisher, Lev Grossman, our partners at UCP and Syfy, and Jason Ralph. The choice for Jason to leave the show was arrived at mutually, with much respect for the story, fans of the show, and a shared sense of deliberate, essential creative risk."
They continued: "We want The Magicians to visit strange and fascinating new places, and we know we can't get there by treading the same garden path others have before us. So, we did the thing you're not supposed to do — we killed the character who's supposed to be 'safe.' In real life, none of us are safe."
Speaking to THR regarding Ralph's future on the show, showrunner Sera Gamble emphasized that Ralph would not be returning as a series regular and that Quentin is dead, which perhaps means there is a possibility of his return in the form of a recurring or guest role.
"It's not that Quentin's story is done on The Magicians," said Gamble. "It is that Jason Ralph is no longer a series regular on the show, and Quentin Coldwater is dead on the show, and the story moving forward is about the aftermath of that … Jason has left the show, and Quentin is dead, and a lot of season five is about what happens next, just as when somebody dies in our lives, the next season of our life is about what happens."
The Magicians Season 5 Showrunners
Executive Producers and co-showrunners Sera Gamble and John McNamara were understandably overjoyed at the news of a renewal for The Magicians season 5.
"We couldn't be happier or more excited to conjure another year of magic and all it entails — love, hate, loyalty, betrayal, sex, foul language, drugs, battling gods, monsters and the most dangerous enemies of all: other human beings," they said in a joint statement. "We have the best writers, producers, directors, cast and crew in the charted multiverse. Here's how strongly we believe this: anyone who tries to poach a single one of them will be cursed. And we have the voodoo dolls to do it."
The confirmation of The Magicians season 5 was accompanied by the news of a new co-showrunner to serve alongside Gamble and McNamara. Henry Alonso Myers, who has already served as executive producer for the series in the past and has produced for shows like Covert Affairs and The Carrie Diaries, will take to the helm for the upcoming fifth season.
Said McNamara and Gamble: "Henry has been with the show since minute one of season one. His talent, professionalism and love of all things magical has been instrumental to our success. We couldn't be happier to see him become co-showrunner. Also, he bakes the greatest bread this side of the Hudson River."
Myers is definitely up for the challenge when The Magicians season 5 arrives. "Having been a fan of Lev's books since before meeting with John and Sera, the opportunity to bring his world to life has been like a dream come true," he said. "It's rare in this business to find a combination of great material, great creative partners, and a phenomenal production team like ours. I'm not sure which particular dark magic landed me here, but I'll be sure to keep doing all of it in secret, just in case."
Listen to the latest Sci Fi Fidelity podcast:
Subscribe: Apple Podcasts | Spotify | Stitcher | Acast | RSS
Read and download the Den of Geek Lost in Space Special Edition Magazine right here!