News
The IT Crowd special filming this month
Graham Linehan confirms that the much-anticipated IT Crowd special is due to film in just three weeks' time...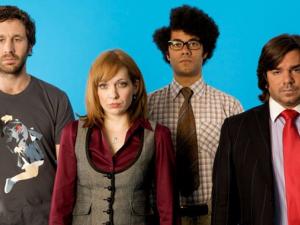 Spotted by the good folk of Bleeding Cool yesterday was news that Father Ted and Black Books writer/director Graham Linehan has officially confirmed that the forty-minute finale special of The IT Crowd is due to begin filming later this month.
Linehan and co. found themselves in something of a Sherlock situation when the careers of leads Chris O'Dowd, Richard Ayoade, Katherine Parkinson, and Matt Berry took off both in front of and behind the camera, not to mention Linehan's own packed stage and TV slate, making scheduling for the finale tricky.
Now all the main players are due back in the Reynholm Industries' basement for the episode, which, according to a statement made by Linehan during a Q&A at the re:publica German conference, is scheduled to start shooting in three weeks' time. Does that mean Channel 4 will be serving up the special in time for Christmas? We'll keep you posted.