News
The Hardys are TNA Tag Team Champions and That's a Good Thing for Wrestling
TNA focused on tag-team wrestling on the latest episode of Impact, and really delivered some credibility to the division …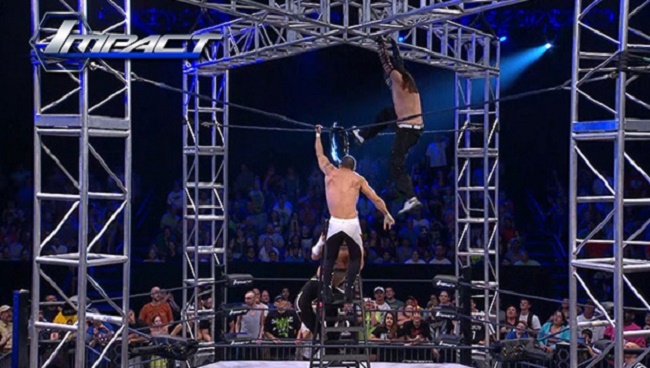 Matt and Jeff Hardy, for the first time in their illustrious careers as a tag team, have captured the TNA World Tag Team Championships. The brothers won an Ultimate X match on Friday's episode of Impact Wrestling to earn the belts.
The idea of keeping Matt and Jeff together, as a tag team, is good for TNA and for the longevity of the two wrestlers. You wouldn't know it by watching this match, not with all of the high-risk moves, but keeping Matt and Jeff together is a stronger brand for TNA to push, and should also keep both guys healthier for a longer period.
First, let's consider the brand.
Jeff Hardy is a bonafide main-event guy. He was a WWE Champion and a TNA Champion. He's a top guy.
Matt Hardy has never been able to really climb over that hill as a midcarder. That's just how he's been booked by WWE and even TNA. You can make the argument that he should have been elevated more by both companies, but fact is it never really happened for him.
But together, as a team, the Hardys are a main-event act. They headlined WWE shows and TNA shows. They are a legacy team, as strange as that might sound, but also still in their prime enough to carry the titles. The Hardys bring more credibility to tag team wrestling than anything WWE can offer at the moment. That's for sure.
So if TNA wanted to push the best brand using these talents, then moving in the direction of them as a team is what makes the most sense. There's also the fact that Matt and Jeff Hardy have been wrestling, for the most part full-time, since they were 16 years old. They somehow managed to work in WWE as enhancement talent back then. They've been abusing their bodies in the ring for about 24 years. That's a long, long time.
In some interviews in the past, I've heard Matt talk about a wrestler's "bump card." Basically, there's only so many bumps a wrestler can take before that bump card is filled, and their career is over. By working as a team, Matt and Jeff should be able to, hopefully, extend their careers. It's only logical, really. Instead of working one-on-one singles matches, working as a team theoretically means half the work. Also, if one of them happens to get banged up, the other can pick up the slack. It's a good mix.
That should lessen the bumps, and hopefully means that it takes longer for each wrestler to fill up their bump card. TNA can't go wrong with Matt and Jeff Hardy being Matt and Jeff Hardy, as a unit.
Also the match was terrific. The concept was good and everyone did some innovative things that we just haven't seen before. Tyrus literally shook the structure in order to shake guys off the ropes that were overhanging the ring. They brought a ladder into the match, which made it even more unique. It was a good, entertaining 20 minutes.
TNA seems intent on focusing on some things that WWE just isn't. Tonight, it was tag team wrestling. Next week, according to their advertisements, it will be the TNA Knockouts that are featured prominently. That's smart on TNA's behalf. They need to be an actual alternative, and not a lite version of WWE, as we've discussed here before. Focusing on things WWE refuses to focus on helps give them their own identity as a wrestling program on television.
Quick Strikes
1) Kurt Angle and Eric Young had a promo segment, where they set up a main event next week of Angle defending the TNA World Heavyweight Title against Eric Young. I'm, of course, not a fan. I like Eric Young, and if I'm running the show he's on my program, but he's not a title contender. TNA hasn't treated him like a title contender for almost a decade, and never really built him up to the point where he should have been last year when they put the belt on him.
It's getting better, the perception at least, but there were some better options for Angle to feud with. Maybe it's MVP — that seems to be the most logical — but there were others that weren't Eric Young. Young can be an important part of your show, but I just don't like him in the role of title shots.
Match Results
1) ECIII & Bram def. Tigre Uno and Jay Rios in a qualifying match
2) Kenny King & Low Ki def. Mr. Anderson & Rockstar Spud in a qualifying match
3) Matt & Jeff Hardy def. Khoya & James Storm in a qualifying match
4) Bobby Roode & Austin Aries def. Robbie E & Jessie in a qualifying match
5) Matt & Jeff Hardy won an Ultimate X Match to win the TNA World Tag Team Titles
The Finish
This was a themed show, that TNA didn't necessarily call a themed show. The focus on the tag-team division is a great idea, though. This entire two hours, for the most part, was focused on building four teams, and building the credibility of the TNA World Tag Team Titles.
It sounds so easy, but you had all these teams, who all wanted the belts, and they were able to articulate why when given the chance. It's so simple, really. Wrestling isn't rocket science.