News
The Good Place Season 2 Episode 12 Details and Episode Guide
What we know about the second half of The Good Place season 2, including latest news, release date, and much more!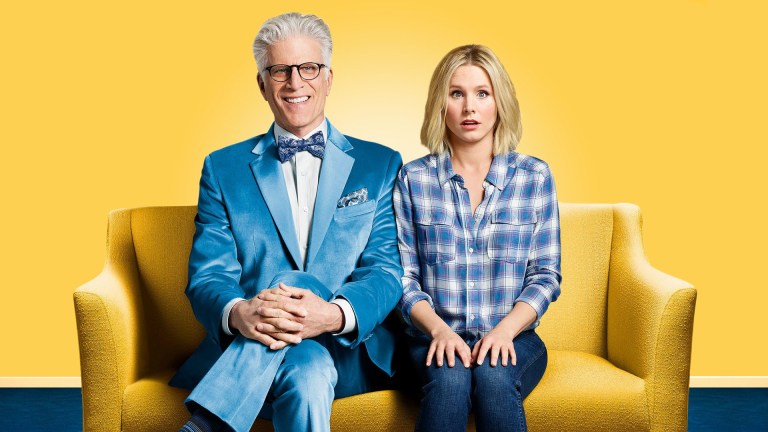 It was a call from above that confirmed The Good Place season 2. Season one ended its 13-episode run earlier this year with what we called "one of TV's best finale twists ever," The Good Place will return to NBC for the 2017/2018 television season. The season two order is for 13 episodes.
The Good Place was created by Mike Schur (Parks and Recreation, Brooklyn Nine-Nine) and stars Kristen Bell as any everywoman who dies and is sent to the Good Place by mistake. She attempts to change herself and avoid the Bad Place, and fool the architect of the Good Place (Ted Danson).
The Good Place Season 2 Episodes
Here's where we'll compile official synopses, and reviews as they become available. Click the titles to go to the full reviews.
After Michael erases their memories, Eleanor, Chidi, Tahani and Jason find themselves in the Good Place again, but Eleanor finds a clue she left for herself and tries to put everything together.
Air Date: 9/20/17
Michael continues working out the kinks in his plan and Eleanor discovers a secret.
Air Date: 9/28/17
Michael looks at things from a different angle as Eleanor, Chidi, Tahani and Jason try to make a collective decision.
Air Date: 10/5/17
Tahani throws a dinner party to impress. Eleanor and Jason both have to lend a hand when things don't go as planned.
Air Date: 10/12/17
Chidi and Eleanor tackle a famous ethical dilemma, leading to a conflict with Michael. Meanwhile, Tahani harbors a secret and confides in Janet.
Air Date: 10/19/17
When the neighborhood experiences a small glitch, Michael must resolve an issue with Janet before it gets out of control.
Air Date: 10/26/17
Janet creates a big problem for Michael; Eleanor lets Chidi in on a secret; Jason puts Tahani in a difficult position.
Air Date: 11/2/17
Michael receives a surprise visitor; Eleanor, Chidi, Tahani, and Jason attempt to solve a riddle.
air date: 1/4/18
Michael debuts his newest design; Eleanor sparks an idea that has Chidi, Tahani, Jason, and Janet laying their feelings on the line.
air date: 1/11/18
A destination may have lasting implications for Eleanor, Chidi, Tahani, Janet and Jason.
air date: 1/18/18
Eleanor, Chidi, Tahani, and Jason consider how much they have improved; Michael is left to deal with the consequences of his recent actions.
air date: 1/25/18
Michael makes a plea and Eleanor looks to take the high road in the season two finale.
air date: 2/1/18
The Good Place Season 2 Story and Beyond
Schur has not been shy about saying he has much of the future of the show planned out, which makes sense given the Earth(or heaven?)-shattering twist at the conclusion of the first season. 
Star Kristen Bell confirmed as much in an interview with Den of Geek, saying the writers were mapping out a potential season 3 in addition to the upcoming season 2.
"The writer's room is back in four weeks. I just got pitched season 2 and if we get a season 3 because they want to think very, very broad. You don't want to be cornered into something you haven't thought out. So in the writer's room they're just sitting there going 'OK, so the concept for the next thousand years of the show – what would it be?' It's exciting. I've never been on a show like that that has to think that big."