Features
The geek credentials of Peter Capaldi
We take a brief trip through Twelfth Doctor Peter Capaldi's geek history as a lifelong Doctor Who fan…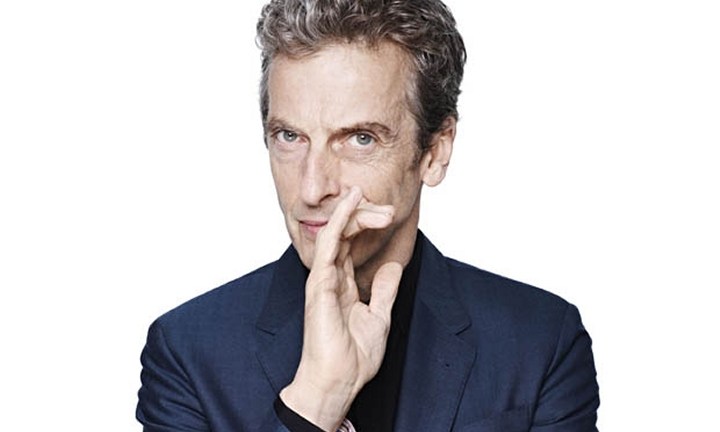 Before we start, let's moonwalk back across our headline to make the point that geek credentials aren't really a thing. Geekiness is a broad church made all the better by its lack of uniformity (not lack of uniforms, we might add, from all in one stretchy Starfleet numbers to Kane-from-Alien casual safari-wear, there are plenty of those round these parts). You don't need approval, passport or an original sealed White Tigerzord playset to join the geek ranks. You just have to love something a head-fizzing amount; that's roughly the size of it.
That said, the life and career of Peter Capaldi has had so many intersections with geek culture that not to cheer on the actor/director's marathon journey from teenage Doctor Who fanzine contributor to Time Lord would be remiss. Here we are then, lining the track in our Neverwhere t-shirts, waving homemade John Frobisher banners and throwing helpful cups of water at his wonderful, sweaty face. Peter Capaldi, the Doctor, we salute you.
He really is a lifelong Doctor Who fan
If you watched the live BBC show in which he was confirmed as the Twelfth Doctor, you'll have seen the letter a fifteen-year-old Peter Capaldi wrote to the Radio Times in February 1974 to congratulate them on their recent Doctor Who special, an edition that, in his words, "made the year for Dr. Who fans". A slightly older Capaldi also contributed to the Doctor Who International Fan Club newsletter in 1976, with an article praising Bernard Lodge's opening sequence for the Third and Fourth Doctors. Further research dug up by the fine folk at the Scottish Daily Record suggests that Capaldi was such a "super-fan", he not only maintained a correspondence with Who producer Barry Letts' secretary and petitioned for the role of Official Doctor Who Fan Club secretary, but also made something of a nuisance of himself to the incumbent secretary, Keith Miller.
Capaldi's appearance as wealthy Roman merchant Caecilius in 2008's The Fires Of Pompeii was his first official Doctor Who appearance. As we all know, the guest role was followed up by a central part in Torchwood's 2009 Children of Earth, as Permanent Secretary to the Home Office, John Frobisher.
He used to gig with Kristine Kochanski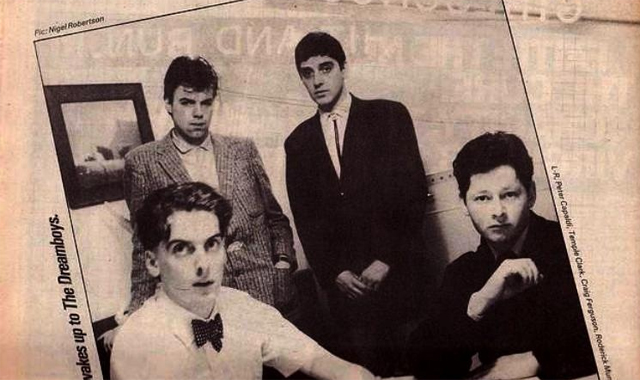 Circa 1981, Capaldi's post-punk art school band The Dreamboys, formerly The Bastards From Hell, not only gigged with Gary Glitter (perhaps the less said about that the better) but also fellow Scottish act Altered Images, feat. Clare Grogan on vocals. Grogan of course, went on to play the first incarnation of Red Dwarf's Kristine Kochanski, Lister's ex-girlfriend and, thanks to some timey wimey stuff, mum.
He played the Angel Islington before Benedict Cumberbatch
A curly-haired Peter Capaldi was amongst the gems of the BBC's 1996 Neverwhere cast. Capaldi was joined in the Neil Gaiman and Lenny Henry series by fellow front-runner for the role of the Doctor, Paterson Joseph. As the English-accented, androgynous, white-robed Angel, Capaldi was able to practise a spot of being sucked through mysterious portals through space and time (useful prep for his new job), as you can see here.
He's a proper movie geek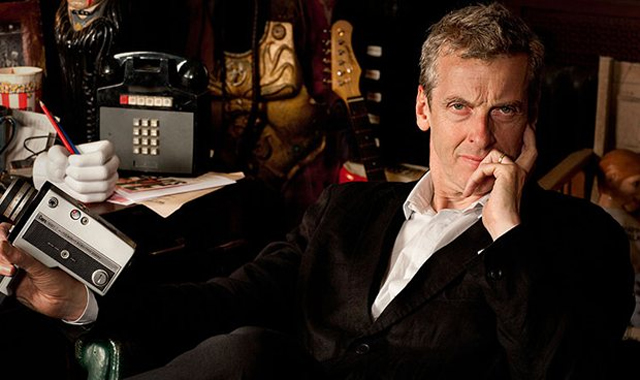 For Christmas 2006, Capaldi was thrilled to receive copies of Ridley Scott Storyboards from Blade Runner. Don't ask how we know this.
(Okay, you can ask: he wrote about it in his My Week diary in The Observer that year saying the gift made "this old movie geek very happy". His teenage daughter also bought him The Mighty Boosh Live on DVD that year, "as requested".)
After his 1995 Oscar win for Best Live-Action Short Film with Franz Kafka's It's A Wonderful Life (starring Richard E. Grant, himself no stranger to Doctor Who), we almost lost Capaldi to Hollywood when Miramax bought an original script of his, the distinctly space-y sounding Moon Man. Alas, the film hit a red light and never recovered, but the actor/director/writer's love of the medium continues to this day. Capaldi's film buffery was cemented with 2012 one-off spoof documentary The Cricklewood Greats. Co-written with The Thick Of It's Tony Roche and directed by Capaldi, the BBC Four film gently parodied classic movie studio retrospectives by revisiting a fictional UK film studio and celebrating its greatest stars. Geek directing favourite and former Python Terry Gilliam was in that, you know.
We bet he has a stash of Doctor Who fan art in his loft
Not only is Capaldi a movie and Doctor Who geek, as an illustration graduate of the Glasgow School of Art, he's also quite the culture vulture (see his art documentaries A Portrait Of Scotland and Inside the Mind of Leonardo if you can), and a constant scribbler. During Capaldi's various theatre runs, he used to sketch fellow passengers on the tube on the way to performances to keep his hand in, and below is a caricature from his youth of none other than Tom Baker in situ (courtesy of the Scottish Daily Record). Click here, and you'll see another Doctor Who image by Capaldi, a self-portrait of his appearance in The Fires Of Pompeii.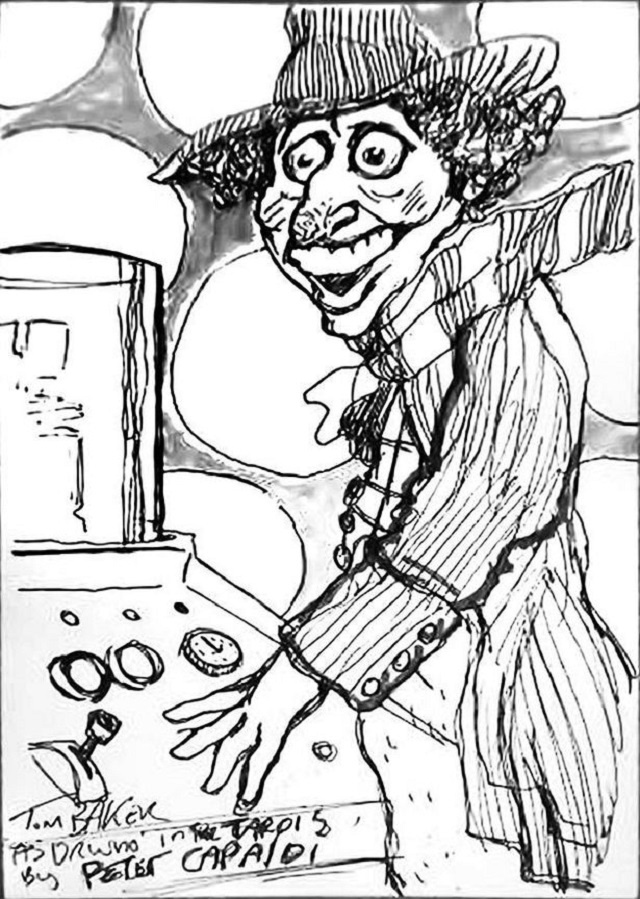 And finally, he was born on the same day that Sputnik 2 disintegrated in space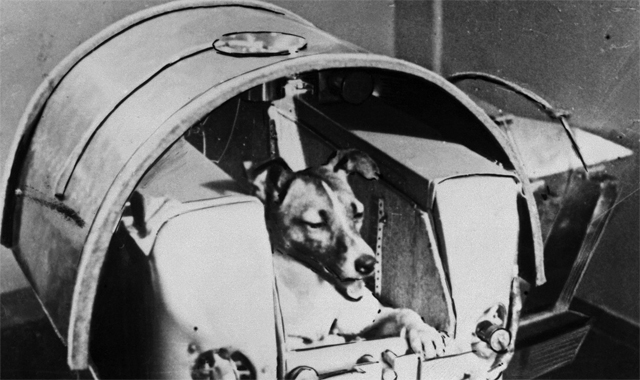 The 14th of April 1958 was witness not only to the birth of the infant who would go on to play the Twelfth Doctor, but the demise of the second Sputnik satellite and its little dog too. Not strictly relevant we know, but somehow apt in its spaciness. 
Read our thoughts on Peter Capaldi being cast as the Twelfth Doctor, here.
Please, if you can, buy our charity horror stories ebook, Den Of Eek!, raising money for Geeks Vs Cancer. Details here.