News
The Future Of 24
Is season 8 of 24 going to be the show's last? And should it mark the final adventure for Kiefer Sutherland's Jack Bauer?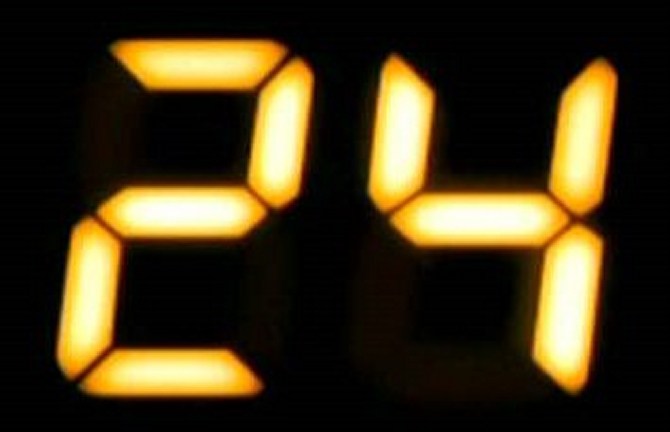 For a while now, it's been all-but-assumed that the currently-in-production eighth season of 24 is to be the last for the show, given that it's the last that Kiefer Sutherland is formally signed up for. Sutherland famously signed a three-season deal to play Jack Bauer after the fifth series that made him a very rich man, and once the clock ticks at the end of the show's next run, that deal is done and dusted.
Of course, there's nothing to suggest that Sutherland couldn't sign another deal and keep Jack Bauer batting aside inconveniences such as biological agent infections, being killed and having everyone around him die for several more years to come. But the problem facing 24 is actually not one of personnel. It's that the show could very well have come to the end of its natural life span.
The first season of the show was a bolt out of nowhere, a breath of fresh air that was genuinely edge-of-the-seat viewing, with unpredictable twists and some outstanding cliffhangers. The subsequent few seasons all obeyed the laws of diminishing returns, until someone happened upon the idea of a character called Charles Logan in 24's fifth season, arguably the best of the show to date.
That was, sadly, followed by the muddled travesty of season six, and when the writers' strike kicked in at the end of 2007, there was a theory that it could actually help 24 out. With around eight episodes in the can for the show's seventh season, Fox gave the show a year's break, which should have been ample time to sort out the problems 24 had been facing, and perhaps introduce a bit more unpredictability into the action. After all, over the years, regular viewers have grown used to the conventions of the show, and thus even the twists and turns of the plot became steadfastly expected rather than exciting.
Yet season seven, despite the year break, was a conventional, by-the-numbers adventure for Jack Bauer, that just got plain daft by the end (you can read what we thought of Kim Bauer, for instance, right here). It played things a little safe in an attempt to get the show back on track, but ultimately, highlighted the trouble that 24 is facing. It didn't help that it seemed to kill off its most promising characters (we'd have kept Kurtwood Smith around for a long time, for instance), but the bigger issue was a feeling of seen it all before. Combine that with the fact that Jack Bauer is clearly a man more invincible than any superhero the world has ever seen, and the peril levels simply dissolved. Did anyone, after all, seriously expect that Jack Bauer was going to die when he was exposed to an incurable biological agent? Even embryonic human beings some months away from being born stopped taking bets on Bauer's survival.
Season eight of 24, therefore, either needs to find a brilliant new character such as Charles Logan, or it's time that the producers pulled the plug on the show. We've talked before how 24 could and perhaps should work in the future without Jack Bauer, given the ring of protection around his body and soul, but that's not going to happen. And instead, when season eight begins its run next January, the big surprise would be if 24 still has its ability to pull any major surprise at all.
And perhaps it's not just us thinking it. The show's executive producer, Evan Katz, has now revealed to Entertainment Weekly that a storyline that would end the series full stop has been developed, and will be worked into season eight if necessary. This, of course, is dependent on Fox's decision as to what to do with the show, and it's believed that several endings are being prepared should a season nine get a green light.
Given that talk has regularly surfaced about a movie version of 24, the one certainty we'd suggest is that Jack Bauer is going to walk away from the eighth worst day of his life with his heart still beating. Our suggestion, though, were Fox really willing to take a gamble and pull the rug in the way that the show used to be able to effortlessly do, would be to kill Bauer in about episode 10 of the next season. That way, for the first time in a long time, you'd genuinely believe that no character in the show at all would be safe. And it'd potentially lead to an ending worthy of the show in its heyday.
We'll start getting answers to some of these thoughts and theories from next January, when 24 blasts back onto our screens…