Features
The Fourth Wall Podcast: Marvel's Hero Project Honors the Superpowers of Kids
There are superheroes among us, and Marvel's Hero Project on Disney+ celebrates the amazing accomplishments of young people everywhere.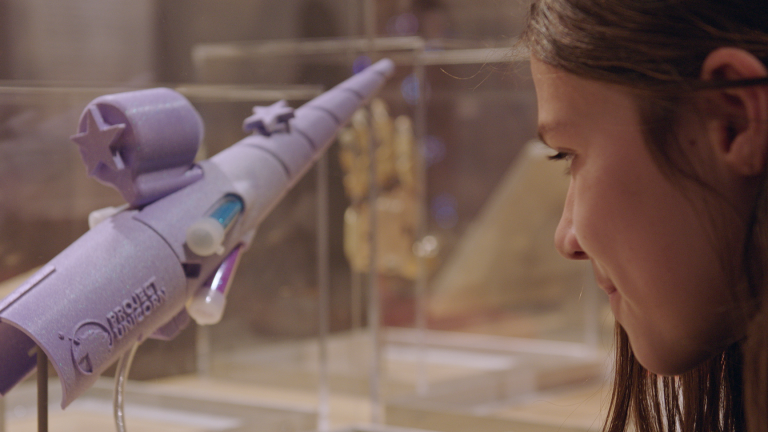 The best superheroes in comics lore have inspired readers for decades, so it should come as no surprise that when Disney+ launches its streaming service with plenty of new and existing Marvel content, it will seek to lift our hearts with stories of real life heroes in Marvel's Hero Project. This non-fiction series will tell the stories of kids who have overcome adversity to make a difference in their communities and become their own kind of superhero to those around them. We spoke with executive producers Sarah Amos and Stephen Wacker on The Fourth Wall podcast about the new feel-good docuseries.
The parallels between the kids' accomplishments and the feats of superheroes seemed obvious. "We were really excited about this project as it came together and as we created it because we saw an opportunity to honor and shine a spotlight on so many amazing young people who really were already heroes in their own right," says Amos. "And as we think about the values behind Marvel and the characteristics and origin stories of a lot of our superheroes, it all starts from this place of seeing injustice or seeing problems or people who are in need of help in the world and thinking about other before you think about yourself. So it felt like such a seamless connection to these types of kids who were doing amazing things."
Among the kids Marvel's Hero Project will introduce are Jordan, who used her engineering skills to build a prosthetic attachment for her missing arm that was shaped like a unicorn horn and shot glitter, and Adonis, who despite being totally blind has played football and scored touchdowns. "What was important to us was really representing the country and the world in a diverse group of stories," Amos says. "There's a lot of things going on in the world these days, and there's a lot of different ways that people can get involved, and we wanted to make sure that we were showcasing a group of young people that anyone could sit at home, turn on their TV and watch, and feel like they saw a little bit of themselves represented in the stories we were featuring."
Watch your Marvel favorites with a FREE TRIAL of Disney+, on us, right here!
Wacker remembers another inspiring kid appearing in his own episode of Marvel's Hero Project. "Sidney's this great kid from St. Louis, and his entire mission is bringing reading to kids," he recalls. "He's in a community that's underserved by libraries and bookstores, and he takes it upon himself to start a book club and in bringing all these books to kids, sort of opening their minds that way. He's fantastic, and you can feel through his story that he has started down a road of changing the world. That one was particularly inspiring to me."
After each child's story is told, they are presented with a special Hero Project jacket and a custom made comic starring them that turns their particular accomplishment into a superpower. "That was sort of the trigger that makes this into a Marvel show: our ability to use some of our great storytellers and great editorial team to really put these kids in the Marvel universe," says Wacker. "Each kid gets their own comic! Also, I think it feels real to these kids. They're excited about the whole thing, and then you see the show and the comic is the last thing they're presented. I think it elevates the entire surprise to a new level when they realize that, 'Oh my god! This is me inside a comic book!' I know as a lifelong comic book fan that I was, I would've jumped out of my skin if that ever happened!"
The comics will then be available to the viewing audience of Hero Project, both on the Marvel website and on digital comic platforms, but extra effort being made to make it accessible to everyone. "We're really working to make sure that all of the comics are accessible to a variety of communities in a variety of languages," says Amos. "We really wanted to make sure that these could be enjoyed and consumed by as many people as possible, and we're really proud of that fact. I think by the end of the twenty weeks, when you go to Marvel.com, and you see that cascade of covers and you see so many different types of stories and types of people represented on these covers, it's just a really special image and special visual to be a part of."
Hero Project viewers will recognize some of Marvel's editorial staff introducing the kids' stories and likening their world-changing abilities to the superpowers of current comic book heroes. "We were so lucky to be able to use the current Marvel editorial staff, even down to the editor-in-chief C.B. Cebulski came by, Joe Quesada came by… and all sorts of Marvel editors on books like Spider-Man and the Avengers. So those conversations got way deep into Marvel lore in a way that Marvel fans will definitely appreciate," Wacker assures us.
It's a formula that sure to elicit tears of joy from the audience, both in appreciating the children's accomplishments and watching them become a part of Marvel lore. "As a longtime Marvel fan… I can just imagine in my head when it's Stan and Jack and Steve Ditko and Romita. They're creating these characters fifty, sixty years ago with no sense of the heft of resonance they're going to have. They're just trying to sell magazines!" says Wacker. "And knowing that these stories that they created are somehow going to travel the decades of time and not only inspire kids, but then hopefully these kids will inspire heroes in our world. When I step back from that and realize everything that Marvel and its creators have accomplished, it certainly feels like a great reminder of the shoulders of giants that we stand on."
Watch everything Marvel and more with a FREE Disney+ TRIAL, right here!
Marvel's Hero Project will consist of 20 episodes, each with its own child superhero, a heartwarming story about their amazing acts, and a surprise presentation of the custom made comic at the end of each installment. The full audio of this interview is presented as part of our Fourth Wall podcast, which seeks to allow creative people behind the scenes to break through the illusory "fourth wall" of stage and cinema to speak directly to the audience of their work. Our interviews with authors, composers, set designers, and others give voice to a whole host of artists we wouldn't normally get to hear from. Subscribe so that you never miss an episode, or simply listen to the latest episode below!
Subscribe: Apple Podcasts | Spotify | Sticher | Acast | RSS
Michael Ahr is a writer, reviewer, and podcaster here at Den of Geek; you can check out his work here or follow him on Twitter (@mikescifi). He co-hosts our Sci Fi Fidelity podcast and coordinates interviews for The Fourth Wall podcast.