Features
The Fourth Wall Podcast: Limetown Creators Debrief a Powerful First Season
Zack Akers and Skip Bronkie successfully translated their popular podcast into a suspenseful and evocative TV series on Facebook Watch.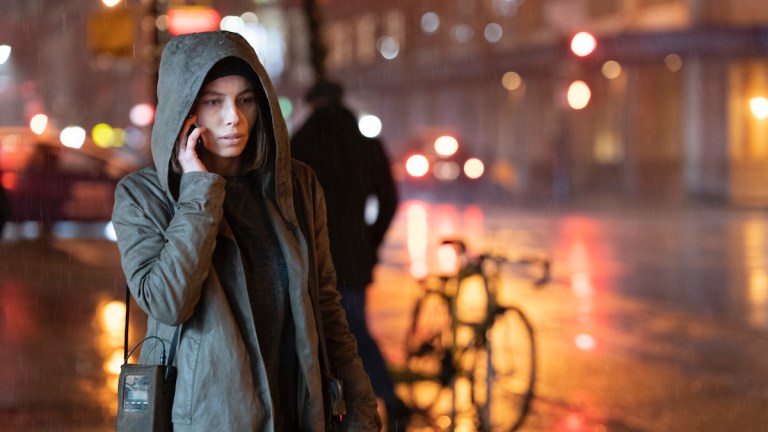 Maybe it was the timing of Limetown as a podcast, coming out a year after Serial made the audio medium a commodity, that made it a viral success in 2015 in addition to the compelling nature of the story, but it was undoubtedly that strong narrative that helped the sci-fi mystery make the transition to television so successfully. Season one of the adaptation recently wrapped up on Facebook Watch with millions of views per episode and plenty of rabid fans begging for more, and we took the opportunity on The Fourth Wall podcast to ask creators Zack Akers and Skip Bronkie what made the show a hit in both formats.
The writing partners have certainly been pleased with the audience response, which can be immediately gauged on the Facebook platform through view counts and comments, for Limetown season 1. "I try not to dig too deep into the comments section ever because you can hurt yourself pretty deeply that way," admits Akers, "but I will say that it has been pretty overwhelmingly positive, the response to the show, and it's been really great to see people engaging in such a deep way with it — and anxious for more! As creators, your dream is to make something that people want more of and not less of, and it seems the response is, 'Please, give us more!' So that's the best compliment, I think, for the show."
Because the ten episodes of Limetown season 1 were released two at a time a week apart, fans had time to hatch theories and react to character developments directly under each published video. "I just love seeing the way that people are reacting to the mystery in different ways, in ways I would never have anticipated, and that's been really fun throughout the season to see," says Bronkie. "For example, seeing people interpret Mark's character in different ways and the reaction to certain plot twists are completely unanticipated on my end, so that's been fun."
It was never Aker's or Bronkie's plan to turn the story of Limetown, in which an investigative journalist begins to uncover the mystery of why 300 people mysteriously disappeared from a town involved in a neurological experiment, into a TV show; they just wanted to collaborate. "We did a podcast because it was kind of the only way we could work together," Akers explains. "We went to school together, and we wanted to work together professionally; but then real life happened. I stayed in New York, and I worked on sports documentaries; and Skip was in San Francisco doing commercial work out in Silicon Valley. So we both had full-time jobs and we were both trying to establish careers, but we still wanted to work together. And when we had the idea to do a podcast, it was simply a way for us to tell a story in a way that seemed manageable while we were doing other things… We definitely didn't plan it as a way to break into television or anything like that."
further reading: Limetown Review (Spoiler-Free)
Making that transition naturally required Akers and Bronkie to make some changes to adapt the story for the visual medium, but they understood that in a writers room, the best idea always wins, even if it changed the main character, public radio reporter Lia Haddock, portrayed in the series by Jessica Biel. "Skip and I did not want to be the people who were pounding our fists on the table being like, 'This is the story, and it has to be this way!' We always wanted to be open to the best idea and the best way to tell the story," says Akers. "You want Lia to be active in this; you want Lia to be leading the charge. And you want to do things that surprise the audience who knows the story, too. That was important to us, so it was a big part of the conversation that we had in the writers room."
That being said, some elements of the Limetown podcast simply had to be part of the show to maintain the tone and intent of the original story. "We had non-negotiables going into the adaptation… like certain visuals that were in our heads from the podcast," Bronkie says. "For example, Lia walking to that tent, glowing in the middle of the field as she approaches Warren Chambers. That was something that was so vivid for us while we were producing the podcast; we had to make sure that was ported over to TV. But we also had non-negotiables that were a little bit of a higher level like the fact that Lia is a radio journalist in the podcast and in the TV show. We love the solitude and the vulnerability of that career, and we wanted to make sure that was maintained from a character perspective."
Jessica Biel, as both actor and producer on Limetown, certainly made the character of Lia her own throughout season 1, and although Limetown has not yet been renewed for a second season, podcast listeners may find the story will begin to diverge from the source material even more in the future. When asked if the second season of the podcast would inform the writing of the Facebook Watch series moving forward, Akers said, "If we are fortunate enough to have a season 2, I think that it will be sort of its own thing. We absolutely will pull from stories that exist in season 2, but… it's going to be its own story."
Without the benefit of the mind-reading implant from the Limetown experiment, we'll just have to be content with that for now! The full audio of this interview is available on The Fourth Wall podcast, which seeks to allow creative people behind the scenes to break through the illusory "fourth wall" of stage and cinema to speak directly to the audience of their work. Our interviews with authors, composers, set designers, and others give voice to a whole host of artists we wouldn't normally get to hear from. Subscribe so that you never miss an episode, or simply listen to our Limetown interview below!
Subscribe: Apple Podcasts | Spotify | Sticher | Acast | RSS